is an intern at The Root and senior journalism major at Howard University.
Metasebia Yoseph
In The Root's two-part series, "Generation Y's New Age Hustle," Saaret E. Yoseph explored the Millennial work ethic by examining the independent career ventures of five young entrepreneurs and artists; an investigation of Gen Y inspired by her own sister's entrepreneurial enthusiasm.
LEFT: Metasebia Yoseph, 26, of Washington, D.C. is a freelance curator-cum entrepreneur launching a creative arts consulting business, The Muse Collective, which develops arts projects through art direction, concept design and curating in collaboration with various artists.
Darrell Britt-Gibson
G/O Media may get a commission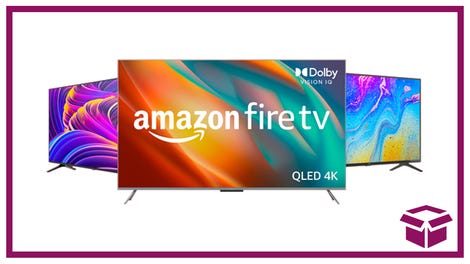 Ooh. stunning.
New Amazon Fire TVs
Age: 24
Hometown: Silver Spring, Md.
Occupation: Sales associate-cum-actor
Website: http://twitter.com/chipsheridan
A former theater student from the University of Maryland-Baltimore County, Darrell has appeared on HBO's The Wire and soon plans to move to Los Angeles to pursue acting full-time.
Armando Cadogan
Age: 25
Hometown: Baltimore
Occupation: Actor/rapper
Website: http://www.panamalovesu.com/; http://www.myspace.com/daspanishkid
A studied actor, Armando appeared in a few episodes of The Wire but has since given more focus to his music career. His rap moniker, "Panama," points to his Central-American roots, but he lives and performs frequently in the New York City area.
Erica Purnell
Age: 28
Hometown: Brooklyn, N.Y.
Occupation: Artist/entrepreneur
Web site: http://www.igotpinkeye.com/; http://www.ericapurnell.com/
Through her company Pink Eye Fashions, Erica creates hand-painted and air-brushed designs for clothing and apparel. She showcases her embellished streetwear at events and exhibits, including the Sneaker Pimps World Tour.
Read more on Generation Y's New Age Hustle
Carolyn Malachi
Age: 25
Hometown: Prince George's County, Md.
Occupation: Vocalist/entrepreneur
Web site: http://www.myspace.com/msmalachi; http://web.me.com/sheparts/Revenge_of_the_Smart_Chicks/
Carolyn defines her musical style as "haute eclectic soular blues." She's introduced her soulful, jazz-infused melodies to audiences in the Washington area and even went to South Africa to share her sound. Beyond her own work, she also serves as the creative director for the female artists network Smart Chicks, Inc.
Christon Bacon
Age: 24
Hometown: Washington, D.C.
Occupation: Musician/entrepreneur
Web site: http://itsthebeatbox.com/
Christon goes by his stage name "Christylez." As a self-proclaimed progressive hip-hop artist, he blends music from traditionally disparate genres with storytelling and a hip-hop style. He's a multi-instrumentalist who plays the guitar, djembe drum, ukulele and spoons, among others. As his own manager, Christylez builds his brand through his business, Christylez Productions, LLC.
O'Ryan Graves
Age: 19
Hometown: Newport News, Va.
Occupation: Actor/comedian/musician/model (A Quadra-threat!)
Web site: http://oryangraves.nowcasting.com/; http://twitter.com/oryangraves
O'Ryan has had minor roles in both film and television. According to his Web site, he's appeared on shows like Wicked Attraction, It's Supernatural and One Tree Hill.
Read more on Generation Y's New Age Hustle
Aumoya B.
Age: 27
Hometown: New York, N.Y.
Occupation: Filmmaker
Website: http://www.nosotroslosdelasaya.com
Aumoya B. has a passion for socially conscious art. A filmmaker of Cuban and Dominican descent, she develops film projects that explore underrepresented cultures and social issues.  We of the Saya is her first feature film.
Yodith Dammlash
Age: 24
Hometown: Prince George's County, Md.
Occupation: Photographer
Website: http://yodithdammlash.blogspot.com
A graduate of Corcoran College of Art & Design, Yodith is a fine art photographer with a documentary style. She has been featured in Prince George's Suite magazine, on The YBF and on The Root.
Read more on Generation Y's New Age Hustle
Lance Smith
Age: 31
Hometown: Washington, D.C.
Occupation: Emcee/producer
Web site: twitter.com/freelance333
When he's making music, Lance goes by the name FreeLance 33.3. He's been making music in the D.C. area for 12 years, producing beats and collaborating with other artists in the city. At the moment, he's promoting his Seasons EP and recording an upcoming compilation album Crooked Avengers.
Christopher K.P. Brown
Age: 25
Hometown: Pine Bluff, Ark.
Occupation: Poet/entrepreneur
Website: http://www.twopensandlint.com
Christopher is a spoken word artist on a mission. He recently started a poetry company, 2 Pens & Lint, with the hopes of establishing a network for other poets to grow artistically—and financially. Currently, he's living in Philadelphia and performing around the United States, whenever possible. A self-published artist, Christopher has released six books of poetry and four albums.
Mallory Dover
Age: 24
Hometown: Springfield, Ohio
Occupation: Sculptor and mixed media artist
Website: http://mallorydover.blogspot.com/
A sculpture graduate from the University of Dayton, Mallory recently featured in a solo master's in fine arts exhibition entitled "Strange Malaise." Her work addresses issues affecting black women, such as self-esteem and hairstyle, female genital mutilation, and complex mother-daughter relationships.
Read more on Generation Y's New Age Hustle
Josiah Golson
Age: 23
Hometown: Chattanooga, Tenn.
Occupation: Student/visual artist
Web site: https://twitter.com/JosiahGWorks
While attending law school at the University of Texas, Josiah creates mixed media works that he promotes via Facebook and Twitter. Once he graduates, Josiah plans to pursue a career in entertainment law and eventually transition into filmmaking.
Patrick Pate
Age: 25
Hometown: Cambridge, Mass.
Occupation: Teacher/musician
Web site: myspace.com/patpate
Singer, songwriter and guitarist Patrick Pate is an honors graduate from Berklee College of Music in Boston. During the day, he works as an elementary school music teacher and recently produced a fifth-grade musical on the history of black music. His own music blends everything from funk and folk styles to bebop and hip-hop.
Read more on Generation Y's New Age Hustle
DJ Jay Skillz
Age: 23
Hometown: New Orleans
Occupation: DJ
Website: http://djjayskillz.wordpress.com/
DJ Jay Skillz hosts a weekly radio show on Crescent City Radio where he interviews underground artists from across the country. He has produced several "chopped and screwed" mixtapes, with more on the way, and is a member of the Definition DJs and the Future Star DJs.
Robel Kassa
Age: 29
Hometown: Addis Ababa, Ethiopia
Occupation: Graphic designer
Web site: www.paradigm84.com
Since graduating from the University of Pennsylvania with a degree in graphic design, Robel has much of his art under the rawbubbleTM brand, but he also releases an annual compilation album under the RadioeliteTM moniker. His recent venture startup, Paradigm84TM, is a cross-disciplinary design studio, that provides digital media services for developing brands.
Oliver Shipley
Age: 26
Hometown: Los Angeles
Occupation: Filmmaker
Web site: www.la-artist.com
Oliver, a native of England, has worked in documentary production through the Media Arts Center in San Diego as well as with Lynn Goldfarb Production LLC. In addition, he independently established Shipley Films, which is currently producing and directing the LA-Artist Documentary Project.
Read more on Generation Y's New Age Hustle
Victor A. Kwansa
Age: 23
Hometown: Riverdale, Md
Occupation: Student/poet
Web site: http://www.youtube.com/user/vakwansa
Victor is currently studying law at Harvard University, but as an undergrad at Yale, he co-founded WORD, a performance poetry group. His work has been featured in Essence magazine and Yale's campus publication Sphere.
Sydnie Mosley
Age: 24
Hometown: Baltimore
Occupation: Dancer/choreographer/teacher
Website: http://sydnielmosley.com
Sydnie has studied dance at University of Iowa and Barnard College at Columbia University. She has a fledgling contemporary dance company and is currently serving as a performing apprentice with INSPIRIT, a New York-based dance company.
Read more on Generation Y's New Age Hustle
Rhasaan Nichols
Age: 23
Hometown: Philadelphia
Occupation: Filmmaker
Website: www.rhasaannichols.com
In 2008, Rhasaan started his production company Nichols Makes Sense Productions with a vision to create innovative media that seeks truth, inspires its viewers and demands change. He is currently working on a biographical film on his sister, who was born with cerebral palsy.
Noah, Miles and Miranda Craigwell
Age: 25, 24, 28
Hometown: Boston, MA
Occupation: Entrepreneur/Filmmaker; Entrepreneur/Media Producer-cum-NFL Free Agent; Casting Director, Actress
Website: http://www.beyondmeasureproductions.com
Siblings Noah, Miles and Miranda Craigwell established the production company Beyond Measure Productions in Septemeber 2009. Among other projects, they've developed a short film, feature, and 20-episode webseries for clients like MIT and The Jimmy Fund.
Amanda Rivkin
Age: 25
Hometown: Chicago
Occupation: Photojournalist
Website: www.amandarivkin.com
Amanda's work has been featured on the front pages of Le Monde, the New York Times, and the Washington Post, to name a few. Her photography has been viewed internationally and awarded by American Photography 26 and the National Geographic Society. Currently, she is studying at Georgetown University as a merit scholar in the security studies program and will be moving to New York City in the fall.
Allison Howe and Christine Doelling
Age: 27, 23
Hometown: Washington, D.C.; Berkeley, Calif.
Occupation: Events coordinators/bloggers
Website: www.lunchboxtheory.com
For more than a year, the two-woman operation, Lunchbox Theory, has run monthly Afrobeat parties in D.C. called Afrobeat for Ya Soul, which the Washington Post considers "one of the coolest underground events in town." Allison and Christine also blog about music, style and culture from all corners of the earth.
Archie Barlow and Jo'rell Whitfield
Age: 26, 27
Hometown: Buffalo, N.Y.; Queens, N.Y.
Occupation: Performing and spoken word artists
Web site: www.writing4mylife.com
The spoken word duo Writing4MyLife includes Archie aka "Archie the Messenger" and Jo'rell aka "Lyrical the Lyricist." The two have been performing together for eight years and have shared the stage with Def Poetry Jam's Black Ice, Georgia Me and Poetri. They're upcoming cd, set to release on June 8, can be heard here.
Roberto Horns
Age: 25
Hometown: Atlanta
Occupation: Musician
Web site: http://www.myspace.com/robertohorns1
Roberto or "JR," as he often goes by, recently moved to Los Angeles to pursue a career in the music industry. He hopes to become a professional songwriter and record producer and blogs about his efforts here.
Ian Watts
Age: 18
Hometown: Cincinnati, Ohio
Occupation: Rapper
Website: http://www.myspace.com/younginwatts; http://twitter.com/YOUNGINDASP
Ian aka "Youngin da SP" has been featured on season two of MTV's Taking the Stage. He's currently working on a mixtape set to be recorded in Atlanta, but his single "I Like Girls" is already available online.
Read more on Generation Y's New Age Hustle