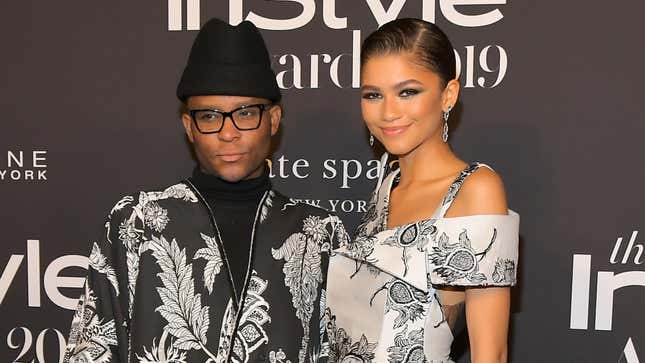 "You are an absolute visionary," Zendaya told close friend and longtime collaborator Law Roach on Monday night, as she presented his Stylist of the Year honors at the 2019 InStyle Awards. "You have taught me so much about myself, to not give an F about what people think, to be proud of who I am and when I look in the mirror."
This Juneteenth We Revisit The Anderson .Paak BLM Track "Lockdown"
The duo has worked together for nearly a decade, first meeting when the ingenue was a 14-year-old Disney kid. Now, the successful actress, producer and style icon credits Roach—her "fashion fairy godbrother"—with encouraging her experimentation with fashion and her cultivating her a-list image.
"You always remind me if I ever get nervous about my hair, makeup, or whatever, that—do you care what they really think? And I say nope, and then we go," she continued at the InStyle podium. "You've inspired me to be fearless with the roads that you continue to pave. I'm lucky to be by your side."
On the red carpet, where he and Zendaya wore coordinating black-and-white Givenchy prints, Roach, also a 2019 Root 100 honoree, gave further insight into his role in the star's style evolution.
"She tried on this outfit and she came to me and said, 'what if...?' And right at the end of her sentence, I was like, 'who cares?' So, it's always been wear what you want, whatever you think, or whatever makes us smile and makes us laugh, and not really give a F about what people think and what they say. She's been living that way ever since. And I'm so proud of that," he said. "She always says that the fashion helped her with her confidence. And once you're confident and you believe in yourself, there's nothing you can't do."
No wonder Roach is the self-branded "image architect," a moniker he has proven well worthy of as he also works with the likes of Celine Dion, Mariah Carey, Mary J. Blige, Ariana Grande, Tracee Ellis Ross, Gwen Stefani, Demi Lovato and more. While the title may seem over-the-top to some, Roach explained why he's worth it.
"When I started doing this job, I just felt like I was doing a little bit more than just putting a pretty girl in a pretty dress," he told interviewers. "It was a bit more thought out. It was a bit more researched. So, I actually coined that term and also I have the trademark. I own the trademark for 'image architect,' so I'm the only one in the whole world. I wanted to name myself and give myself a title."
But despite now having a global impact—Roach has satellite teams in New York, Los Angeles, Paris and Dubai—the style-maker who began his journey on Chicago's South Side remains humble. As InStyle reports, he encouraged the ceremony's audience to think beyond bias when it comes to identifying talent.
"I'm not supposed to be here," he said. "Where I'm from, no one makes it into these rooms, and I'm standing here because someone told me I was special and someone gave me an opportunity."
Who else graced last night's step-and-repeat? KiKi Layne, Janet Mock, Amandla Stenberg and more. Check out what they wore in our slideshow below.