Oprah may not be running for president, but she's still running circles around the rest of Hollywood, appearing on the March cover of InStyle magazine in anticipation of her appearance as Mrs. Which in the Ava DuVernay-directed A Wrinkle in Time. 
At 63, the icon is clearly still living her best life, showing off her Weight Watchers-enhanced curves in looks styled by Karla Welch, in clothing by Céline, Gucci, Balenciaga, Marc Jacobs and more, photographed for InStyle by Phil Poynter.
Of course, this is hot on the heels of her monumental Golden Globes speech—and her own Barbie—where, while accepting the Cecil B. deMille Award for lifetime achievement, she said these encouraging words:
... I want all the girls watching here, now, to know that a new day is on the horizon! And when that new day finally dawns, it will be because of a lot of magnificent women, many of whom are right here in this room tonight, and some pretty phenomenal men, fighting hard to make sure that they become the leaders who take us to the time when nobody ever has to say "Me too" again.
In the upcoming March issue, Oprah has more Oprah-like gems to drop on us (you get a gem, and you get a gem, and you get a gem), sitting down with InStyle Editor-in-Chief Laura Brown to discuss the current political and cultural climate, women coming forward about sexism and assault, and throwing some Oprah-level shade at President Twitter Fingers:
I try not to lean into the hysteria. I've heard a lot of Twitter chatter where people have said, "Where are you? You should be speaking up on these things!" But it makes no sense to speak when you cannot be heard. One hundred and forty characters—that is not how you want to make your mark in the world.
G/O Media may get a commission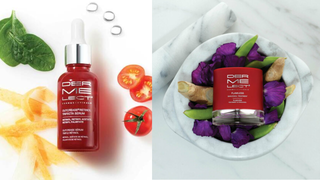 Save $19
Retinol Renewal Kit
She also shared her perspective on the watershed moment we're experiencing with the #MeToo and #TimesUp movements. An acknowledged survivor of sexual assault herself, Oprah viewed this moment as a culmination of so many stories, catalyzed by a few not-so-good men:
Everything that's happened has brought us to this point in time. We've been working our way through a lot of repressed pain, anger, shame, and disappointment. And we weren't honoring our own voices. Now we're here, and it took Harvey Weinstein to burst that door wide open. But Harvey wasn't the first one. It was Bill Cosby before him, and Bill O'Reilly before him. It's just fascinating to me because I always try to look at things from thousands of feet above. . .

It has seared into the consciousness a level of awareness that was not there before. That's the most important thing to me. When Reese Witherspoon can tell her story at the same time as a farm worker in Iowa or a factory worked in Alabama, it says to a person, "Oh well, I've been putting up with that asshole supervisor for all these years. Maybe it's time for me to do something too."
And for those of us starting to navigate middle age, she gives us insight into an authenticity that's genuinely worth looking forward to:
You take no shit. None. Not a bit. In your 40s you want to say you take no shit, but you still do. [Editor's note: This is true.] In your 60s, you take none. There's both a quickening and a calming—there's a sense that you don't have as much time on earth as you once did ... people coming with anything less than what is the truth or authentic? Don't even try.
The Glow Up tip: InStyle's March 2018 issue goes on sale Friday, Feb. 9.