Meet Some of Hollywood's Best 
The near whiteout at the recent Emmys prompted The Root's recent look at why few minority or women television directors get hired. But don't think that means that talented and experienced black directors are not available. This gallery showcases some of those men and women. To learn more about black directors, visit the African American Steering Committee of the Directors Guild of America and the Black Filmmakers Hall of Fame.
Salim Akil
Stars Angela Bassett and Paula Patton took pay cuts to work with Akil on his recent film, Jumping the Broom. It was made for $6.6 million, debuted last May and earned $37 million through June. Akil directed and wrote episodes of Showtime's Soul Food and was the series' executive producer. He has directed 43 television titles (as the Directors Guild calls individual episodes) including In Treatment, The Game and Girlfriends. He founded Akil Productions; its next film, a remake of Sparkle, will star Jordin Sparks and Derek Luke in 2012. Watch video. Follow him on Twitter.
Janice Cooke  
G/O Media may get a commission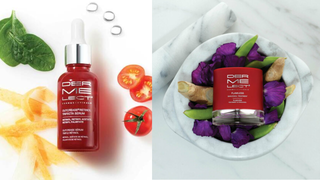 Save $19
Retinol Renewal Kit
Cooke keeps busy. She has directed 17 TV series, and in 2011 she worked on The Ex-List and Ringer. Previously she directed multiple episodes of the TV series One Tree Hill, Gossip Girl and the Web series Hollywood Is Like High School With Money. Cooke honed her skills for presenting the fantasies of young viewers while working as a co-producer of Dawson's Creek. She began work in TV in 1980 as an associate producer on Fantasy Island.
Paris Barclay  
Barclay has directed 43 TV titles — including NYPD Blue, Cold Case and In Treatment, for which he was executive producer for 62 episodes — and holds the same position on Sons of Anarchy. His directing honors include two Emmys, an NAACP Image award and a Directors Guild of America award. Barclay, the co-chair of the DGA diversity committee, is also the recipient of the GLADD Stephen F. Kolzak Award. Watch his "Emmy Legend" video. Follow him on Twitter.
Ernest Dickerson
You've got to watch The Walking Dead, one example of Dickerson's virtuosity. He has directed 50 TV titles, including six episodes of The Wire, and won an American Film Institute award for that work. His other series include Treme, Dexter, ER and Law and Order. The Howard University grad has been a cinematographer on 21 films. Seven were Spike Lee joints, including She's Gotta Have It, Jungle Fever and Malcolm X. Watch Dickerson give directing advice.
Anthony Hemingway  
Hemingway is the director of the 2012 film Red Tails, the much-anticipated LucasFilm Ltd. movie about the black fighter pilots known as the Tuskegee Airmen. Hemingway has directed 23 television titles, including episodes of Treme and Treme musical performances, True Blood, The Closer and Community. He was a first assistant director for 23 episodes of The Wire and Oz episodes. The Red Tails screenplay was written by John Ridley, also a director, and Aaron McGruder. Watch the Red Tails trailer. Follow him on Twitter.
Kevin Hooks  
Hooks was destined to be an actor-director like his dad, Robert Hooks. The younger Hooks directed 66 TV series episodes, including Detroit 1-8-7, Soul Food and Prison Break . He was PB's executive producer for four seasons and directed episodes as well as its finale. Hooks' top film was Passenger 57, starring Wesley Snipes. He got his start in television playing Morris Thorpe in The White Shadow. In 2000 he won an Emmy for the Color of Friendship on the Disney Channel. Watch other cinematic fathers and sons.
Eric Laneuville
New Orleans native Laneuville, who appeared in the series Room 222 while in high school, got his start as a director on St. Elsewhere, in which he also had a role. Since then he has appeared as an actor on 45 shows and directed 66 episodes. They include Human Target, Prison Break and Without a Trace. He won an Emmy for directing an episode of All God's Children. He has served as executive producer on at least three shows.
Seith Mann  
Mann's career was launched by his short film Five Deep Breaths, shot while he was a college student. It helped him gain a spot shadowing The Wire's directors in the show's fourth season. Since then he has directed 28 titles, including Californication, Heroes, Fringe and Grey's Anatomy. He won an Image award in 2008 for outstanding directing in a drama series for Friday Night Lights. He will direct the film Miss: Better Living Through Crime. Watch Five Deep Breaths.
Mario Van Peebles  
Like his father, Melvin Van Peebles, Mario Van Peebles is an actor and director. The 27 titles that Van Peebles has directed include the TV series Boss, Lost and Damages. Van Peebles has been directing movies since 1989, beginning with his most popular film, New Jack City. The Columbia University graduate's next film, All Things Fall Apart, is a sports drama starring 50 Cent that will be released in 2012. Red Sky, an action flick starring Shane West, will be next, in 2013.
Tyler Perry
You can't ignore actor, writer, director and producer Perry. He's all over big screens and small. While supporters and critics clash, Perry's feature films — including Madea's Family Reunion, Diary of a Mad Black Woman and I Can Do Bad All by Myself — and TV shows, Meet the Browns and House of Payne, have made him the best-paid man in entertainment. He also gets applause from black Hollywood for making sure that African Americans are both in front of and behind the cameras. Follow him on Twitter.
Michael Schultz 
Versatile director and producer Schultz has directed films and TV shows for more than 40 years. He has called "cut" for 82 titles, from Drop Dead Diva, Brothers and Sisters and Chuck to Everwood, Ally McBeal and Picket Fences. Old-school film fans will remember Cooley High, Car Wash, Krush Groove, Greased Lightning and Which Way Is Up? Schultz's first TV movie, in 1972, was To Be Young, Gifted and Black, which he also directed on Broadway for the Negro Ensemble Company. Watch this interview. 
Oz Scott 
With a range that includes CSI: New York in 2011 and American Dreams, The Cheetah Girls and Bustin' Loose in 1981, Scott has been a director on 82 TV series. His recent work includes multiple episodes of CSI: New York. Scott also directed For Colored Girls Who Have Considered Suicide/When the Rainbow Is Enuf for American Playhouse in 1982.
Eric Seaton
If you have kids or like comedies or just fun shows, Seaton has been one of your household's fave directors even if you didn't know it. He will direct the 2012 TV series How to Rock, which is currently in pre-production. The other 19 director titles in his portfolio include The Suite Life of Zack and Cody, That's So Raven and Sonny With a Chance.
Millicent Shelton  
"Eclectic" is the word for director Shelton. The Princeton University grad has directed more than 100 music videos. She was also the first black woman nominated for an Emmy nomination for outstanding directing in a comedy series for the "Apollo, Apollo" episode of NBC's 30 Rock. She also won NAACP directing awards for Men of a Certain Age and The Bernie Mac Show. Her 29 TV-series directing credits include Californication, Single Ladies and My Name Is Earl.
Ken Whittingham   
The winner of three NAACP Image awards, Whittingham has a knack for comedy and has been directing episodic television series since 1999 with Malcolm & Eddie. His most recent shows include The Middle, 30 Rock, Scrubs, Parks and Recreation and The Office, including the "Phyllis's Wedding" episode. Check out his hilarious Real Housewives of Civil Rights, and search for his work, using "Ken Whittingham," on EDf3comedy. Follow him on Twitter.