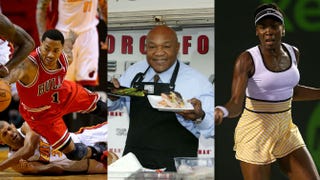 For many professional athletes, the winning doesn't stop once they leave sports. From George Foreman's popular grills to Magic Johnson's chain of movie theaters, professional athletes are making moves beyond the boxing ring, court and field.
1. Junior Bridgeman
This former NBA player owns Bridgeman Foods Inc., which operates more than 160 Wendy's and more than 120 Chili's franchises across America.
2. Magic Johnson
The former Laker started Magic Johnson Enterprises with the goal of capitalizing on the growing buying power of minorities and the value of a multicultural economy. Ventures include Starbucks, Magic Johnson Theatres and 24 Hour Fitness.
3. Michael Jordan

Arguably the best basketball player known to play the game, Jordan currently owns the Charlotte Bobcats and is the face of Nike's Air Jordan sneakers and other products.
4. Venus Williams 
The pro tennis player is the CEO of V Starr Interiors, a full-service interior design firm founded in 2002 in Jupiter, Fla. She also owns part of the NFL's Miami Dolphins with sister Serena Williams.

5. Eddie George

This former NFL running back is the founder of EDGE Group, a landscape architecture and design firm. 
6. Vinnie Johnson
After retiring from the NBA, Johnson founded Piston Automotive in 1995. Today the Detroit company partners with GM and Ford.
7. Derrick Rose
The NBA player is an equity owner and the national spokesman for Giordano's, a popular Chicago-based pizza chain. 
8. George Foreman
Foreman's name has become synonymous with grilling. This former pro boxer partnered with Russell Hobbs Inc. to produce the fat-reducing George Foreman grills.