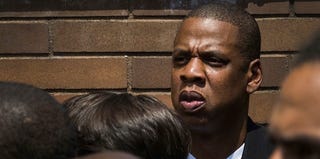 The Huffington Post is reporting and attempting to confirm a list of performers who are rumored to be boycotting Florida in the wake of the George Zimmerman verdict. The list was first released by American Urban Radio Networks' April Ryan and includes names like Jay-Z, Kanye West and Usher.
The Huffington Post is reaching out to representatives for a number of artists on this list and will update this post should more information be made available.

A local news outlet in Florida cites "an executive affiliated with the 'Legends of the Summer' tour" who says the Justin Timberlake and Jay Z concert planned for August 16 at Sun Life stadium will go on. As stated earlier, HuffPost has reached out to Timberlake and Jay Z's reps for comment on the reported boycott.
The list of performers comes after Stevie Wonder announced his plans not to perform in the state of Florida or anywhere else where "Stand your ground" laws exist. The Grammy-winning duo Mary Mary are also included on the list, having announced their boycott last week.
Read more at the Huffington Post and see the entire list at April D. Ryan.
Jozen Cummings is the author and creator of the popular relationship blog Until I Get Married, which is currently in development for a television series with Warner Bros. He also hosts a weekly podcast with WNYC about Empire called Empire Afterparty, is a contributor at VerySmartBrothas.com and works at Twitter as an editorial curator. Follow him on Twitter.