Classique, the title of Will Downing's new release, suggests yet another collection of "classic" soul and R&B recordings. And Downing does include several remarkable remakes, but what the recording's title really asserts is that Downing himself is in classic form throughout the album. With more than 21 years in the business, Downing is one of the most recognizable brands in R&B and smooth jazz, and Classique finds him only adding to his considerable allure.
But three years ago, critics and fans were writing obituaries for Downing's career. He was diagnosed in late 2006 with a debilitating muscular disease, and there was much speculation that one of the most distinctive voices of the last two decades would be silenced. The artist recorded much of 2007's After Tonight in a wheelchair, while still recovering in the hospital. By the summer of 2008, Downing was back on the road. Talking by phone from New York City, he sounded healthy and strong, "I'm feeling pretty good," he told me. "God's been good."
Classique is a collection of mostly original tracks with longtime collaborator Rex Rideout. "We've been friends for 16 years," Downing says of Rideout, whose resume includes recordings with Lalah Hathaway, Mary J. Blige, Angie Stone and Maysa. Rideout has "helped shape me into the artist that you hear," said Downing, who has worked with the producer since 1993's Love's the Place to Be. Rideout contributes to the bouncy "More Time (Tic Toc)" and the lead single, "Something Special," which was co-written with Downing and fellow singer-songwriter Gary Taylor. Additionally, Downing takes the production reins himself on several tracks, including "Let's Make It Now" and "I Won't Stop," the kind of mid-tempo balladry that Downing has built his career on.
When Downing began his career in the late 1980s, he seemed more interested in taking over the dance floor than becoming a stalwart of "Quiet Storm" radio. His first recording includes dance mixes of John Coltrane's "A Love Supreme" and Deniece Williams' "Free." It all changed when Downing scored with a breathtaking remake of Rolls Royce's "Wishing on a Star" from 1989's Come Together As One.
As Downing recalls, "in those days, nobody knew what to call it," referring to the style that came to be known as smooth jazz. "I hate that we have to call it anything," Downing laments. "It's just good music." For a lot of folks, Downing jokes, smooth jazz "was just a free concert in the park." As the genre began to explode, in large part because of the popularity of New York City's now-defunct CD-101 (WQCD), so did Downing's fortunes.
G/O Media may get a commission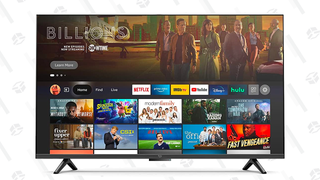 22% off
Amazon Fire TV - 50" Omni Series 4K - Early Access Deal
Though smooth jazz is slowly disappearing from the commercial airwaves, Downing, Gerald Albright and Rachelle Ferrell continue to tour, often headlining daylong jazz festivals. "Always working," Downing says matter-of-factly, highlighting the fact that the so-called adult contemporary crowd—often ignored by the music industry—finds the music they like despite not hearing it on the radio. According to Downing, it's an audience that not only continues to increase in numbers but in its diversity.
Echoing Big Daddy Kane's famous line, Downing jokes that his audience is "8 to 80, dumb, crippled and crazy." While Frankie, Beverly and Maze (black America's Grateful Dead) can tour endlessly, despite not having any new music since 1993, Downing can at least point to a substantial body of work—13 studio albums—to support his efforts on the road.
One regular feature of Downing's recordings has been his penchant to cover previous soul tracks—some classic and some obscure. Over the course of his career, Downing has recorded versions of Angela Bofill's "I Try," "Break Up to Make Up," a Thom Bell and Linda Creed classic, recorded by The Stylistics; Natalie Cole's, "Inseparable," and the late Ephraim Lewis', "Drowning in Your Eyes." Downing has even covered Michael Jackson; his version of Jackson's "I Can't Help It" (from Off the Wall) appears on Downing's 2002 recording Sensual Journey. "That was before the bandwagon," Downing says with a sigh.
Downing continues the trend on Classique, covering Barry White's "I'm Gonna Love You Just a Little More, Baby," the Marvin Gaye penned "Baby, I'm For Real," which was recorded by The Originals in 1970 and David Ruffin's "Statue of a Fool." "Baby, I'm For Real" also features Phil Perry—one of the great falsettos of this or any era—though, according to Downing, Jeffrey Osborne was going to make it a trio performance, before falling ill the day of the recording session. Downing recorded "Statue of a Fool" as a tribute to his father, who introduced him to the song when he was young. Downing's remakes have become one of the most anticipated aspects of his recordings, much like those of one of his greatest influences, Luther Vandross.
Though Downing could have easily become a Vandross clone—a working man's Vandross, if you will—he was fortunate in that "early on, I found my niche." That niche has translated into longevity for Downing, something that few of his peers can say in the fickle world of popular music. For Downing, there's no secret to his success, "Consistency … [audiences] know what they're getting—better songs, better performance." Classique is a wonderful reminder that Downing has no intention of changing that formula.
Mark Anthony Neal is a regular contributor to The Root and teaches African-American studies at Duke University.
Mark Anthony Neal is a professor of African and African-American studies at Duke University and a fellow at the Hiphop Archive and Research Institute at Harvard University's Hutchins Center for African and African American Research. He is the author of several books, including Looking for Leroy: Illegible Black Masculinities. Follow him on Twitter.