(The Root) — While the federal government hangs by the hair of its chinny chin chin, hip-hop MC Kendrick Lamar is playing the big, bad wolf, challenging rappers during Tuesday night's broadcast of the 2013 BET Hip Hop Awards cypher to step up their art and performance in respect for the culture's battle tradition. Surrounded by his Top Dawg Entertainment brethren, Lamar, through the cords of his signature old-man voice, freestyled over an instrumental of Mobb Deep's "Shook Ones." He raps, "And nothing's been the same since they dropped 'Control'/And tucked a sensitive rapper back in his pajama clothes."
Word on the Internet has Drake marked as Kendrick Lamar's targeted victim. Perhaps. Drake has an album titled Nothing Was the Same, and Lamar starts his verse with a subtle reference to it. Drake has been taunted as the sappy singer-rapper, and Lamar appears to take a jab, calling him a "sensitive rapper."
Assuming that Lamar, who is No. 1 in my 2013 AP Class of MCs, is addressing Drake, my No. 2, I don't believe the Compton, Calif.-raised rapper is arbitrarily throwing darts at Drake or any other rapper, for that matter. Seen from this perspective, the verse is another installment of Lamar's mission to lyrically demolish his competition for no reason other than to ensure his legacy among hip-hop's greatest mic controllers. And to do so, he appears to call Drake "sensitive" because all has to be fair in hip-hop love and war — even though Lamar presents dark reflections of his sensitivities on the platinum-selling album Good Kid, M.A.A.D. City, released in October 2012.
To make this point, I have listed my top five most insightful — and dare I say "sensitive" — excerpts from the Dr. Dre protégé.
1. "Money Trees"
"It goes Halle Berry or Hallelujah/Pick ya poison/Tell me what you doin/Everybody gon' respect the shooter/But the one in front of the gun lives forever/And I been hustlin' all day/Thisa way/Thata way/Through canals and alleyways/Just to say/Money trees is the perfect place for shade/[And] that's just how I feel … Be the last one out to get this dough? No way!"
G/O Media may get a commission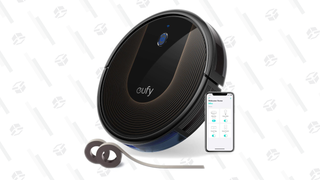 48% Off
Eufy BoostIQ RoboVac
The strings in the song and the ladies singing on the chorus remind me of Outkast's "Rosa Parks." Can we get a remix with André 3000 and Big Boi?
2. "Poetic Justice"
"If I told you that a flower bloomed in a dark room, would you trust it?/I mean you need to hear this/Love is not just a verb/It's you looking in the mirror/Love is not just a verb/It's you looking poor maybe/Call me crazy/We can both be insane/A fatal attraction is common/And what we have common is pain … "
Drake is on this Janet Jackson-inspired, "Any Time, Any Place"-sampled rap ballad. Need I say more?
3. "Bitch, Don't Kill My Vibe"
"I am a sinner/who's probably gonna sin again/Lord forgive me/Lord forgive me/For things I don't understand/Sometimes I need to be alone … "
Although the song has multiple layers of commentary and Lamar makes references to the "bitch" being the music industry, it is clear that the best part of "BDKMV" is the idea that we can all relate to having someone interrupt our mood. Sometimes we just need to be alone.
4. "Sing About Me, I'm Dying of Thirst"
"Lord God I come to you a sinner and I humbly repent of my sins. I believe Jesus is Lord … "
The best part of "Sing About Me, I'm Dying of Thirst" is the prayer between the elder grandmother, Lamar and his friends after they succumb to anger from gun violence in their community. 
5. "Real"
"I can see you fit the bill/Of living in a world that come with Plan B/Cause Plan A only can make another mistake/And you can't see success coming from plan C/When it all breaks you, you still say you love me/And love them and love when you love her/You love so much, you love when love hurts … "
The point here: What does love have to do with anything or any plan when you don't love yourself?
So, yes. Lamar calls Drake, or whomever, a "sensitive rapper," whether or not he thinks of him as such. It's par for the course in hip-hop battling to use clever strategies to paint the opponent as soft and weak. But think about it. Aren't hip-hop's greatest — Nas, Jay Z, Andre 3000, MC Lyte, Rakim — recognized as such because of the techniques they use to inject emotion and passion into their anecdotes?
Here's the lesson: Hip-hop wouldn't be hip-hop if it weren't for cathartic spaces like cyphers where MCs can safely express their sensitive stories and sharpen their skills through constructive battling with one another.
Joycelyn A. Wilson is an assistant professor at Virginia Tech and a Hiphop Archive alumnus fellow at the W.E.B. Du Bois Research Institute, part of the Hutchins Center for African and African American Research at Harvard University.
Joycelyn A. Wilson is an assistant professor in the educational foundations program at Virginia Tech and director of the Four-Four Beat Project. Follow her on Twitter.