If you're a hip-hop head, reading that headline might have made your head explode. You probably recognize that combination of words and syllables from Black Moon's 1993 song "Who Got da Props?" off of their Enta da Stage album. But they asked a very important question, and the answer to that question is undoubtedly Belcalis Almanzar, better known to the world as Cardi B.
I've been racking my brain trying to think of who could possibly have had a better 2017 than she. Hell, her 2018 is even going well. She managed to get on the stage at the Grammys and perform with Bruno Mars—the night's big winner—and then end up in a freakin' Super Bowl commercial for Amazon.com's Alexa.
Love her or hate her—and I honestly don't know how you can hate her—her glow up is real, happening on her own terms, and ultimately, she seems to be truly enjoying it.
Consider this: She's managed to be the first woman—not Beyoncé, Nicki Minaj, Lauryn Hill, Alicia Keys—to have five songs simultaneously featured in the top 10 on Billboard's Hot R&B/Hip-Hop chart. She had the indisputable song of 2017 in "Bodak Yellow," reaching No. 1 on the pop charts. While Nicki had a much better verse on Migos' "MotorSport," half of the times I've heard the song, the DJ cut it off after Cardi's verse. That makes NO sense, but also, I get it. This is the world we live in. Cardi B hopped on Bruno Mars' song "Finesse" and with the awesome video became even more endearing. I don't even know how that's possible.
Considering where most of us first saw her, I'm not even sure there's a word to describe her ascent. Like most folks, I first saw her on Love & Hip Hop through DJ Self as he was trying to work with her and not work with her at the same time. She was the hotheaded Dominican from the South Bronx, N.Y., with "the teeth"—she got a bag and fixed those—who was dating the dude in prison. She couldn't quite get anybody to check out her music in a real way.
G/O Media may get a commission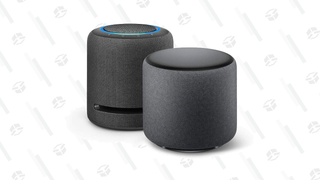 25% off - Prime Exclusive
Echo Studio + Echo Sub Bundle
Now? She lives on the charts, performs at the Grammys, is engaged to a Migo(s), is in Super Bowl commercials and gives hilarious interviews on red carpets. Of her appearance at the Grammys, she managed to say that she had butterflies in both her stomach and her vagina, and I'm pretty sure that's the new standard now.
I can understand the hesitation on the part of hip-hoppers to heap too much praise on her. She is, after all, a rapper. And I'm not sure anybody would be rushing to crown her the queen of rap, especially when Nicki Minaj and Remy Ma are out there. They're rappers. Cardi B is more of a personality who decided to do like so many others: use music as her vehicle to doing something other than starving. They're not really in it for the craft; they're in it for the money.
Because I'm a hip-hop head who will fight anybody over the '90s, I get the difficulty in being happy about this. BUT I'm also a person who believes that anybody with limitations who maximizes on their opportunities and doesn't burn down the industry along the way isn't ruining the culture. She's not Vanilla Ice or Snow. Or Bo$$, who famously faked her entire life and upbringing to become a gangsta rapper. She's the real MC Gusto from CB4.
Cardi has both put herself and been put in positions where she could make the most of them or fumble, and thus far, she's kicked asses and taken names. By being what I can only presume is authentically her and releasing music that absolutely beats, she's gained fans and people who aren't fans but are running out of reasons to hate her. She's winning; why hate on somebody who is winning with a smile by being her best self, flaws and all?
On Facebook, I saw a friend of mine point out that Cardi B should probably have been considered for best new artist at the Grammys. And that's absolutely true. The way the Grammys are set up, I'm guessing she'll be up for that award in 2022. But no other artist in the past six months has gone from "We think we heard of her" to being a damn-near household name like she has. People genuinely like her, and you can't force personal gravity.
Early on, I was on the struggle-to-find-the-reason-we-should-care-about-Cardi bandwagon, but somewhere along the way, I had to acknowledge that I kept saying I didn't like her but knew all the words to "Bodak Yellow" and enjoyed her random, sometimes entirely nonsensical Instagram musings and even follow her on IG, and wanted to give her the benefit of the doubt when she got problematic.
At some point, you just have to give people their credit for doing things their way and managing to be super successful at them. That is Cardi. Do I think she'll be around for the next 10 years as an artist of note? I honestly have no idea. Maybe there's an artist in there trying to get out that will surprise us all. Or maybe not. Maybe we've seen what she has to offer, and that's what we'll keep getting until we all collectively don't want it anymore. Whatever the output, Cardi B got now.
And for that come up? Cardi got the props.