Remember earlier this week, when life was simpler, and we were all gleefully awaiting the arrival of new spring trends via New York Fashion Week as Cardi B calmly sat front row in an array of splashy outfits?
We'd like to take you back to that happier time and place, revisiting two of the splashiest shows of New York Fashion Week, Chromat and Jeremy Scott.
Swim and sportswear label Chromat has built its brand on inclusivity, and its Spring-Summer '19 stayed true to that mission. Models of all sizes, shapes, colors, abilities and gender identifications (minus male-identifying) strutted down the water-like runway with sass to spare, showing off what's next in Chromat's designed-for-all collection.
As usual, designer Becca McCharen sent an array of bright colors and striking mix-and-match silhouettes down the runway, with the help of headwear from designer Eugenia Kim and the talents of campaign stars Emme, Geena Rocero and breast cancer survivor Ericka Hart—at times, dripping as if they'd just finished a swim. But by far, the star of the show was Haitian American model, activist and amputee Mama Cax, who elicited cheers from the crowd as she came down the runway with twinkling lights laced through her prosthetic leg.
"I've always loved what the brand represents, and the diversity of their models," she told Vogue.
And she's right; everything from teeny bikinis to Muslimah-friendly options can be found in Chromat's colorful collection, giving us no excuses to keep our bodies off the beach.
G/O Media may get a commission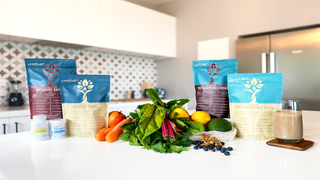 Also colorful? Designer Jeremy Scott's spring-summer collection, which featured a very special male model on the runway this year.
Offset's presence on Scott's runway shouldn't come as much of a surprise; the designer—who recently also showed his latest collection for Moschino—is a close friend and go-to designer for Cardi B, even designing her 2018 Met Gala ballgown and accompanying her in a matching suit. Scott even gifted the couple with a bevy of baby gifts for daughter Kulture, including a customized $10,000 stroller.
"Jeremy Scott shows my family so much love," Offset told Vogue. "He's been supporting my wife since day one and now he spoils my baby girl. He sent us two strollers, clothes, and more for Kulture. With it being New York Fashion Week, I just wanted to come out and return the love."
And of course, Cardi was on hand to support both her friend and her man, sitting front row in a leopard print Moschino suit alongside sister Hennessy Carolina, Quavo, 21 Savage, Paris Jackson and Tiffany Haddish.

Jeremy Scott has never shied away from a pop-cultural zeitgeist, and aside from featuring his famous friend, he used the runway to make societal statements in his typically flashy style. Pikachu, polaroids and provocative nouns were all heavily featured throughout Scott's club kid-influenced, neon-colored fever dream, the eyes occasionally coming to rest on a palate-cleansing spot of black. The designer even made a personal statement, appearing for his end-of-show applause in a t-shirt urging onlookers to "Tell your senator no" to Supreme Court nominee Brett Kavanaugh. Ever functional, the shirt included a phone number.
And how did Offset feel about making his runway debut?
"It was great to show people that I can do something outside of rap," he told Vogue. "I'd love the opportunity to do it again."