If you follow The Root on a regular basis, you know white women warrant a surprising amount of our coverage. This is not because this is a site for or about white women (quite to the contrary). It's because some white women's interactions with and responses to blackness have consistently proven dangerous to the people they encounter; so much so that they have garnered their own verb: "white-womaning."
But amidst the 53 percent, the stark disparities in treatment and pay, the well-meaning (we think) pussy hats, microaggressions, and the weaponizing of white tears are some true champions, as proven by 2019 Glamour Woman of the Year Megan Rapinoe on Monday night.
"I'm not going to act like my whiteness has nothing to do with me standing before you now," said Rapinoe as she accepted her award in New York City, sharing the stage with the Mott Hall girls soccer team. Best known as the current co-captain and winger of the two-time world champion US women's soccer team the Reign FC, an Olympic gold medalist, burgeoning sportswear designer, and a crusader for pay equity within the U.S. Soccer Federation, Rapinoe was one of eight all-female honorees at Glamour's ceremony this year, joining Yara Shahidi, Ava Duvernay and more. But as she took her moment at the mic, it was a very special man that Rapinoe chose to thank (h/t Glamour).
I feel like I have to take this opportunity to thank the person for whom I don't feel like I would be here without. Someone whose courage and bravery was so bright and so bold. A person filled with conviction, unafraid of the consequences because he knew, it really wasn't about playing it safe: It was about doing what is necessary and backing down to exactly nobody.

So while I'm enjoying all of this unprecedented—and, frankly, a little bit uncomfortable—attention and personal success, in large part due to my activism off the field, Colin Kaepernick is still effectively banned from the NFL for kneeling during the national anthem in protest of known and systematic police brutality against people of color, known and systematic racial injustice, and known and systematic white supremacy. I see no clearer example of that system being alive and well than me standing before you right now. It would be a slap in the face to Colin, and to so many other faces, not to acknowledge, and for me personally, to work relentlessly to dismantle that system that benefits some over the detriment of others, and frankly is quite literally tearing us apart in this country.
But Rapinoe was far from finished, assuring us that "caring is cool...giving all the fucks is cool. Doing more is cool," and saying: "I still know in my heart of hearts and my bones that I can do more. And that we can do more. And I know that because we just have to. We must. It's imperative that we do more."
And this is when Rapinoe, herself a member of marginalized classes as a queer woman, gave a master class in how to use your privilege. While shouting out a series of predominantly black activists, changemakers and victims whose experiences and deaths catalyzed some of the most crucial movements of our time, Rapinoe also reminded us that achieving fairness, justice and equity isn't a zero-sum game:
I feel like we live in this scarcity type culture...That's not the world I want to live in. I think we can move on from losing alone to the belief in winning together. With that abundance in mind, I want to reimagine what it means to be successful, what it means to have influence, what it means to have power, and what that all looks like.

I've gained this incredible platform in such a short period of time, but I'm not going to stand on it alone. I refuse to do that. There's going to be ladders on every side, all over the place. And I'm not going to act like it wasn't Colin Kaepernick, Tarana Burke and the #MeToo Movement, Patrisse Cullors, Alicia Garza, and Opal Tometi of Black Lives Matter, the women of Time's Up, Harvey Milk, Gloria Steinem, Audre ‪Lorde, Trayvon Martin, Sandra Bland, and the injustices that so many others face that have put me in this very position. And I'm not going to act like my whiteness has nothing to do with me standing before you now. I don't want to live in that kind of world. I don't think that kind of world is the world that suits everybody and is going to move us forward in the direction that we need to go.
G/O Media may get a commission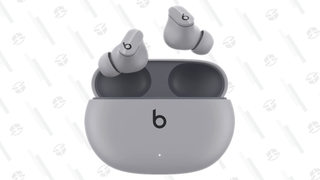 "[W]e have such an incredible opportunity to redefine what power and influence and success looks like," Rapinoe continued, imploring her well-heeled audience to "share that platform. Throw your ladders down. It's our time. We're ready for this. And it needs to happen. This is such a pivotal movement for us. There's so much momentum, but we have to move forward and we have to be better."
It's the kind of self-awareness and fearlessness that defines genuine allyship, proving why Rapinoe's one of the best to ever do it, on or off the soccer field. And to whom do owe this admirable display of white woman wokeness?
"My mom, who's here today, looking stunning, by the way," Rapinoe quipped. "[She] impressed upon me and my twin sister at a very young age, 'You ain't shit 'cause you're good at sports. You ain't shit 'cause you're popular. You're gonna be a good person. You're gonna be kind. And you're gonna do the right thing. You're gonna stand up for yourself, always. You're gonna stand up for each other, always. And you're damn sure going to stand up for other people. Always."