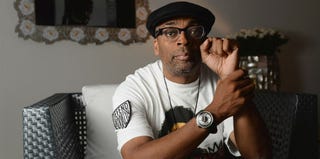 Quentin Tarantino's Django Unchained has caused quite a stir around the holiday season. The spaghetti Western set during slavery, featuring Jamie Foxx, Leonardo DiCaprio and Kerry Washington, hits theaters Christmas Day, but veteran director Spike Lee told Vibe TV that he won't be taking a break from his festivities to see the film.
While his own visions of race and culture have sparked dialogue beyond the New York most of his work pays homage to, the director of "Red Hook Summer" had little to say about the slavery love story "Django Unchained."

"I can't speak on it 'cause I'm not gonna see it," he tells Vibe TV. "All I'm going to say is that it's disrespectful to my ancestors. That's just me … I'm not speaking on behalf of anybody else."
Read more at Shadow and Act.