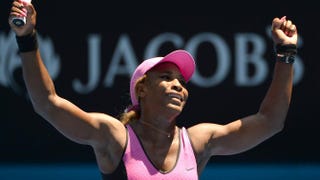 On Friday Serena Williams withdrew before the semifinals at Indian Wells with a sprained right knee nearly 14 years after her sister Venus pulled out of the tournament, also with a knee injury, CNN reports.
The move by Venus elicited jeers and racist taunts from the crowd, prompting Serena to embark on a yearslong boycott that ended this year. Before the injury, she was slated to play Romanian Simona Halep. She posted news of her withdrawal on Instagram.
"Four months ago I began a journey to play Indian Wells and it was amazing," Williams posted on Instagram Friday. "I never dreamed I could do it. But I would not have been able to do this without my fans. Though it ended early due to injury this year, I have to say I cannot wait to try again next year. Thanks everyone. I love you so much!"
In 2001 racist slurs and taunts were reportedly hurled at Williams' father, Richard, amid claims that he removed Venus from the tournament at the last minute to allow Serena to seal a win. Then-19-year-old Serena was booed as she stepped onto the court, and the burn of that hatred prompted the 14-year boycott.
Read more at CNN.
Also on The Root: "Serena Williams Returns to the Indian Wells Tournament Unbought, Unbossed and Unbound"