Apparently, Donald Trump doesn't like to be called a cheater. And when he's called a cheater by someone, he'll quickly deny even knowing that person. Even if that person is the highest-grossing actor in Hollywood, Samuel L. Jackson.
In a recent interview with United Airlines' Rhapsody magazine, Jackson, who currently stars in The Hateful Eight, spoke about Trump and his love for cheating at golf:
"I've golfed with him," Jackson told Rhapsody.
After explaining that he shared holes with Trump, Jackson continued that he was actually sent a bill for a membership to Trump's golf club, one he didn't even sign up for.
"But it's funny—last week or so, I actually got a bill from Trump National Golf Club," Jackson said. "And I haven't been there in four or five years, so I had my assistant call. They said it was for membership dues. And I said, 'I'm not a member,' and they said, 'Yeah, you are—you have a member number.' Apparently, he'd made me a member of one of his golf clubs, and I didn't even know it!"
When asked if he's a better golfer than Trump, Jackson's answer was quite hilarious.
G/O Media may get a commission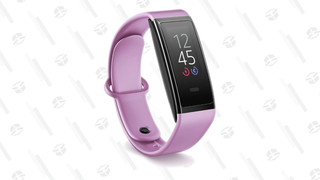 44% Off
Amazon Halo View Fitness Tracker
"I am, for sure," he replied: "I don't cheat."
Apparently, Trump got wind of the accusations and responded to them on Twitter:
https://twitter.com/realDonaldTrump/status/684429853433696258
But that didn't make the story go away.
Jackson made an appearance on Tuesday night's Late Night With Seth Meyers and got wind of Trump's denial that they knew each other. Not only did Jackson have eyewitnesses and stories about playing golf with Trump, but his friend Anthony Anderson backed him up on Twitter.
https://twitter.com/anthonyanderson/status/684522044445200384
And to one-up Trump, Jackson posted the bill he received from Trump's golf club.
So far, Trump hasn't commented on Jackson's interview, but when he does, maybe this time he'll tell the truth. Personally, if I were Jackson, I'd be ashamed to admit that I actually knew Trump.