Updated Wednesday, Aug. 26, 10:45 a.m. EDT: Authorities have identified the suspected shooter accused of killing two WDBJ7 employees early Wednesday morning, CNN reports. 
"We do not know the motive. We do not know who the killer is," WDBJ7 General Manager Jeff Marks said. "We do know the Franklin County sheriff … they are working very diligently to track down both the motive and the person responsible for this terrible crime against two fine journalists."
In a live blog with WTOP, Virginia Gov. Terry McAuliffe confirmed that the authorities have identified the suspect, believed to be a "disgruntled employee," and know his license plate. State police were reportedly pursuing the suspect. McAuliffe noted that the suspect was being pursued on Interstate 64 and that an arrest is "imminent." 
Earlier: 

Two Virginia WDBJ7 employees were fatally shot early Wednesday morning at Bridgewater Plaza during a live broadcast, WDBJ7 reports.
G/O Media may get a commission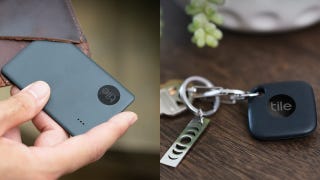 Up to 35% off
Tile Item Trackers
Reporter Alison Parker, 24, and cameraman Adam Ward, 27, were killed during the broadcast around 6:45 a.m. in a disturbing scene that was caught on video.
The footage begins with Parker interviewing Vicki Garner, the local Chamber of Commerce head, and seconds later, several shots can be heard and then screaming. The camera drops to the ground.
Garner was shot in the back and rushed to a hospital, where she was undergoing surgery, Business Insider reports.
NBC News Investigations reporter Tom Winter tweeted a screenshot of the footage showing what appeared to be the gunman standing over his victims.
"Someone with a gun, we believe it was a man, barged into where they were and fired several shots. Six or seven, it sounded like. We heard screaming, and then we heard nothing; the camera fell," WDBJ7 General Manager Jeff Marks told The Guardian, relating what authorities told the station.
https://twitter.com/Tom_Winter/status/636523710694998016?ref_src=twsrc%5Etfw
According to Business Insider, surrounding schools have been placed on lockdown until further notice. Police, along with the Bureau of Alcohol, Tobacco, Firearms and Explosives, are still searching for the shooter.
"Today was just like any other day," anchor Kim McBroom said during the broadcast. "They did great work every day and put their all into everything they did. … They were special people. They would lighten up a room."
Anchor Jean Jadhon described Parker as a "rock star," who was "professional, so much fun and so kind."
"How can this individual have robbed these families of Adam and Alison of their happiness and their love, for whatever reason?" Marks added.
https://twitter.com/ShawnRTV6/status/636525109268881408
Parker, who started out at WDBJ7 as an intern, had recently celebrated her 24th birthday. The Guardian notes that she was dating fellow reporter Chris Hurst, who tweeted Wednesday morning that he and Parker "were very much in love. We just moved in together. I am numb."
Ward, a photojournalist and longtime employee at the local station, was engaged to station producer Melissa Ott, who was celebrating her last day of work before moving on to her new job in Charlotte, N.C. Ward had intended to move there with her and find a new job.
The broadcast can be watched below (Editor's note: Some viewers may find the footage disturbing):