Newspaper Joins Coffee Shops in "Race Together" Project
"In this country, the only thing more mockable than a white liberal trying to do the right thing when it comes to race is when a corporation, burdened by alternating priorities of profit and conscience, tries to get a piece of the righteous action," Tony Norman wrote Friday for the Pittsburgh Post-Gazette.
"That's what happened this week when Starbucks CEO Howard Schultz launched the company's 'Race Together' campaign. I can't remember the last time such a well-meaning but clumsily executed initiative made bedfellows of so many usually polarized constituencies.
"Against all odds, 'Race Together' managed to forge a multiracial coalition of critics united in horror at the prospect of baristas accidentally upgrading skinny cinnamon dolce lattes to [espresso] macchiatos with 'reparations' spelled out in the foam. . . ."
USA Today and Starbucks are hoping that Norman and the many others who mocked the Starbucks campaign this week will have to eat their words. "The nation's newspaper" has joined the coffee company in a yearlong "Race Together" project that includes a website and a series of special newspaper sections, the first of which appeared Friday in USA Today and is scheduled as a standalone in Starbucks stores over the weekend.
"At USA TODAY, while covering those dramatic news stories in Ferguson, Mo., and New York City, among others, we committed to telling the story of the changing face of America," Howard Schultz, Starbucks CEO, and Larry Kramer, president and publisher of USA Today, said Thursday in a joint statement to readers.
G/O Media may get a commission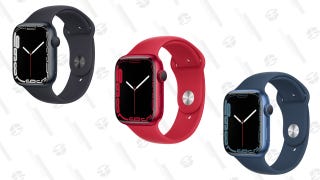 Up To $45 Off
Apple Watch Series 7
"We used our graphical and human storytelling strengths to help our readers better understand the underlying issues that have brought us to this place. We examined our nation, community by community, to help every American learn about each other and rise above bias.
"What more can we do together?
"RACE TOGETHER is an initiative from Starbucks and USA TODAY to stimulate conversation, compassion and action around race in America. Over the next year we plan to do just that, using all of our strengths in publishing and in stores across America.
"Our companies share a philosophy: Elevating diversity is the right thing to do, but it is also a necessity. Our nation is only becoming more diverse. To ignore, dismiss or fail to productively engage our differences is to stifle our collective potential. Diversity of thought and skills lead to more creative ideas and higher performance. Bias, even unintentional slights, sap our potential for shared prosperity while denying our shared humanity. . . ."
The print effort is being overseen by USA Today staffer Nichelle Smith, who has worked on other race-related projects, and Derek Murphy, the newspaper's executive vice president and general manager, both African Americans. Murphy came to USA Today from Huffington Post two years ago.
"Race Together" was the object of enough ridicule to become a topic at Starbucks' stockholders meeting this week. (Norman wrote, "The best tweet of the week was by April @ReignOfApril: 'Not sure what @Starbucks was thinking. I don't have time to explain 400 years of oppression to you & still make my train. #RaceTogether.' ")
Bruce Horovitz reported Wednesday for USA Today, "Starbucks (SBUX) announced a 2-for-1 stock split on Wednesday in an unusual annual meeting that mixed core business issues with the nation's hot-button social issue of race.
He also wrote, " 'The split is a direct reflection of the past seven years of increasing shareholder value,' CEO Howard Schultz said. . . .
"But the split was discussed for only a few minutes. Schultz and other supporters spent more than 90 minutes laying out the foundation for — and responding to heated social media criticism of — the company's plans to directly address the issue of race relations in America. This week, Starbucks baristas were given the option of writing the words 'Race Together' on customer cups to encourage conversation on racial issues. Schultz directly responded to the social media firestorm that has caused.
" 'There will be cynics and some in the media who criticize Starbucks,' said Schultz. 'This is not some marketing or PR exercise. This is to do one thing: use our national footprint and scale for good.' . . ."
Wayne Bennett, the Field Negro: "The New Black perspective….an old black pathology."

James Causey, Milwaukee Journal Sentinel: Common's way to end racism

Kat Chow, NPR "Code Switch": Starbucks Campaign Already Inspiring Awkward Conversations About Race

Editorial, Daily News, New York: 'Race Together' ridiculousness at Starbucks

Lewis Diuguid, Kansas City Star: Post-Ferguson, Starbucks initiates public conversations on race

Crystal Fleming, Huffington Post: #RaceTogether and the Harm of Racial Ignorance

Emil Guillermo blog: Haters will be haters? I'll have my race conversation VENTI, please; Why racist "micro-aggressions" may necessitate Starbuck's "micro-engagements."

Rigoberto Hernandez, NPR "Code Switch": Here's What People Are Saying About Starbucks' 'Race Together' Campaign

National Review: Mona Charen, The Race Conversation Starbucks Wants You to Have; Jonah Goldberg, Come for the Coffee, Stay for the Race Conversation; Ian Tuttle, Starbucks Social Justice Only Comes in Venti

Tina Nguyen, Mediaite: Starbucks SVP Deletes Twitter Account After Actual Minorities Ask Him About Race Issues

Tony Norman, Pittsburgh Post-Gazette: Starbucks is at least talking about race 

James Ragland, Dallas Morning News: Starbucks has really stuck its corporate toe in hot water this time

Mary Sanchez, Kansas City Star: Is Starbucks making you uncomfortable talking about race? Good!

Madeline Will, Chronicle of Higher Education: Sensing a Moment, Diversity Officers Swap Tips on Improving Campus Climate
Roger Yu, USA Today: USA TODAY offers buyouts to veteran staffers
L.A. Times Names 3rd Journalist of Color to Key Post
For the third time in a little over a month, the Los Angeles Times has announced a top-level management appointment or initiative involving a journalist of color.
"Times Editor Davan Maharaj and Managing Editor Marc Duvoisin have announced that Angel Rodriguez is The Times' new sports editor," Deirdre Edgar reported Friday for the Times. "Rodriguez comes to The Times from the Washington Post, and previously was sports editor of the Cincinnati Enquirer and home page manager of the Arizona Republic. And as a member of ESPN, he helped launch the Spanish-language ESPNdeportes.com. 
"Rodriguez has been a leader in online journalism, using digital tools to help reshape and expand sports reporting. He will bring these skills to The Times' Sports department and help extend its digital reach." At the Post, Rodriguez was deputy editor for mobile innovation, working on a team charged with creating the Post's new tablet app.
On Wednesday, the paper announced that S. Mitra Kalita, "a creative force behind the business news site Quartz, with a background in traditional journalism as well," would become managing editor for editorial strategy, reporting to Maharaj. Kalita's grandparents are from Assam in northeastern India; Maharaj, who became editor-in-chief in 2011, is a Trinidadian whose great-grandparents came from northern India.
Last month, the newspaper announced that "Jose Antonio Vargas, a journalist and undocumented immigrant, is joining forces with the Los Angeles Times to create a new section devoted to race, immigration and multiculturalism," as Brian Stelter reported for CNNMoney.com. Vargas is originally from the Philippines.
The new section is called #EmergingUS and is hiring for positions including videographer/video editor.
In the 2014 diversity census of the American Society of News Editors, the Times reported a newsroom that had no American Indian professionals, was 9.8 percent Asian American, 2.9 percent black or African American, 7.7 percent Hispanic and 1.0 percent mixed race, for a total of 21.4 percent journalists of color.
Latino Journalists Slightly More Optimistic
"Latino journalists are struggling financially, are concerned about job security and are less optimistic about their careers than when they first started, as the tendency for companies to hire freelancers instead of staffers continues to grow," Veronica Villafañe reported Thursday for her Media Moves site.
"Those are some of the findings of the 2015 State of Hispanic Journalists Report, which surveyed 260 Latino journalists who work in print, TV, radio, online media and blogging in the United States and Puerto Rico.
"Journalists present during a panel session at the Hispanicize 2015 conference, where the online survey results [were] presented, questioned what would be done with the information.
"As one attendee put it, the results are nothing new and talking about them is 'preaching to the choir.' . . ."
Villafañe also wrote, "Despite a negative outlook, there was a slight rise in optimism from those surveyed about the future climate of journalism for Hispanic journalists:
"58% of Latino journalists (same percentage as last year) believe the rise of online and social media is having a positive impact on their careers

"34% said they were more optimistic about their careers today than when they first started (a slight increase from 32% in last year's survey).

"53% of Latino journalists feel their news organizations are ready to use new technology to grow despite the challenges presented by online and social media — though that number is lower than the 59% who said the same thing last year. . . ."
White Reporter Recalls Covering Bloodbath in S. Africa
"Sharpeville is one of the oldest townships in Southern Gauteng's Vaal Triangle," the editors of South Africa's the Journalist wrote in introducing "Sharpeville 1960: Journalist Remembers: The day an anti-pass protest became a bloodbath that rocked the world."
"This weekend it is exactly 55 years since the name of this small place reverberated around the world.
"On 21 March 1960 the police shot and killed 69 people because they stood up for their human rights. Tim Knight was working on a Johannesburg-based weekly newspaper at the time. The legendary Peter Magubane was a young courageous photographer who captured the funeral image that shocked the world."
Knight's story began:
"I'm a twenty-two year-old reporter on the Sunday Express, Johannesburg, when police slaughter sixty-nine unarmed black protesters at Sharpeville.
"And South Africa changes forever.
"The funeral for the Sharpeville sixty-nine is scheduled for a few days after the massacre. The paranoid apartheid government, of course, wants no public record of it.
"So no reporters.
"Police and soldiers cordon off the entire area with barbed wire, armoured cars and an iron curtain of guns.
"But Sharpeville is a huge international story. The funeral must be covered.
"ANC friends who know the area offer to smuggle Sunday Express chief photographer James Soullier and me by a back ravine through police lines.
"We meet our guides very early on the morning. It's close to noon by the time we get around the men with the uniforms and the guns and get to the funeral.
"The picture haunts me to this day. A line of open graves cut out of the red clay stretches as far as I can see. Next to each grave lies an identical wooden coffin.
"An enormous crowd of black mourners weeps, sings hymns, chants black power slogans.
"James and I seem to be the only whites in this very black, very angry world.
"We're certainly the only white journalists.
"Neither of us have any illusions about what can happen. The crowd has every reason to turn on us — take revenge for the sixty-nine Sharpeville murders and the sheer, bloody, racist brutality of this white-supremacist state.
"No-one will ever know who slashes the first panga or smashes the last knobkerrie.
"No-one will ever know. And anyway, in the long run it simply won't matter.
"But instead of violence, we're welcomed as honoured guests and given an unofficial bodyguard — just in case. But no bodyguard is needed. . . ."
James Estrin, New York Times "Lens" blog: A German Rebel in South Africa (June 13, 2014)
sahistory.org: Sharpeville Massacre, 21 March 1960
Danny Schechter Dies, Chronicled Anti-Apartheid Struggle
"Known for his work chronicling the anti-apartheid struggle in South Africa since the 1960s, Danny Schechter has died after a battle with pancreatic cancer at the age of 72," Pacifica Radio's "Democracy Now!" reported on Friday.
"Schechter got his start as 'The News Dissector' in 1970 at WBCN-FM in Boston. He went on to become a prolific television producer who won two Emmys. He was executive editor of MediaChannel.org, co-founder and executive producer of Globalvision production company, and the author of twelve books, including The More You Watch, The Less You Know.
"Schechter made six non-fiction films about Nelson Mandela, including 'Mandela in America.' In January he had just published, When South Africa Called, We Answered: How the Media and International Solidarity Helped Topple Apartheid. In 1988 Schechter created and executive-produced the weekly news program "South Africa Now" that aired on 75 public and cable TV stations. He also co-produced 'Rights & Wrongs: Human Rights Television.' . . ."
Denis Slattery, Daily News, New York: Author, human rights activist Danny Schechter dies aged 72
"Empire" Season Finale Expected to Reach 27 Million
"With a standard-setting finale to its first season reaching 17.6 million viewers, Fox's music business drama 'Empire' has [proved] that it's still possible for broadcast television to create big hits," David Bauder reported Friday for the Associated Press.
"That's how many people watched the second of two one-hour episodes on Wednesday night. The first hour was seen by 15.8 million people, the Nielsen company said."
Bauder also wrote, "Not since 'Grey's Anatomy' in 2005 has a television drama reached so many people for the last episode of its premiere season, Nielsen said.
"The viewership estimate doesn't take into account the number of people who will see the show via Internet streams, video on demand and on DVR in the coming days and weeks. Based on viewership gains seen by past 'Empire' episodes, Fox estimates that in a month's time more than 27 million people will have watched Wednesday's last episode. . . ."
Charing Ball, Madame Noire: Are Latinos Being Left Out of Empire?

Tim Baysinger, Broadcasting & Cable: 'Empire' Post-Game: Why the Fox Hit Can Still Grow

Gene Demby, NPR "Code Switch": From Hot Sauce To Diapers, 'Superconsumers' Of Color Buy More Of, Well, Everything

Toni Fitzgerald, medialifemagazine.com: A last look at 'Empire's' stunning run
Lonnae O'Neal, Washington Post: I had a thot but didn't know it was a thing
Brennan Williams, Huffington Post: 'Empire' Is Showing Us A New Way To Think About Black TV Characters

Chris Witherspoon, theGrio.com: Dr. Boyce Watkins calls 'Empire' 'ghettofied coonery', here's why he's wrong
Ebony Advertising Revenue Reported Down 24% Last Year
"Advertising revenue at Ebony was down 24 percent last year, according to Standard Media Index," Robert Channick reported Tuesday for the Chicago Tribune.
"Standard Media Index monitors ad spending through data obtained from five of the six largest advertising holding companies, as well as leading independent agencies."
Desiree Rogers, CEO of the parent Johnson Publishing Co., "said the ad revenue decline at Ebony was 8 percent last year, but has made a priority of increasing advertising rates this year to reverse the downward trend."
Channick was reporting on the decision by Johnson Publishing not to publish a March issue of Ebony because the company was in a dispute with advertisers over rates, as reported in this space March 13. The dispute has been settled with a rate increase, and a combined March-April issue is planned, Rogers said.
Channick also wrote, "Ebony has a total average monthly circulation of 1.26 million through December, a 1.2 percent year-over-year decline, according to the Alliance for Audited Media. Newsstand sales dropped 35 percent during the period. . . ."
Meanwhile, Mitzi Miller, who announced Feb. 20 that she is leaving Johnson Publishing Co., where she was Ebony editor for less than a year and spent more than three years as editor of its sister publication Jet, has landed as head of development for Rainforest Entertainment, a film, television and digital media production company, the firm announced on Friday.
Outlets Failed to Cover Gains in Latino Health Coverage
"Major Hispanic news outlets failed to cover a new report from the Department of Health and Human Services (HHS) which found that 4.2 million Hispanic Americans have gained health insurance coverage since the Affordable Care Act provisions have taken effect," Cristina Lopez reported Friday for Media Matters for America.
"On March 16, HHS reported that 16.4 million Americans, including 4.2 million Hispanic Americans, gained health insurance coverage since 'several of the Affordable Care Act's coverage provisions took effect.'
"But major Hispanic media outlets have failed to cover the report. A Media Matters study found that from March 16 to March 19, top Hispanic news shows, Univision's Noticiero Univision and Noticiero Univision Edición Nocturna and Telemundo's Noticiero Telemundo made no mentions of the HHS report or the official ACA enrollment numbers disclosed this week. . . ."
Alfredo Richard, a spokesman for Telemundo, told Journal-isms, "We don't have any comments."
However, Jose Zamora, a spokesman for Univision, pointed to "two pieces done by one of our stations and published by our health unit online."
They were "Revelan cifra de hispanos inscritos a un seguro de salud" ("Reveal number of Hispanics enrolled in health insurance") and "Más latinos inscritos en programas de salud" ("More Latinos enrolled in health programs") by Univision Sacramento.
8 Compete for Seed Money from Black Consortium
"The National Black Programming Consortium has narrowed the field for NBPC 360, its ambitious new incubator program, to eight projects," Dru Sefton reported Wednesday for Current.org. The eight are competing for development funds of $50,000 to $150,000 for series pilots.
"The eight finalists:
" 'Black Broadway on U: A Transmedia Project' by Shellee Haynesworth, a web series telling the story of Washington, D.C.'s vibrant U Street neighborhood in the early 1900s;

" 'Chronicle: The Other Walter White,' by Shukree Tilghman, a web series about the summer of 1919 when an NAACP field worker passed for white to infiltrate racist corners of the American South;

" 'The Life's Essentials Docu-Series,' by Muta'Ali Muhammad, a TV series featuring one-on-one interviews to inspire audiences to engage in intergenerational family conversations;
" 'My Africa Is,' by Nosarieme Garrick, a TV series telling diverse stories of African youth culture;
" 'The Newark Project: Safe Passage,' by Ouida Washington, a TV series following six young people growing up in one of America's toughest cities;
" 'Pixie Dust,' by Damon Colquhoun, a web series focusing on a teenage girl who discovers a family secret to help her mentally ill mother;
" 'POPS,' by Garland McLaurin, a humorous web series exploring fatherhood through the experiences of three African-American men struggling to be good dads; and

" 'Street Cred,' by Sultan Sharrief, a TV series that challenges Detroit High School students to learn entertainment production skills and compete for an internship."
When a Cartoonist Was Told to 'Lighten Up' A Character
"In a beautifully illustrated comic over at The Nib, cartoonist Ronald Wimberly relays the story of working with an editor who asked him to lighten the skin tone of a character he was working on, Melita Garner, who has been described as Mexican and African-American, a reporter, and Wolverine's ex-girlfriend," Kat Chow reported Friday for NPR's "Code Switch."
Chow also wrote, " 'Why is it important to change the skin tone of this character a few degrees? What purpose does it serve?' Wimberly wonders. 'I wondered if a black editor would have asked me to change her skin tone. I'll keep wondering. After 12 years working in comics, I've yet to have a black editor.' . . ."
Short Takes
"Katharine Viner has been appointed the editor-in-chief of the Guardian, the first woman to run the newspaper in its 194-year history," the Guardian reported on Friday. "Viner, currently deputy editor of the Guardian and the editor-in-chief of Guardian US, will take up the role in the summer from incumbent Alan Rusbridger, who is to stand down after 20 years. . . ." Viner was founding editor of the Guardian edition for Australia, a country where she said indigenous people were covered with condescension. Viner recruited indigenous writers, bloggers and novelists to write for the website, and now the racial proportion of the staff matches the population of the country.

"Bounce TV has reached out to Time Warner Cable group vice president David Lange to express its disappointment that the cable operator has dropped the network in top market New York (where it airs on Univision-owned WXTV)," John Eggerton reported Friday for Multichannel News. "In a letter to Lange, a copy of which was supplied to Multichannel News, Bounce TV cofounder Martin Luther King III also took the opportunity to opine on TWC's lack of Bounce carriage in No. 2 market L.A . . ."
Less than 24 hours after announcing that it had signed contracts with 20 opinion writers, the New York Times said it was severing its relationship with one of them, Razib Khan. "Gawker's J.K. Trotter mined the archives, finding that Khan had made contributions to Web sites that peddle racist viewpoints," Erik Wemple reported Friday for the Washington Post. Meanwhile, conservative media critic L. Brent Bozell wrote with Tim Graham for Creators Syndicate, "It seems the viewpoint-diverse Times can't seem to locate a conservative acceptable to executives prowling the halls in the snooty Times offices in midtown Manhattan. . . ."
Expressing support for fellow University of Virginia student Martese Johnson, who was held to the ground, his face bloodied, and arrested early Wednesday, the managing board of the Cavalier Daily wrote, "One of the best examples of such support occurred at Wednesday's forum. While fourth-year College student and BSA [Black Student Alliance] President Joy Omenyi introduced the event, a reporter was interviewing University President Teresa Sullivan instead of listening to Omenyi. Students who witnessed this were rightfully outraged at this lack of respect for the event and its hosts, and demanded that both the reporter and Sullivan listen to the students instead — and the interview promptly ended. Students demanded that their president and the media listen to them; they demanded control over the conversation. What these students did demonstrates a mindset we should all emulate. . . ."
"Yosef ben-Jochannan, one of the last of the Harlem activist-intellectuals of the 20th century — those fiery, independent scholars who taught classical African history and shaped it into a sword against white supremacy — died Thursday after a long illness. He was 96," Todd Steven Burroughs wrote Friday for The Root. "The man known as Dr. Ben joined his ancestors the morning of the first day of the annual meeting of the organization he helped found, the Association for the Study of Classical African Civilizations. . . . "
"Three of the five winners of 2015 Freedom of Expression Awards are from Africa," allafrica.com reported, discussing honors Wednesday from the London-based Index on Censorship. "They include: Angolan investigative reporter Rafael Marques de Morais, who has faced repeated prosecution for exposing government and industry corruption, faces trial on 23 March for defamation; Amran Abdundi, who leads a group helping women in north-eastern Kenya along the dangerous border with Somalia; and Mouad 'El Haqed' Belghouat, the Moroccan rapper and human rights activist whose music highlights widespread poverty and endemic government corruption in Morocco who has been imprisoned three times in recent years."
"On March 13, the Myanmar Journalist Network decided to request newspapers not to carry news about the president and the two ministries, and to print black spaces instead," Ye Mon reported Tuesday for the Myanmar Times, Times, referring to the ministries of information and of home affairs. Mon also wrote, "The first to join the campaign was The Myanmar Post. . . . The campaign comes after about 500 baton-wielding police attacked a group of about 100 students at Letpadan on March 10, beating and arresting them. Monks were also targeted, leaving about 10 of them bleeding from the head. The police then turned on the media covering the affray, cursing and shouting 'Beat! Beat! Beat them all to death!' forcing the reporters to flee, according to a journalist from The Myanmar Times who was present. . . ."