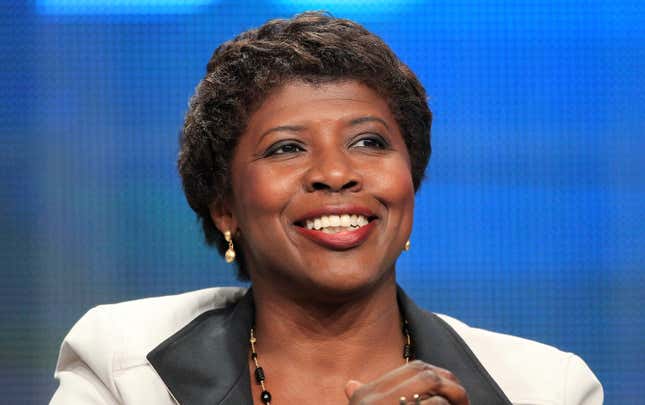 The U.S. Postal Service will host a stamp dedication ceremony to launch the release of the Gwen Ifill black heritage stamp on Jan. 30. The ceremony will honor the late journalist with the 43rd stamp in its Black Heritage Forever stamp collection, a collection that has honored other black history heavyweights like Ida B. Wells and Sojourner Truth.

Courtney B. Vance in Heist 88 Is Our Black TV Pick of the Week
According to a press release issued by the USPS, the ceremony, which will take place in Washington, D.C., will unveil stamp art that features a photo of Ifill taken by photographer Robert Severi and designed by Derry Noyes. The ceremony is free and open to the public.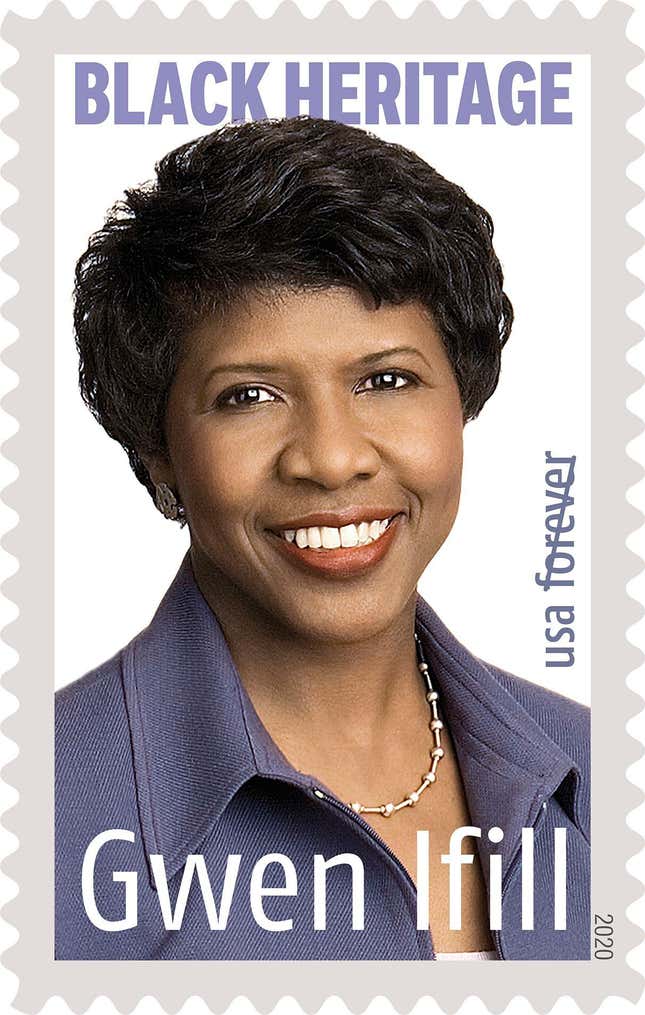 Ifill, who died in 2016 at age 61, was an acclaimed print and TV journalist who wrote for the New York Times and the Washington Post. In addition to garnering myriad awards (more on that later), Ifill broke barriers in journalism.
When she became the moderator and managing editor of Washington Week, Ifill became "the first woman and first African American to moderate a major television news-analysis show," the release said.
Similarly in 2013, she joined PBS NewsHour as a co-anchor and became part of "the first all-female team to anchor a national nightly news program."
The slew of honors bestowed on the late journalist is substantial:

"Among Ifill's honors were the Radio Television Digital News Foundation's Leonard Zeidenberg First Amendment Award (2006), Harvard's Joan Shorenstein Center's Goldsmith Career Award for Excellence in Journalism (2009) and induction into the National Association of Black Journalists Hall of Fame (2012) …

The 2016 John Chancellor Award was posthumously awarded to Ifill by the Columbia Journalism School. In 2017, the Washington Press Club Foundation and the "PBS NewsHour" created a journalism fellowship named for Ifill. Her alma mater, Simmons University, opened the Gwen Ifill College of Media, Arts, and Humanities in 2018."
The Black Heritage Forever stamp collection honors black Americans who have made significant contributions to the nation. Past honorees include musicians, politicians, artists, and even the cultural celebration Kwanzaa. As the name suggests, Forever stamps can be used forever, despite future postal rate increases; meaning, if you grab your Ifill stamps at $0.55, you can still use them to mail envelopes five years from now, even if stamp prices have increased. (This is assuming, of course, you still actually use snail mail.)
But even if you never actually use stamps, it's still dope to buy these, cuz legacy.
Gwen Ifill's impact in the journalism community will reverberate for generations. This stamp is one way our country can forever pay homage to a woman who dedicated her life to writing and reporting the truth.