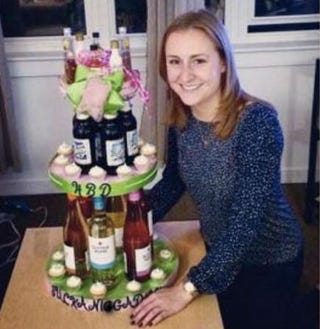 The Baltimore Sun is reporting that the University of Maryland chapter of Delta Gamma Sorority is under fire after social media picked up on a recent Instagram of a member celebrating her 21st birthday standing next to a three-layer cake inscribed with "Suck a n—ga d—k."
The university's Department of Fraternity and Sorority Life tweeted a condemnation of the photo Thursday, saying, "We are aware of an insensitive post from a community member & are addressing it with the chapter as it does not align with our Greek values," the Sun writes.
And Delta Gamma responded a few hours later on Facebook, saying, "We have become aware of an unacceptable Instagram post by a member of our chapter. The Fraternity volunteers and staff are working with our chapter at the University of Maryland at this time to hold this member accountable."
Not everyone was apologetic. In response to Delta Gamma's Facebook post, a commenter said that if the n-word is so offensive, rappers should find a different word "to abuse."
The UM Delta Gamma chapter drew headlines last year when a furious email from Rebecca Martinson to her sorority sisters was made public, the Sun notes.
Read more at the Baltimore Sun.