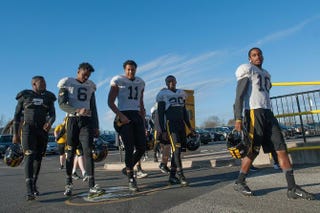 A sign for the University of Missouri's Gaines-Oldham Black Culture Center was vandalized early Thursday morning, apparently the latest tinder cast to the flames as the school continues to grapple with racial threats since the ousting of President Tim Wolfe, the Los Angeles Times reports. 
The sign in front of the center was reportedly spray-painted to cover up the word "black," hours after black student protesters held a march at the building to protest racially charged threats at the university, and a day after a white student at the Missouri University of Science and Technology allegedly issued a death threat against black students at the University of Missouri, shaking the entire campus. 
It is believed that the sign was spray-painted around 12:50 a.m., and police are currently reviewing video surveillance from the location.
Isaac Jahns, a freshman journalism student, told the Times that he was walking home from a dining hall with friends when he heard a scream near the center. 
"I heard a male voice scream out, 'You black … you're not welcome here!'" Jahns, who is white, told the news site. 
Jahns said he then saw a black woman running away, but did not know if she had been the target of the comment. 
The Legion of Black Collegians, the University of Missouri's black student government, tweeted early Thursday morning, urging Mizzou to "stay strong" and declaring, "We're not afraid. You clearly are." 
https://twitter.com/MizzouLBC/status/664708577202868224?ref_src=twsrc%5Etfw
Read more at the Los Angeles Times.