For Three Years, Authorities Have Declined to Prosecute
Jose Antonio Vargas, the undocumented journalist-turned-activist, has been taken into custody by the U.S. Border Patrol, a border patrol spokesman confirmed on Tuesday.
"All I can say is that we have him in custody," Omar Zamora said from the border patrol offices in Edinburg, Texas. Vargas had visited the nearby border town of McAllen, Texas.
The immigrant youth-led organization United We Dream said in a statement on its website, "Jose Antonio Vargas of Define American, has been detained by Border Patrol in McAllen after attempting to board a plane to Los Angeles." It also posted a petition supporting Vargas and added, "Jose's arrest highlights a larger problem: Most undocumented immigrants from the border can't travel freely within their own country because of risk of deportation."
The Monitor, the daily newspaper in McAllen, reported, "Vargas arrived to the McAllen/Miller International Airport shortly before 8:30 a.m to catch a flight to Los Angeles.
"When he got to the Transportation Security Administration checkpoint, however, he was asked a few questions before being placed in handcuffs and escorted out to a Border Patrol vehicle." It added, "After his arrest, Vargas was taken to the McAllen Border Patrol station and [the Minority Affairs Council] is holding a peaceful protest across the street in solidarity with the journalist."
G/O Media may get a commission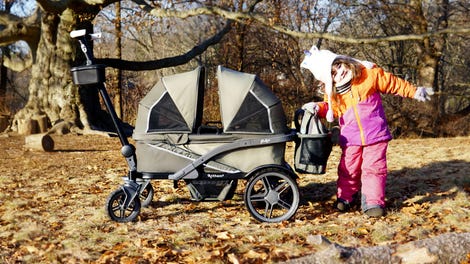 30% off
The Anthem All-Terrain Stroller Wagon Adventure Bundle
Go everywhere with your kids
This must-have bundle nets you either of Gladly's award-winning Anthem2 or Anthem4 All-Terrain Stroller Wagons as well as must-have accessories like a parent cupholder, a removable storage basket, extra-large canopies, a nap system, quilted comfort seats, a cooler bag with a padded shoulder strap, and a travel bag.
The group streamed its rally in support of Vargas shortly after 11 a.m. Eastern time. Members chanted, "It is our duty to win," "We have nothing to lose but our chains" and "What side are you on, my people, what side are you on?"
The group also posted a photo of Vargas in custody, apparently being handcuffed.
Authorities have declined to prosecute Vargas since he disclosed his undocumented status in June 2011 in a New York Times Magazine article, although he was arrested in Minnesota the following year for driving without a valid license.
He wrote for Politico on Friday, "Of course, I can only travel within the United States and, for identification, when I fly I use a valid passport that was issued by my native country, the Philippines. But each flight is a gamble. My passport lacks a visa. If TSA agents discover this, they can contact CBP, which, in turn, can detain me.
"But so far, I haven't had any problems, either because I look the way I do ('You're not brown and you don't look like a Jose Antonio Vargas,' an immigration advocate once told me), or talk the way I do — or because, as a security agent at John F. Kennedy International Airport who recognized me said without a hint of irony, 'You seem so American.' . . ."
Vargas, a former Washington Post reporter who founded Define American, an advocacy group, also wrote, "I flew into the valley Thursday morning to visit a shelter for unaccompanied Central American refugees and participate in a vigil in their honor. Outraged at the media coverage of this humanitarian crisis (these children are not 'illegal,' as news organizations like CBS News and the New York Times call them), and frustrated by the political ping-pong centered on border security and increased enforcement, I also came here to share my own story of coming to the United States as an unaccompanied minor from the Philippines.
"I wanted to help change the narrative of the conversation and, with a camera crew, share stories from the shelter and its volunteers. The visit to the shelter was intense and sobering, watching small kids fight for their lives with nothing more than their spirits.
"When my friend Mony Ruiz-Velasco, an immigration lawyer who used to work in the area, saw on my Facebook page that I was in McAllen, she texted me: 'I am so glad you are visiting the kids near the border. But how will you get through the checkpoint on your way back?' A curious question, I thought, and one I dismissed. I've visited the border before, in California. What checkpoint? What was she talking about?
"Then Tania Chavez, an undocumented youth leader from the Minority Affairs Council, one of the organizers of the vigil, asked me the same question: 'How will you get out of here?' Tania grew up in this border town. As the day wore on, as the reality of my predicament sunk in, Tania spelled it out for me: You might not get through airport security, where Customs and Border Protection (CPB) also checks for IDs, and you will definitely not get through the immigration checkpoints set up within 45 miles of this border town. At these checkpoints, you will be asked for documentation. ('Even if you tell them you're a U.S. citizen, they will ask you follow-up questions if they don't believe you,' Tania told me.) . . . "
Hugo Balta, president of the National Association of Hispanic Journalists, wrote members Monday on the NAHJ website, "Where many in Jose's situation would choose to cover such a story at a safe distance; he is risking not being able to return to the U.S. in order to shed light to the crisis at the border."
Balta also wrote that Vargas' film, "Documented," would be shown next month at the NAHJ convention in San Antonio. "Jose's reached out to me to see if any media outlets would be interested in airing a two-minute clip he and his film crew shot. I'm working with local NAHJ chapter leaders to see what we can do."
Local journalist Manuel De La Rosa, founder and president of the RGV [Rio Grande Valley] chapter of NAHJ, told Journal-isms in an email Tuesday that Vargas' detention "wasn't anything unusual.
"Whenever you fly out of an airport here in the Rio Grande Valley, you must go through security that includes talking to a Border Patrol Agent who asked if you are a citizen. We don't see that presence in larger airports though it's there, but since this is a small airport, they talk to every person. It's part of life on the border. It's unfortunate what has happened to Mr. Vargas, but folks who live here must endure it whenever we board planes."
Igor Bobic, Huffington Post: Bizarre Case Of Jose Antonio Vargas Shows That The Border Is More Secure Than Ever

Raoul Lowery Contreras, Fox News Latino: Immigration Crisis Shows Huge Failure Of Leadership And Obama's Lack Of Confidence

Alfredo Corchado, Dallas Morning News: Poverty, violence fuel exodus of youths from Honduras to U.S.

Jarvis DeBerry, NOLA.com | the Times-Picayune: Professor calls thousands of incoming children a 'refugee issue' created by Central American violence

David Horsey, Los Angeles Times: We should be humble and grateful we were born inside U.S. borders

Ruben Navarrette Jr., Washington Post Writers Group: The crisis of the children

Alex Nogales, National Hispanic Media Coalition/Univision: The Way We Are Perceived Is How We Will Be Treated

Maegan Ortiz, New America Media: No Humanitarianism in $3.7 Billion for Unaccompanied Minors at the Border

Rubén Rosario, Pioneer Press, St. Paul, Minn.: Child refugees need help, not posturing

Mary Sanchez, Kansas City Star: Don't politicize the plight of the kids at the border

Bob Ray Sanders, Star-Telegram, Fort Worth, Texas: Immigrant kids bring out Americans' ugliness
Plain Dealer Seeking Beat Writer for LeBron's Cavaliers
LeBron James' decision to return to the Cleveland Cavaliers, announced Friday, comes just as the Plain Dealer is seeking a beat writer to cover the team. "I'm not sure how many applications we've had, but I think it's safe to say the job has become more in demand now that a certain someone has returned to town," Daryl Kannberg, the paper's former sports editor, now publications director, told Journal-isms by email on Monday.
The issue of who covers James can be racially sensitive. It did not go unnoticed among black sports journalists that James' interview disclosing his decision to return to Ohio was not given to a journalist of color.
Four years ago, before James left Cleveland for the Miami Heat, writer Dexter Rogers wrote for the African American Sports Examiner, "It's a damn shame to find out [who] is covering LeBron James. No, I don't mean on the court: As in the journalists in the press box and locker rooms."
Rogers also wrote, "James surprisingly stated, 'They gave me two years, and they didn't understand the importance of an African American athlete being able to [relate to] someone who may not have all the same life experiences, but can understand where they're coming from,' James said. 'Having grown up in a similar fashion, I can understand. . . .' As it stands if LBJ happens to stay in Cleveland he won't have anyone that looks like him in Ohio covering him."
Kannberg said that Mary Schmitt Boyer, principal beat writer for the Cavs, decided to take a position with a health care firm in the Cleveland area. "Mary announced she was leaving a couple of weeks back, and stayed through the NBA Draft," he added.
The job announcement begins, "Bring your major sports reporting experience to one of the premier sports reporting jobs in the country, where you'll have the opportunity to work a high-profile role in a three-sport city. You'll cover all key stories about The Cleveland Cavaliers, writing, creating videos, and posting across multiple platforms including all relevant types of social media. You'll also participate in broadcasts in which you discuss the team, players, program, and season. . . ."
Kareem Abdul-Jabbar, Time: Why LeBron Can't Go Home Again

Emil Guillermo, Inquirer.net, Philippines: LeBron's message for Global Filipinos: It's all about getting home

Peniel E. Joseph, The Root: LeBron James' Return: Part Basketball, Part Urban Renewal

Chris O'Shea, FishbowlNY: Sports Illustrated Sets Web Traffic Record with LeBron James Essay

Bill Simmons, Grantland: God Loves Cleveland
Andrew J. Tobias, Northeast Ohio Media Group: Ed FitzGerald: LeBron's return worth millions to Cleveland, Cuyahoga County

Robert Weintraub, Columbia Journalism Review: LeBron's SI announcement was the anti-'Decision'
Rhonda Lee, Fired in Hair Dustup, Finds New Weather Job
Rhonda A. Lee, . . . the Black woman who was fired from her meteorologist job in Shreveport, La., after defending her natural hair on the station's Facebook page, has just accepted a job with a national weather channel in Colorado, Terrell Jermaine Starr reported Friday for News One. 
"Lee announced on her Twitter and Facebook pages that she has accepted a meteorology position with WeatherNation in Denver. 'By all accounts, it is my dream job and I am thrilled to be a part of the WeatherNation family,' she said Thursday night on Facebook. Lee told NewsOne that she accepted the position a week ago but wanted to [fine- tune some particulars before making an announcement.
"The offer came soon after the veteran weather woman had lost hope of ever working in television again.
" 'A month ago, I told my husband that I'm pretty sure I would never work in weather again,' she said. 'I had completely lost faith, but in a matter of a week or so, all of a sudden, three people showed interest in me. It was an awakening is what it was. I really had given up.'
"Lee had several offers in other markets, including a chief meteorologist position, but went with WeatherNation because it's a national network that reaches millions of homes. Lee doesn't know when she will be on-air, but says she will be on Channel 361 on DIRECTV. She, her husband, and their 10-month-old son will be moving to Denver in a few weeks. . . ."
Demoted Pam Oliver Says Disappointment Has Subsided
"Pam Oliver is no longer Fox's top NFL sideline reporter," Richard Deitsch reported Monday for Sports Illustrated. "And after this coming football season, she will no longer be a sideline reporter at all.
"Oliver confirmed the news to Sports Illustrated on Sunday night that she will move to the network's No. 2 team for her 20th NFL broadcasting season. Erin Andrews has been elevated to the No. 1 sideline spot, joining the team of Joe Buck and Troy Aikman. Oliver''s last season working as a reporter on the NFL will be spent with the No. 2 Fox team of Kevin Burkhardt and John Lynch.
"After a painful couple of months, Oliver said the disappointment of that news has subsided and that she has accepted her new professional reality. But it was a shock last April when Fox Sports executives traveled to Atlanta, where she is based, to tell her in person that she would no longer hold the job that has been her professional life for two decades.
"Oliver says that while she respected Fox Sports president Eric Shanks and executive vice president of production John Entz delivering the news in person, she was stunned when they initially informed her that not only was she being removed from Fox's No. 1 NFL team, but also that she was being taken off the NFL sidelines completely in 2014.
" 'To go from the lead crew to no crew was a little shocking,' Oliver said. . . ."
Five Lessons the World Cup Broadcasts Taught the Media
"The final goal has been scored and after a month of nail-biting induced drama, it was Germany who was left standing as World Cup champions," Tim Baysinger wrote Monday for Broadcasting & Cable.
"The 2014 edition of the FIFA World Cup was filled with heavyweights, including Spain, Italy and England, bowing out early and upstarts, Greece, Colombia and Costa Rica, advancing further than ever. The Americans, who faced an uphill climb in the 'group of death,' perhaps put themselves on the world soccer map for good with an appearance in the Round of 16.
"As we look ahead to Russia in four years, here are five things we learned from the past month in Brazil.
"America Is a 'Big Event' Culture . . .

"Time Zones Matter . . .

"Strong National Team Best Way to Build Sport . . .

"Premier League Might Benefit More Than MLS . . .

"Fox Will Be Hard Pressed to Match Standard ESPN Set in 2018 . . ."
The games ended Sunday with Germany emerging as the first European team to triumph in the Americas.
Henry Louis Gates Jr., The Root: True or False: There Are No Black People in Argentina

Toni Fitzgerald, medialifemagazine.com: One last huge turnout for the World Cup: Germany-Argentina final averages 26.5 million total viewers (July 15)

David Gianatasio, AdWeek: Is Tim Howard the Perfect Brand Partner?

Jonathan Mahler, New York Times: Biggest Scorer in World Cup? Maybe Univision
Seigenthaler Sent Off to Music of Civil Rights Movement
"John Seigenthaler's funeral showed off the music and the moral strength of the civil rights movement he worked and bled for, sending off the legendary Tennessean editor with a mix of protest songs, Catholic ritual and political power," Heidi Hall and Michael Cass reported Monday for the Tennessean in Nashville.
"Emmylou Harris sang 'We Shall Overcome,' a choir sang 'This Little Light of Mine' and incense burned as more than 1,000 people, including the city's and state's political elites — and three generations of Massachusetts Kennedys — came together to mourn Seigenthaler's death and celebrate his remarkable life.
"The service at Cathedral of the Incarnation paid a fitting tribute to Seigenthaler, who crusaded against the world's wrongs not only as a reporter and editor but also as a top assistant to Attorney General Robert F. Kennedy and as founder of the First Amendment Center. . . ."
Seigenthaler, former editor and publisher of the Tennessean and founding editorial page editor of USA Today, died Friday at 86.
Karen Dunlap, Poynter Institute: John Seigenthaler was a leader of free speech, civil rights and journalism

Al Gore: Statement by Former Vice President Gore on the passing of John Seigenthaler

DeWayne Wickham, USA Today: Wickham: Seigenthaler was a race man
BET Apologizes to Photographer Over Snub at "BET Awards"
BET has apologized to photographer Bill Jones, "one of the most respected photographers in the business, and quite possibly the oldest Black photographer still working Hollywood's red carpets," after Jones was among veteran journalists denied credentials to the top-rated "BET Awards" two weeks ago, Tanya Young Williams reported Monday for the Huffington Post.
Tracy McGraw, BET's senior vice president of communications, "did not offer an explanation as to why Jones was rejected," Williams wrote, "however, she stated that due to the extreme reduction of red carpet credentials, the BET communications department had to make some 'hard decisions.' However, in retrospect, and possibly due to the outrage incited by my article about Jones' snub, BET contacted Jones and promised that he would be appropriately credentialed at future events. According to McGraw, BET will make accommodations for the 83 year old photographer, including a designated shooting area in the shade, as well as, standing room for his assistant.
"I spoke to Jones and he offered the following exclusive statement regarding his conversation with BET:
" 'I appreciate BET reaching out to me to offer their apologies and rectify this situation. However, I've left the door open for a new generation of African American photographers to follow in my footsteps, and I hope they will be extended the same professional courtesy in the future. Giving access to Black media to capture the important moments in our culture is a win-win situation for all parties involved. . . ."
McGraw also wrote, "Many publicists and journalists have stated, under the condition of anonymity, that they believe the snubbing of veteran journalists and the 'chaos' on the red-carpet was due to BET's hiring a white owned PR firm, Slate PR . . . with little experience with Black journalists, photographers and in representing African-American talent. . . ."
"NPR has downgraded the ombudsman position," Jay Rosen wrote Monday on his PressLink blog. "Two former ombudsman agree with this." Rosen cited wording in the job description for the successor to Edward Schumacher-Matos, who is to be called "ombudsman/public editor. "Just think about the effect that 'your job is not to pass judgment' has on the pool of potential applicants," Rosen added. . . .  In my view, NPR is far stronger than this short-sighted and half-assed decision suggests. . . ."

The National Hispanic Media Coalition is appealing to Latino groups to urge the Federal Communication Communications to support open access to the Internet, under the principle known as "net neutrality." "As a civil rights and Latin@ leader, your voice will help FCC Chairman [Thomas] Wheeler make the right choice and take action on Network neutrality that protects all of our voices online," the coalition wrote. The National Association of Hispanic Journalists is among those endorsing the appeal. The Online News Association issued its own statement, saying, "Just as important as a stable, fast and widespread Internet is one that preserves the integrity of a free press, and supports an informed and engaged public." The FCC comment period closes Tuesday.

"Fox News host Bob Beckel issued a half-hearted apology for his use of the racial slur 'Chinamen' last week during Monday's program of The Five," Randall Yip reported Monday on his AsAm News site. "In a brief [100-word] statement, not including all his uhs and ums, Beckel devoted 26 words to his apology for 'his comments' which he never acknowledged as a slur and 74 words to his continued rant on China. . . ."

"President Barack Obama is playing golf at a private club in Maryland with ESPN co-host Michael Wilbon," Darlene Superville reported Saturday for the Associated Press. "Obama played at a different club late last month with Tony Kornheiser, Wilbon's sidekick on the sports show 'Pardon the Interruption.' . . .'' Obama also played with Wilbon and Kornheiser last year, ABC News reported then.

Christina Good Voice (Muscogee/Creek), Jolene Schonchin (Comanche) and Tristan Ahtone (Kiowa) were elected to three-year terms on the board of directors of the Native American Journalists Association Saturday, NAJA announced. Fifty-five votes were cast. "Christina is the manager of Mvskoke Media and Jolene Schonchin is editor in chief of the Comanche Nation newspaper, board member Dalton Walker, Ojibwe, said. They each received 30 votes. Tristan Ahtone, a write-in candidate and freelance journalist, received 22 votes." Mary Hudetz (Crow) remains president for a second consecutive year. Outgoing board members are Tetona Dunlap (Eastern Shoshone) and Robert Ortiz (Southern Ute). "Tetona is a reporter at the Times-News in Twin Falls, Idaho. Robert is a journalist at the Southern Ute Drum."

Adam K. Pawlus, formerly director of operations of Physicians for Social Responsibility and deputy executive director of the Voluntary Protections Programs Participants' Association, has been named executive director of the National Lesbian & Gay Journalists Association, succeeding Michael Tune, NLGJA announced on Monday.

Faculty from historically black colleges and universities are producing news apps at the 2014 Digital Workshop this week at the School of Journalism & Broadcasting at Western Kentucky University, the Dow Jones News Fund reported. "The workshop, in its fifth year, is co-sponsored by the School with a $26,500 grant from the Dow Jones News Fund. This is the first year the workshop will focus on news apps. . . ." Dr. Pam McAllister Johnson directs the workshop.

The Morgan Global Journalism Review's third issue is themed "Access to the Truth Under assault," with such articles as "It's Not Better in the Bahamas for Journalists," "Press Freedom in Liberia, an Elusive Dream," "Hidden in Plain Sight: Black Players in Silicon Valley" and "A Tribute to Maya Angelou" from several journalists. The review is an online quarterly published by the School of Global Journalism & Communication at Morgan State University.

"In an effort to put an end to rape and sexual assault for good, EBONY.com launched the series, 'Ending Rape 4Ever,' " Johnson Publishing Co. announced. "Lori S. Robinson, author of I Will Survive: The African-American Guide to Healing from Sexual Assault is the special guest editor for the series. . . ."

Hearst's O, the Oprah Magazine is testing the waters for premium subscriptions "with O's Circle of Friends, a tiered-subscription model/fan club that takes advantage of one of its singular assets: its readers' obsession with its founder," Emma Bazilian wrote Sunday for adweek.com. "As part of Circle of Friends, Prime subscribers ($39 a year) receive a newsletter featuring a behind-the-scenes look at the magazine and special discounts on Oprah-approved products. The Plus subscription ($99) includes a box of luxury beauty items curated by O's editors, while top-tier Premier members ($199) get tickets to her 'The Life You Want' tour, a chance to test products for the magazine — and even a birthday card from Oprah herself. . . ."

"Israeli airstrikes on Gaza in the past week have left a dire situation for residents and for journalists seeking to cover the conflict," Grayson Harbour reported Friday for the International Press Institute.

In Myanmar, also known as Burma, "Days after a stern warning to the media by President Thein Sein, four journalists and the head of a local publication were sentenced to 10 years hard labour for disclosing state secrets," Philip Heijmans reported Monday for Al Jazeera. "The guilty verdicts, which were immediately decried by rights groups, come after months of increasing government pressure, which has led to seemingly arbitrary arrests, deportations, and the dispatching of 'secret police' to investigate the financial status of local newspapers. . . ."  In adddition, about two dozen journalists who staged a silent demonstration in support of the journalists "will be charged with violating the Peaceful Assembly Act, as will dozens of other journalists who were not participating in the demonstration but attempted to report on it, according to the police," Kyaw Phy Tha reported Monday for the Irrawaddy, which covers the region.

Follow Richard Prince on Twitter.
Facebook users: Like "Richard Prince's Journal-isms" on Facebook.
Journal-isms is published on the site of the Maynard Institute for Journalism Education (mije.org). Reprinted on The Root by permission.