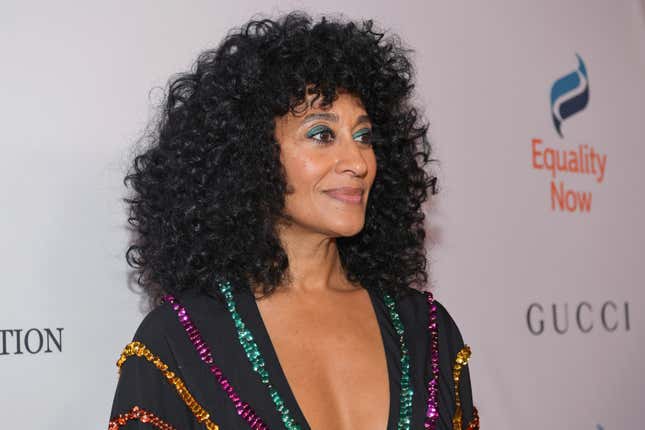 When you are a Hollywood actress known for your fabulous mane full of curls, it seems only logical that you would come up with a hair care product line made specifically for women who share the same mass of tumbling, tangling, curling locks like you.
If you are Tracee Ellis Ross, you may have been working for the last 10 years trying to get this idea off the ground.
Ross took to her personal Instagram account Tuesday to announce the launch of Pattern, her new haircare brand "specifically for curly, coily and tight textured hair."
The Black-ish star wrote:
Thrilled to introduce PATTERN // my new hair care brand specifically for curly, coily, and tight textured hair.⁠

@patternbeauty is the result of 20 years of dreaming, 10 years in the making (I wrote my first brand pitch in 2008, right when girlfriends finished ) and 2 years of working with chemists. I'm so excited to share this with y'all.

@patternbeauty is here to empower and nourish curly, coily and tight-textured hair. 3b to 4c. The formulas are unique and packed with luscious & safe ingredients-trust me I know, because my panel and I tried 74 different samples to get these 7 formulas for phase one.⁠

@patternbeauty is for those of us who need more than a quarter size of product. large conditioner sizes that actually fulfill the unmet needs of our community. accessible pricing because everyone should have access to their most beautiful hair in their own shower, and gorgeous packaging that conjures the legacy of our history and makes us all feel like the royalty that we are. ⁠

I'm excited for PATTERN to join the natural hair movement, and to celebrate our hair for what it is: beautiful! The line will be available on patternbeauty.com this Monday, September 9 at 9am ET!!!! #RockYourPattern
The announcement was accompanied by a photo of Ross wearing nothing but her signature curls.
Product junkies get ready: you will be able to purchase Pattern beginning Monday at 9 a.m. on the Pattern website.
Be sure to report back with your findings.