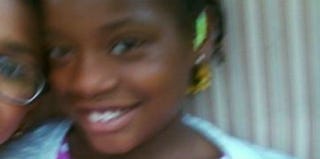 Among the first victims to be publicly identified after the tornadoes that devastated Moore, Okla., on Monday is 9-year-old Ja'Nae Hornsby, whose father told news station KJRH that her body was found in the rubble of Plaza Towers Elementary School.
"She was just a big ball of energy; she was lovable. You couldn't not love her," her father said in a heartbreaking interview. "She was loved, and she was love."
From the Huffington Post:
Ja'Nae's grandmother confirmed to KOCO 5 on Tuesday that the family was informed at 9 a.m. that the girl's body was at the medical examiner's office. KOCO 5 also noted a conversation a reporter had with the family Monday night, as they continued to search for her:

Nine children and 24 people total have been confirmed dead as of Tuesday afternoon. According to Reuters, seven of the deceased children died at Plaza Towers Elementary School. The 2-mile wide tornado left hundreds more injured, and the death toll may continue to climb.
Read more at the Huffington Post.