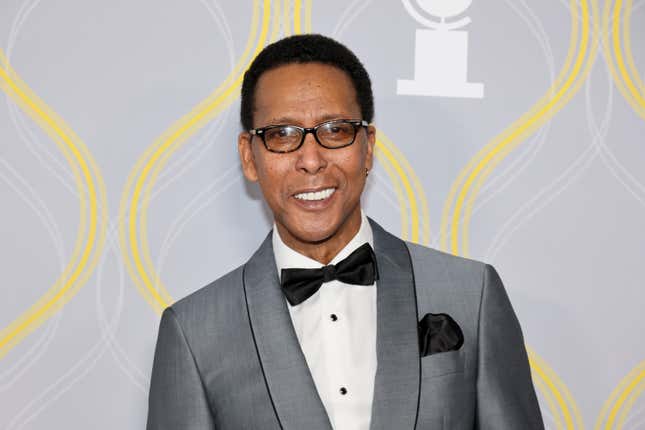 This Is Us fans were dealt a tragic blow on Saturday when Ron Cephas Jones died at the age of 66 from a "long-standing pulmonary issue." The two-time Emmy-winning actor played WIlliam Hill, the biological father of Sterling K. Brown's Randall Pearson. Jones had a long and distinguished career with memorable roles in Luke Cage; Truth Be Told; The Get Down and multiple appearances across the Law & Order franchise. He is also the father of award winning actress/singer Jasmine Cephas Jones. His shocking death led to tributes from his co-stars and friends.
Cedric the Entertainer Shares Details Of His First Crime Novel & Tackles Our Random Rapid Fire Questions
Brown took to Instagram to celebrate his TV father, writing, "Life imitated art today, and one of the most wonderful people the world has ever seen is no longer with us. @cephasjaz has passed away, and the world is a little less bright. Brother, you are loved. And you will be missed. Keep them laughing in the next phase of existence, and I'll see you when I get there."
Mandy Moore, who played This Is Us' Rebecca Pearson, called the actor "an intrinsic part of the fabric of the show."
"Getting to know and work with Ron on the wild ride of This Is Us was the greatest gift- he was pure magic as a human and an artist…I will treasure all of the moments forever," she wrote on Instagram. "Even though he wasn't around set as much as we all wished, he was such an intrinsic part of the fabric of the show, it's like he was always there. I'll never forget how special it was to film this particular episode and welcome him back to say a proper goodbye to our TIU family and the whole experience. I am just so sad. My thoughts and love are with Jasmine and his family and friends. Love you, @cephasjaz."
Octavia Spencer saluted her Truth Be Told co-star on Instagram, noting how "excited" she was to work with him and how much she learned during their scenes together.
"I'm heartbroken to lose my dear friend and colleague Ron Cephas Jones @cephasjaz. Ron was an incredibly talented actor and, most importantly, a wonderfully kind human being. Every day on set with Ron was a good day. I'm sending all my love to his daughter Jasmine, family, friends and fans," she wrote. "Update: this one is hitting very hard. I learned so much from Ron in every single scene we had together. Whenever I saw his name on the call sheet I would get excited because I knew I'd be getting a year's worth of technique in that 8 hour day. For those pursuing acting as a living, let Emmy Award Winner, Ron Cephas Jones, be the type of perfection you strive to achieve. That man could break down a scene. Jasmine gets it honestly."
Jones played Luke Cage's friend and confidante Bobby Fish on the Marvel drama. Series star Mike Colter paid tribute to his co-star, calling him "an amazing talent."
"I hate to open up my phone and find out that someone I admired and respected has passed on," Colter wrote on Instagram. "@cephasjaz was an amazing talent. He just delivered everytime. Whether it was on stage or on screen. He was profoundly committed to his craft. It was pleasure to have a chance to work with you brother. Thank you for your dedication. You will be missed and remembered forever."
The Root sends our condolences to Ron Cephas Jones' family, friends and fans.