How about three delicious scoops of #BlackGirlMagic to sweeten your day? Designer Brandon Maxwell's newly launched Spring/Summer 2018 advertising campaign, starring British model Jourdan Dunn and her surprise date, is a follow-up to his two previous and equally stunning campaign videos featuring models Riley Montana and Joan Smalls.
Gorgeous clothes, perfect bodies and pretty faces are the least of what we're treated to in Maxwell's videos, written and directed by the designer himself in collaboration with his longtime creative partner, Jessy Price. Each is striking in its intimacy as Maxwell unzips the model mystique, allowing us to peer into the souls of the women he loves to dress.
Fashion has a fairy-tale quality to it, and it's an element illustrated by Maxwell's clothes juxtaposed against the backdrop of his models' everyday lives. In his most recent campaign, Dunn gets confessional about her own transformative journey into modeling and motherhood, both while she was still a teenager. Dunn's life as a mother lies at the center of her video, filmed with her own tiny Prince Charming, 8-year-old son Riley.
It's a pure fantasy of a mother-son scenario, but nonetheless one that speaks to the dream of how we all like to think of those magical days of childhood, a time when seeing your mother happy, dressed up and looking lovely—along with an extra ride on the carousel and a second ice cream—was, in fact, real magic.
G/O Media may get a commission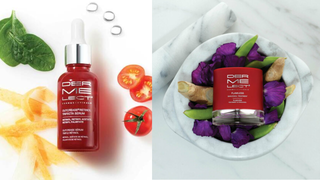 Save $19
Retinol Renewal Kit
The Glow Up caught up with Maxwell via Instagram while he was burning the midnight oil, creating his next collection—only two weeks away from being presented at New York Fashion Week. For him, Dunn's campaign video expresses something very special:
It's not about who you are, nor how much you can provide for your child; it's about the relationship, the act of doing something together, the love of a mother and the safety you feel when she says to you through action, "You matter, I see you, and I love you, right where you are."
In Maxwell's Fall/Winter 2017 campaign video, superstrong Puerto Rican model Joan Smalls celebrated her career and craft. She tells us not so much about herself, but reminds us that we should not forget the humanity of people, no matter the package in which they come—glamorous or otherwise.
Drenched in sunlight, wearing a cocktail dress, Smalls displays the discipline of a soldier as a team of tailors pins the little black dress to fit Smalls' tight curves while she stands stock-still. Then she elegantly bursts to life, strutting across the floor and instantly giving us an inside look at the role models play in making runway creations a reality. In a quote from the company's website, Maxwell describes the feeling of Smalls' shoot:
I wanted to capture the collection the way that I see it during fittings and during the creation process. It helps to better explain why I create the clothes that I do, which are meant to enhance a woman's personality, goals, talents and desires—never to outshine her.
Detroit-born Ebony Riley—now better known as Riley Montana—came to the model game late, after completing her nursing degree. Despite the fact that models age in dog years, Riley broke out of the pack and became a star with the love and support of designers like Riccardo Tisci, Tom Ford and, most of all, Brandon Maxwell, whom she refers to fondly as her "father."
Maxwell's video portrait of Riley explores her cosmic destiny in down-to-earth terms, from her beginnings in Detroit to " a new reality." That reality is the fashion business, where she was asked to become another version of herself; "one that was more relatable and that didn't offend."
Riley, a foster child, takes us into the place she calls "home," proudly showing every intimate, unidealized and precious detail of a family life full of warmth and love, in stark contrast with the devastated urban landscape that lies outside the family's door. In Riley's words, all of these were things "that I was once [was] taught to hide—but they make me who I am."
In this urban fashion fairy tale, Cinderella rescues herself, embracing the struggle to excel while not assimilating. Maxwell says:
I've spent so much time with Riley, and we talked about our lives and similarities. I realized that she's the embodiment of the woman I design for. The woman who, no matter what she's been through, puts on the clothes with her head held high.
What beautiful black girls might we expect to see high-stepping on Brandon Maxwell's runway this season?
"We are still in the process of casting, so no spoilers!" he says. "Each season, we prioritize diversity in our runway casting and do our best to represent the Brandon Maxwell woman: strong, sophisticated and confident."
You can trust that The Glow Up will be there to see our beautiful queens serve the people in the next chapter of his fashion fairy tale.