It seems as if white supremacists haven't done enough damage or wreaked enough havoc after the violent white supremacist rally in Charlottesville, Va., that left one person dead and multiple others injured. Now a Texas college town has to wonder if its home will be turned into the next racist stomping ground after a white nationalist announced his plans to host a rally featuring Richard Spencer at Texas A&M University.

According to the Texas Tribune, Spencer, the infamous white nationalist leader and fuckboi supreme, has brought major unrest to Texas A&M before, and now he is expected to be at College Station again for a "White Lives Matter Rally" hosted by Preston Wiginton, a Texan with ties to the white nationalist movement. The event is expected to take place Sept. 11.
Wiginton reportedly announced his shitty plans Saturday afternoon, confirming that he did invite Spencer. Wiginton claimed that by Sunday, Spencer had confirmed that he planned to attend.
Saturday's press release announcing the event declared, "TODAY CHARLOTTESVILLE TOMORROW TEXAS A&M," which I think is clearly inciting violence, but I'm not a lawyer and these white men get away with anything, it seems.
News of the rally immediately generated social media outrage, and Texans are coming through with a counterprotest. Within hours, an event dubbed "BTHO Hate" was announced, which the Tribune explains borrows from an A&M football chant that is used to encourage the home team to "beat the hell outta" the opposing team.
G/O Media may get a commission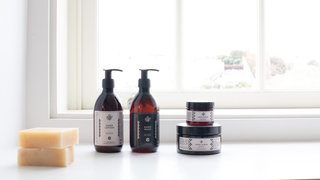 Exfoliate and Hydrate
The Handmade Soap Company
The organizer of the counterprotest said that their nonviolent stance will be used to "demonstrate that members of the Aggie community do not support the hateful bigotry espoused by Wiginton and the planned speakers."
"White supremacists keep coming to our campus thinking we're going to support them," Adam Key, a doctoral student at A&M and the organizer of the counterprotest, told the Tribune. "Just like the last time they showed up, we want to demonstrate as clearly as we can that their ideas are not welcome here.
"We hoped that December was the last time we would have to protest them," Key added, referencing when Spencer was last at the university to give a speech, at that time to about 400 people. "Aggies started fighting Nazis in World War II. We have no plans to stop anytime soon."
Spencer's last talk was repeatedly interrupted by shouting and pushing among people in the crowd, while thousands of people protested outside, leading the Texas Department of Public Safety to clear out the student center where the event was being held.
Still, Wiginton is adamant, saying in his press release that his rally will focus on protesting "the liberal agenda of White Guilt and white genocide that is taught at most all universities in America."
"Various groups throughout the country concerned with the political status of whites in America will be attending as well," he added.
In the meantime, A&M officials are struggling to find their own solution, given that it is a public university and it is limited by the First Amendment in how it deals with objectionable events on campus ... even if it is hate speech.
A&M System Regent Tony Buzbee, who is also a Houston lawyer, said that he has looked into whether the university can keep Wiginton and his hateful event off the campus.
"Because we offer these facilities to the public for use, we cannot deny such use due to political ideology or speech content," Buzbee said. "The First Amendment allows speech like this, even though it is repugnant and wrong."
In the end, Buzbee had some very strong words for Wiginton himself, who he said is just seeking attention.
"[Wiginton] has never accomplished anything positive in his life and never will," Buzbee said. "It is a damn shame that our university, which sent more officers to fight the Nazis than all the service academies combined, would be tarnished by trash like him. But, in the end, the best way to deal with a lowlife like him is to ignore him."
Read more at the Texas Tribune.