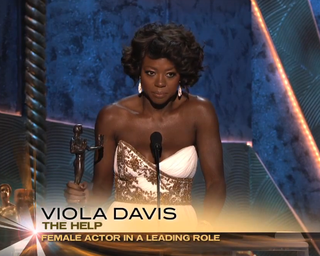 Accepting her SAG Award for outstanding female actress in a leading role Sunday night, The Help actress Viola Davis' speech included a special note: "Dream big and dream fierce." She directed it specifically to the students of the Segue Institute of Learning.
What is Segue? ColorLines reports today that it's a school in her hometown of Central Falls, R.I., that serves students grades 6 through 8. According to public records, 91 percent of the students are Latino and 9 percent are black. Fifty-seven percent of students are on reduced lunch.
Central Falls made headlines in 2009 when leaders in the Latino community urged them not to participate in the 2010 census as a symbolic protest for immigration reform.
Listen to Davis' speech here:
Read more at Slate.
Like The Root on Facebook. Follow us on Twitter.