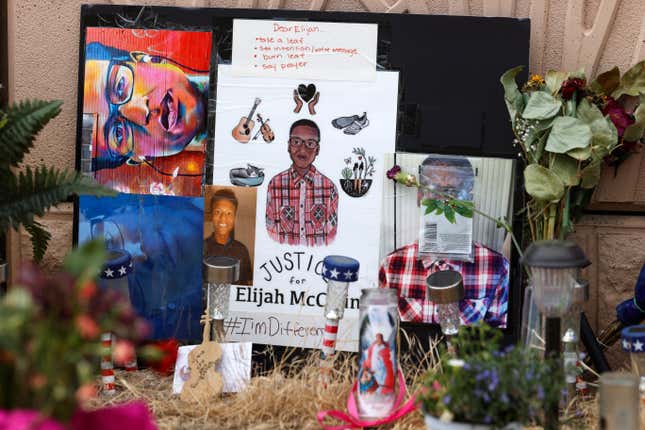 It's been nearly four years since the death of Elijah McClain rocked the national consciousness. And yet, we're still no closer to sentences being levied against the officers charged with killing him.
On Thursday, a Colorado judge ordered a delay in the criminal trial of two police officers who were indicted on manslaughter and criminally negligent reckless homicide charges in McClain's case after their stop turned fatal. They were indicted alongside paramedics and another officer who are set to be tried in August and September, respectively.
For those who don't remember, in 2019, police stopped the 23-year-old Black man as we were walking down the street in a suburb outside of Denver. McClain, a massage therapist, and self-taught musician who liked to play the violin to soothe stray cats, was completely unarmed when police arrived. Someone had called 911, alerting police of a "sketchy" man in the area, which was apparently all of the pre-text officers needed to try to detain him.
Despite the fact that McClain hadn't committed a crime, police proceeded to tackle him and try to cuff him. They then placed him into a chokehold, cutting off blood flow to his brain. When paramedics arrived, they injected McClain with Ketamine, an incredibly powerful sedative known to increase your heart rate and blood pressure. McClain's heart stopped on the way to the hospital, and he was pronounced dead several days later.
Although the original coroner's report ruled McClain's death "undetermined," a deeper dive laid the blame at the feet of the officers and the paramedics. The updated autopsy report found that McClain's death was the result of "complications of ketamine administration following forcible restraint," opening the door for the indictments.
McClain's death was far from the only time Ketamine has been administered with fatal outcomes after a police stop. In 2018, paramedics injected Jerica LaCour with a fatal dose of Ketamine after she was witnessed crying in a parking lot.
The Colorado judge didn't set a new court date for the two officers. However, according to the Associated Press, he said that the trial won't be held later than October.