Mention Loretta Devine and people immediately pipe up. Devine, who identifies herself as a "character actress," has that instant-recognition factor, thanks to her work in Grey's Anatomy, Dreamgirls, Boston Public, The Lottery Ticket … the list goes on and on. She is literally working all of the time.
These days, she just finished shooting Jumping the Broom, where she plays the mother of the groom. Next up, there is a Tyler Perry film. No, it's not the highly anticipated For Colored Girls Who Have Considered Suicide When the Rainbow Is Enuf, in which Devine plays the role of Juanita, but Madea's Big Happy Family, in which she stars as the mother-in-law. Then she'll star in the film adaptation of Terry McMillan's Getting to Happy, the sequel to Waiting to Exhale.
We wanted to find out what else the singer-actress has got going on. The Root caught up with Devine in a transport van between scenes on the set of Jumping the Broom. After teasing me for not having an iPhone, she let us in on what is happening in her world.
The Root: You are a busy woman, with one project after the other. What do you do during your downtime?
Loretta Devine: While I was unemployed [between projects], I penned a one-woman show entitled Pieces of Me, which is a story about my life and career. It spans from when I was a child in Houston until now. [She stops, looks at my laptop — upon which I am typing — in disbelief.] How are you going to type in emotion? You are too young to not have an iPhone. You need to get with the times. 
G/O Media may get a commission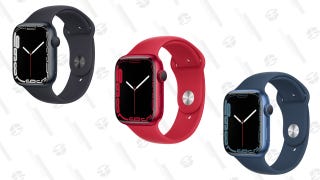 Up To $45 Off
Apple Watch Series 7
TR: But this is what I prefer. [She gives me that "Girl, you're crazy look" and snickers.] Out of all of the things you could have done, why did you choose to return to the theater?
LD: Live theater is my favorite of all the mediums. You get that applause every night. Television is very lucrative, and film is fleeting — you work for a few weeks and move on. But live theater is real, and there is nothing like that applause. [At this point, fans are now walking up to the transport van, asking for autographs. Devine obliges, chats up her fans, even lets one young man take a picture of her on his iPhone. Upon spotting the iPhone, she turns and gives me a pointed look.] See, you need one.
TR:  Why did you decide to do a one-woman show?
LD: I wanted to do a one-woman show because the theater is a very safe environment. You know where you're going to be, what you're going to do, and that people will be there who are truly interested in what you have to offer. Besides, I like having some control over my environment. This film had me shooting by a swamp with bugs and whatnot. There are no bugs in the theater.
TR: Who is your favorite co-star?
LD: I love working with everyone. The cast for this film has been great, but I really enjoy working with Angela [Bassett]. She is a wonderful woman. We keep in touch and really have a special connection — a special friendship.
TR: How would you describe yourself?
LD: I am a character actress, which is not the same as a lead actress. I portray other people — black women, mostly in supporting roles. I'm so used to playing other people. I've been surrounded by black women all my life. I pattern my characters after family and friends. You just take from the people around you. I take a lot from my sisters. I don't have a son, but my sister does, so I based my character in Jumping the Broom on her. [She steps out of the van, gives me a hug, waves to her fans, and then offers me one last piece of advice before heading to shoot her next scene.] Get an iPhone.
Nsenga K. Burton is editor-at-large and a regular contributor to The Root. She recently completed the film Four Acts, a documentary on the 2007 public servants' strike in South Africa.