There is no shortage of horror stories on how difficult it is for women—even celebrity women—over a sample size to find dresses for red carpet events. But the issue became deeply personal for me when I struggled (literally) to find a dress for the 2018 White House Correspondents' Dinner last spring. The options available to my then-size 16-18 frame were deeply depressing, to say the least: cheap fabrics, unflattering, often matronly cuts and downright dowdy options were aplenty; but short of a custom gown, I could find nothing that accommodated both my curves and highly critical fashion sense.

Enter 11 Honoré, who'd recently disrupted the high-end fashion market by recruiting some of the world's best known designers to create fashions for the deeply underserved market of women seeking luxury clothing in sizes 10-24. Learning of my dilemma, the brand graciously sent a number of options for me to borrow for the evening (ahh, the perks of being a fashion editor). Torn between several stunning options, I eventually settled on a navy, empire-waisted, pearl-embellished gown by Zac by Zac Posen that was equal parts elegant and effortlessly feminine—and comfortable, to boot. That night, I felt gorgeous, well-dressed, and right in step with the roomful of high-profile partygoers. (Please forgive my use of a promo shot; my photos from that evening are too embarrassingly grainy to do the gown justice.)
But this Fashion Week, 11 Honoré raised its own profile, opening the week with a full-scale runway show in New York City on Wednesday night that declared in no uncertain terms that glamour is not and has never been size-specific. And though the legions of stunning and incredibly clad curvy models strutting down the runway made that mission abundantly clear, the uber-glamorous Laverne Cox in a size 10 finale look put a definitive exclamation point on the event.
G/O Media may get a commission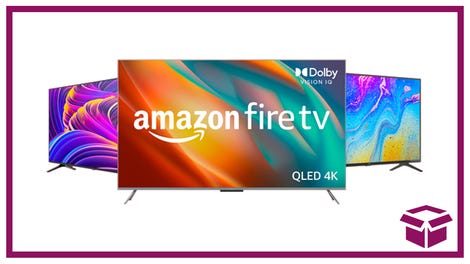 Ooh. stunning.
New Amazon Fire TVs
Unlike typical fashion shows from single labels and designers, the 11 Honoré offering was an amalgamation of some of the best-known design talents globally, including Posen, Tracy Reese, Christian Siriano, Brandon Maxwell, Badgley Mischka, Adam Lippes (who was in attendance on Wednesday night), and many more.
The Glow Up spoke with co-founder and CEO Patrick Herning and co-founder Kathryn Retzer last year, as their newly relaunched venture was gaining some well-deserved momentum and respect within the industry. Herning, who earned his stripes in both high-end event management and overseeing business development during Silicon Valley's inaugural tech boom, has been largely responsible for driving what was long considered a doomed undertaking into a now-booming online business.
Retzer, on the other hand, is a fashion industry vet who has been a fashion editor at Vogue, Allure and Town & Country, as well as San Francisco Magazine. While Herning is largely recognized as the head and face of the brand, Retzer's curatorial savvy helped the company launch with a strong perspective on what plus-sized women should be able to buy and wear. As Herning told us:
"We set out to disrupt the market and saw a white space where women over a size 10 were not being properly served with high-end fashion options. 67 percent of women in the US are a size 14 or above; however there is a belief among retailers that this audience isn't interested in luxury. In reality, designer fashion is not being offered to her. We are changing the conversation by bringing women access to brands like Brandon Maxwell, Zac Posen and Jonathan Simkhai, proving that regardless of size, everyone deserves access to the best designers."

For Retzer, the mission was also personal. "As a Vogue editor, I had access to the best of the best designers, but struggled when helping my mother find the same designer clothing in her size," she said. "To be able to change the retail landscape and offer a woman who is a size 20 the same runway style that has always been available to a size 4 woman is an honor. We truly believe that style has no size and luxury has no limits, and plan to continue spreading this belief, far beyond fashion."

The watershed moment that is 11 Honoré is indeed larger than providing online luxury. A trip to its site includes profiles of curvaceous influencers in the fashion space, size-inclusive fashion inspiration, street style and more. And of course, there is also the head-spinning array of covetable clothing, the likes of which have never been afforded to the full-figure shopper before.
"We are building a community for any woman who has ever felt excluded because of her size, and offering her an incredible curated selection of fashion," Herning said. "What we have learned is that our customer is looking for true fashion. In the past, she has only been offered a watered-down version of luxury, and we are here to bring the brands of her wildest dreams."
How do they do it? By working directly with designers to combat the persistent sizeism within the fashion industry, and providing whatever resources are needed—including the extra costs designers have long claimed keep them from offering expanded size ranges. The 11 Honoré goal is to ensure that a size 18 customer receives the same level of style, quality and fit as those on the lower end of the size spectrum. But that extra cost doesn't reach the client; a size 20 will cost the same as the designer is offering in a size 2.
"Our hope is to change the way that fashion approaches underserved women, and to see inclusiveness on all fronts," Retzer told us. "Inclusivity across size, race, gender and age is here to stay, and we want all brands join in the movement."
Those hopes were, in part, brought to vibrant life with an editorially acclaimed presentation on Wednesday. But the undeniable takeaway is that the barriers to high fashion are slowly but surely being broken down—with 11 Honoré leading the charge.
"We are providing our customer with the best selection out there, and giving her an incredible shopping experience," Herning proudly declared. "We believe that every woman deserves access to great fashion, and with 11 Honoré we are giving her that. We are providing our customer with something she has never had access to before, and that is truly disruptive."
The Glow Up tip: You can shop all of the clothing shown on 11 Honoré's New York Fashion Week runway now at 11Honore.com.