She's gorgeous, talented, stylish and ever-elusive. And today, the woman we know simply as "Sade" turns 60.
If that sounds unbelievable, consider this: After forming her eponymous band in the early '80s, the Nigerian-born singer-songwriter and former model born Helen Folasade Adu first hit our radar with 1984's Diamond Life, marking a rebirth of cool with her smooth vocals and evocative lyrics.
Yep, that's right: Diamond Life dropped 35 years ago, meaning some of you were likely conceived to Sade. That said, considering the fact that her two latest ballads dropped as recently as 2018 (for the A Wrinkle in Time and Widows soundtracks), you may have subsequently conceived your own kids to Sade, as well.
G/O Media may get a commission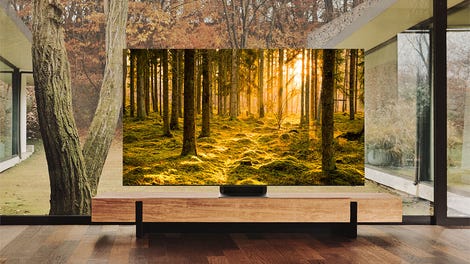 Up to 40% off
Samsung Smart TVs
If, like me, you're an Gen X-er, there's a good chance Sade provided much of the soundtrack for your life. Maybe you too sang along in the backseat to Diamond Life, or experimented with red lipstick while gazing at the Promise and Stronger than Pride album covers (having no idea what Sade was singing about, but knowing it sounded like the woman you one day hoped to be).
Maybe you wrote the lyrics to "Nothing Can Come Between Us" in a love letter to your 8th grade boyfriend. Or perhaps you fondly recall the details of your first real passion in college, set to the opus that was Love Deluxe. In the early aughts, you may have been promising to commit to your first adult relationship like a Lovers Rock. And if and when love proved as mysterious as Sade herself, maybe you found a welcome reminder of your own strength in Soldier of Love.
And even now, you may own a framed version of her 2001 tour poster. (Oh, is that just me?)
In short, Sade may not have always come when we called, but she's always been on time—with sage words and sensuous melodies.
And while her average for releasing studio albums is now once every 10 years (meaning we should be due a new one next year—prayers up), for so many black girls who grew up with her music, Sade is woven into the fabric of our womanhood, as much as Nina Simone, Toni Morrison or Pam Grier. Sade's enigma is her own type of black girl magic: candid, yet contained; seductive, yet detached. But whenever you hear her voice, you instantly know it's her and that you're home.
And far from being just a pretty face and voice, this former fashion designer was also a self-styled icon, favoring sleek, minimalist, retro silhouettes—though ironically, she's been known to label herself "anti-fashion." Sade has also remained anti-pretense, eschewing dramatic makeup looks for her trademark strong brow, classic cat eye and red lip. In her own way, she seemed to telling us she was enough.
But what might be most striking about Sade is her self-awareness, both lyrically, and in life. A glimpse at her rare quotes and interviews reveal a woman introspective enough to recognize her own polarities—as well as a telling respect for her own need for space.
And if Sade remains a mystery in this age of high visibility, perhaps that's what makes her so magnetic, 35 years after she first got our attention. Because whenever she appears, we simply can't turn away.
Finally, an anecdote: If you find yourself suddenly face-to-face with Sade on some New York City street one day, try to remember to breathe. That said, I can personally attest that if you stay stock still with shock and awe long enough, she may bless you with a cool smile—just before she strolls away.