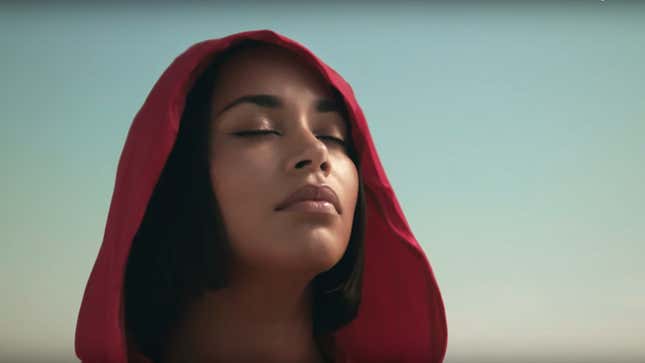 "To the Most High. I Give Thee," wrote Lauren London in an Instagram post published on Tuesday afternoon, as she introduced her collaboration with Puma. The title of the campaign? "Forever Stronger," presumably describing how London has emerged after the murder of the love of her life, California rapper, entrepreneur and activist Nipsey Hussle, last March.
Comedian London Hughes Talks New Book, Parents Watching Her Very Sexual Comedy, & Beyoncé
"The pain is a light. Pain is insight," she says in voiceover, reciting a poem written by Hussle's younger sister, Samantha Smith. Beneath it, lay a three-and-a-half-minute montage of London, friends, and locals in various locations around Hussle's beloved South Central Los Angeles, directed by Danny Williams and scored by Rance 1500 Or Nothin.
The shared pain of these two women, combined with moving imagery and the indelible impact Hussle made upon his community in his too-brief 33 years, create a poignant, yet powerful statement about loss, healing and legacy.
While Lauren London x Puma may seem to be a new collaboration, it—like the famed marathon—is actually a continuation. As USA Today notes, the PUMA x TMC Collection, which Hussle designed with the brand prior to his death, was released in September, with all proceeds donated to his Neighborhood "Nip" Foundation.
"Lauren London is proud to join forces with Puma to support her on this next chapter of her journey," reads the caption beneath the "Forever Stronger" video on YouTube. "This piece was a creative vision Lauren wanted to bring to life to signify the continuation of her marathon alongside Puma. Forever Stronger."

The poem reads, in full:
There is nothing to hide here; no way to pretend. We relate, we disagree, we disengage. We are running into each other. We are the song that writes itself. The melody replays in the key of elevated living. We forget the words; we never forget the feeling. Glory and divinity conduct our symphony.

We are infinite affinity. Wrapped in sacred epiphany, we are meant for 'we.' We are flowing, we are growing, we are open like the Red Sea. We walk through with confident uncertainty. We kneel here, we heal here, we open our hearts to the heavens. We use our tears to cleanse our canvas. The fear floods us; the fear is electric.

Self-inflicted pain, we dance in the rain until the fear is drained. 'Cause pain is the light. Pain is insight. The body hurts, but the spirit grows. The flesh is starving while wisdom overflows. I got a question only Lord knows: Does life birth us twice?
While a release date for Lauren London x Puma is still pending, what we do know is that this holiday season is the first London and Hussle's family is spending without him. But in love and in loss, as London promised at Hussle's memorial: The Marathon Continues.