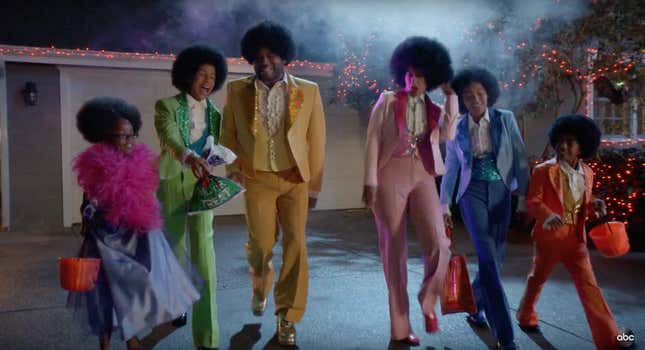 No, we don't mean a reprisal of their genius Jackson 5 family costume (above). This year, the fictional family we know and love as the Johnsons are taking an eerily familiar approach to the group costume, revisiting perhaps the most terrifying film of the year—and one of the blackest.
American Ninja Warrior: Season 15 Is Our TV Pick of The Week
That's right: the Black-ish clan is taking on Us.
Tracee Ellis Ross teased the costumes over the weekend, shouting out the Black-ish hair, makeup and wardrobe team for the cast's transformation into Red, Abraham, Pluto and Umbrae—including scissors, baseball bat, and creepy white rabbit—and a hilarious side of Junior (Marcus Scribner) as doomed neighbor Josh.
No word on if we can expect some tethered-level terror on Tuesday night's episode.
Of course, that's not all (nor do we think these are the only costumes we'll be seeing on this week's show). Ross, Marsai Martin and Miles Brown got even further into character with some dead-on impressions—and seriously, we can't even look at this too long without shuddering.
"You look exactly like Us!!! ✂️" commented Lupita Nyong'o, after being tagged by Ross. Other well-known friends were as spooked as we are:
"Tracee, this is horrifying," said Issa Rae, while 2019 Root 100 honoree Latham Thomas wrote, "Nah Tray this is all the way cray 🤣🤣🤣." Elaine Welteroth loved the transformation, commenting "Omg omg omg best best best ❤️," and Halle Berry simply gave it a standing ovation, with "👏🏽👏🏽👏🏽👏🏽."
Meanwhile, we got the impression that Black-ish co-star Deon Cole may have been getting the preview at the same time as, well, Us—as evidenced by his comments: "Lololol great!!!!" and "Dope!!!"

But Ross wasn't done with the Halloween revelry; before the weekend was out, she'd also channeled the legendary DJ Quik (complete with facial hair) for a "California Love"-themed birthday party hosted by Gabrielle Union (more on that to come).
Halloween isn't until Thursday, but I think we already know who won.