The Inkwell, a coming-of-age story about Drew Tate and his family's trip to Martha's Vineyard, turns 20 this week. During a two-week vacation in 1976 at the affluent black enclave, Drew goes lobster diving, pranks a new friend's cheating husband, fawns over a local beauty, and loses his virginity. As we celebrate the film's anniversary, take a look at what the cast has been up to for the past two decades.
Larenz Tate, Then
Drew Tate was a shy 16-year-old who was trying to find a bit of fun and peace of mind after accidentally setting his house on fire. He toted around his best friend—a homemade toy doll named Iago—and his parents believed he might have emotional and/or mental problems. Larenz Tate's role in The Inkwell came on the heels of perhaps his most famous role to date, as O-Dog in 1993's Menace II Society.
Larenz Tate, Now
G/O Media may get a commission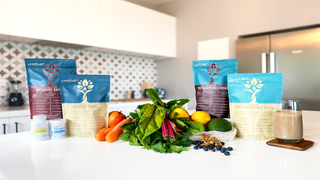 Tate had a recurring role on Showtime's House of Lies in 2013, as Marty Kaan's (Don Cheadle) younger brother, Malcolm. He is currently slated to appear on Mr. Robinson, an NBC TV series starring Craig Robinson.
Joe Morton, Then
Kenny Tate was Drew's dad and a former Black Panther. He constantly clashed with his brother-in-law, a staunch Republican, over racial and political issues. Morton landed this role just two years after his recurring role on A Different World as Whitley's (Jasmine Guy) fiance, Byron Douglas III.
Joe Morton, Now
Scandal fans all know Morton as Papa Pope, Olivia's speech-giving, B613-leading father. Since The Inkwell, he's had steady work in Hollywood, appearing on several TV shows, including The Good Wife, Law & Order and Smallville.
Suzzanne Douglas, Then
Brenda Tate is Drew's mother, whose sister Francis has a house at the Inkwell, a well-known Vineyard beach. Brenda and Kenny are also dealing with marital issues. Before The Inkwell, Douglas had a recurring role on Against the Law and I'll Fly Away.
Suzzanne Douglas, Now
Douglas' most notable role since The Inkwell has been on the WB series The Parent 'Hood, opposite Robert Townsend, which aired from 1995 to 1999. She has also appeared on The Good Wife, Law & Order: Criminal Intent and The Parkers.
Vanessa Bell Calloway, Then
Francis Phillips is Brenda's sister. She and her husband (Glynn Turman) are both conservatives and supporters of Barry Goldwater. The Tates and the Phillipses constantly clash throughout the vacation. Before this role, Calloway appeared in Coming to America and What's Love Got to Do With It.
Vanessa Bell Calloway, Now
Immediately after The Inkwell, Calloway starred on Under One Roof, a short-lived sitcom in 1995, opposite co-star Morton. Most recently, she's had a recurring role on Showtime's Shameless.
Glynn Turman, Then
Spencer Phillips is Francis' husband. During a tennis game, he and Kenny get into a heated debate and Kenny ends up punching Spencer in the face. Just before this role, Turman co-starred on A Different World as Col. Brad Taylor.
Glynn Turman, Now
Turman, like his co-star Tate, has had a recurring role on House of Lies, as Marty Kaan's father, Jeremiah. He will appear in the film Dakota's Summer this year, according to IMDb. After The Inkwell, he also appeared on The Wire, as Mayor Clarence Royce.
A.J. Johnson, Then
Drew Tate befriends Heather Lee while exploring the beach. She's unhappily married to Harold, who, Drew finds out, is cheating on her. Before The Inkwell, Johnson had a few one-off TV appearances, including on The Fresh Prince of Bel-Air. (Remember the Raphael de la Ghetto episode?)
A.J. Johnson, Now
Johnson's biggest role after The Inkwell was in John Singleton's Baby Boy in 2001, as Jody's (Tyrese Gibson) young mother, Juanita. She hasn't done much acting in recent years and has become a professional life-and-wellness coach.
Morris Chestnut, Then
Harold Lee was Heather's cheating husband. After Drew finds out that Harold is cheating, he sets up a fireworks bomb on his convertible. Chestnut's most memorable role before The Inkwell was his portrayal of Ricky in Boyz N the Hood. But he also appeared on several TV series, including Living Single and Out All Night, opposite Inkwell co-star Duane Martin.
Morris Chestnut, Now
Chestnut has been very busy since his early-career gig on The Inkwell. Shortly after, he became the go-to guy for black romantic comedies, including roles in The Best Man, The Brothers, Two Can Play That Game and Breakin' All the Rules. Currently, he co-stars on Showtime's Nurse Jackie as Dr. Ike Prentiss.
Jada Pinkett Smith, Then
Lauren Kelly was Drew's beach crush. He went diving for lobster to woo her and was pining for her attention during the vacation. But Lauren was a bit self-centered and stood Drew up on the night of the Fourth of July fireworks. Smith was fresh off her role as Lena James on A Different World when she landed this gig. She had also appeared opposite Tate in Menace II Society.
Jada Pinkett Smith, Now
Smith has done quite a bit of voiceover work in the last several years, including the voice of Gloria in the Madagascar franchise. From 2009 to 2011 she starred as Christina Hawthorne on TNT's Hawthorne. She's also the lead singer in a rock band, Wicked Wisdom.
Duane Martin, Then
Junior Phillips was Francis and Spencer's teenage son. He fancied himself a ladies' man and teased his cousin Drew quite a bit for being so awkward. Before The Inkwell, Martin starred in Above the Rim in 1993 and co-starred with Chestnut on the short-lived sitcom Out All Night.
Duane Martin, Now
Most recently, Martin has been a co-star on BET's Real Husbands of Hollywood. Since The Inkwell, he's starred on the TV series All of Us and had recurring roles on Rita Rocks and The Paul Reiser Show.
Mary Alice, Then
Evelyn was Drew's grandmother. She and Drew's mom, Brenda, had a contentious dynamic when Brenda first arrived, but they ended up mending their mother-daughter relationship before the film's end. Alice had a long career in Hollywood before this role. She had a recurring role on A Different World and appeared in several TV movies, including The Women of Brewster Place and The Vernon Johns Story.
Mary Alice, Now
Alice has been pretty much off the grid since 2005, according to IMDb. Before then she had several one-off appearances on TV series including Oz, Kojak, Soul Food and Touched by an Angel. In 2003 she appeared in The Matrix Revolutions as the Oracle.
Phyllis Yvonne Stickney, Then
Drew was able to confide in Dr. Wade, a neighborhood shrink, who gave him a bit of advice about being himself and loving who he is. Stickney was fresh off her role in What's Love Got to Do With It when she landed this small role.
Phyllis Yvonne Stickney, Now
Most recently, Stickney appeared in the movie Dolls of Voodoo, directed by Kenya Moore, in 2013. Here she is at the National Black Theater Festival in 2009 talking about her book, Loud Thoughts for Quiet Moments.
Like The Root on Facebook. Follow us on Twitter.