Morgan Freeman, Then
From its first episode on Oct. 25, 1971, until it was canceled in 1977, Freeman starred on The Electric Company, a sketch-comedy program on PBS that helped kids with their reading and grammar skills. Maybe you remember Freeman as Easy Reader. Or DJ Mel Mounds. Or Vincent the Vegetable Vampire. Or Count Dracula. Kids across America learned from Easy Reader that "Top to bottom, left to right, reading stuff is outta sight." Watch as Easy, looking like Jimi Hendrix's twin, performs the Easy Reader song with Rita Moreno.
Morgan Freeman, Now
Freeman has come a long way since his days as Easy Reader. In the 2000s he has stayed busy with a new film — or two — every year. He's played Nelson Mandela and the "man upstairs" and won an Oscar, and he could probably compete with James Earl Jones in a competition for most sought-after narrator. He has several films in production, including the sequel to The Dark Knight. But in the past two years, there's been a bit of controversy surrounding him and his relationship with his step-granddaughter.
Rita Moreno, Then
G/O Media may get a commission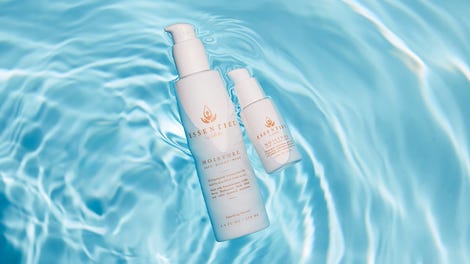 20% off
Essentiel by Adele
Moreno had been in show business for more than 20 years when she joined the cast of The Electric Company in 1971. (She played Anita in the film adaptation of West Side Story in 1961.) In The Electric Company's opening sequence, she can be heard screaming, "Heeeey, youu guuyyss!" Watch this clip of Moreno and Morgan Freeman as they sing "The Menu Song."
Rita Moreno, Now
Moreno is one of the few performers to have won an Oscar, a Grammy, an Emmy and a Tony Award. In September she began performing a one-woman show in Berkeley, Calif., called Rita Moreno: Life Without Makeup. She will celebrate her 80th birthday in December.
Lee Chamberlin, Then
Chamberlin appeared in the first two seasons of Electric Company as Brenda, Gladys the Glow-Worm and Madame Rosalie. In this sketch, Chamberlin and Freeman perform "Thanks to TH," a performance that would make the Nicholas Brothers proud.
Lee Chamberlin, Now
After The Electric Company, Chamberlin tried her hand at the big screen, most notably in Uptown Saturday Night and Let's Do It Again. She had a recurring role on All My Children as Pat Baxter, Angie's mother. In the early 2000s, Chamberlin made several one-off appearances on TV sitcoms, including Any Day Now, NYPD Blue, Judging Amy and Touched by an Angel.
Irene Cara, Then
Irene Cara played Iris in the Short Circus — the show's resident kids' singing group — on the first season of The Electric Company. Watch as she sings backup on "Unbutton Your Heart." A few years later, she starred as Sparkle in the 1976 musical of the same name. (There's a remake in the works with Jordin Sparks and Whitney Houston.)
Irene Cara, Now
In 1980 Cara starred as Coco Hernandez in Fame. She won an Academy Award for co-writing the best original song for Flashdance in 1983. She's won Grammys, a People's Choice Award and an Obie. Earlier this year she released an album with her band, Hot Caramel, called Irene Cara Presents Hot Caramel.
Bill Cosby, Then
Cosby appeared in the first two seasons of The Electric Company. He was Honest John, a lying car salesman, and the Musketeer who just couldn't seem to get his lines right. Watch as Cosby plays the milkman in the famous "Heey, youu guuuuuys!" skit with Rita Moreno.
Bill Cosby, Now
He has more than 2 million followers on Twitter. Two years ago, The Root talked to Cosby on the 25th anniversary of his iconic The Cosby Show. See what he had to say about why he started the show, Cliff Huxtable the truck driver and the black middle class in the age of Obama. Also in 2009, Cosby received the Mark Twain Prize for American Humor.
Melanie Henderson, Then
Henderson played Kathy, a member of the first round of Short Circus members. Watch as Henderson tries to overcome boredom with Denise Nickerson (Violet Beauregarde from Willy Wonka and the Chocolate Factory) by rapping. Before joining the cast of The Electric Company in 1971, she and Hattie Winston booked roles in The Me Nobody Knows in 1970, along with fellow Electric Company cast member Irene Cara.
Melanie Henderson, Now
In 2009 Henderson appeared in the pilot episode of Glee. And in 2008 she appeared in a couple episodes of The Starter Wife, as a "manly woman." Here she is in a brief "Right on!" cameo. Last year she appeared in this commercial for California OneCare, advocating for single-payer health care.
Hattie Winston, Then
Winston joined the cast in the third season and played Valerie, the groovy librarian (and Easy Reader's favorite girl). Watch as she and Easy "groove on words" in this duet. (Why are they wearing sunglasses in the library?) And in this video, they help kids distinguish between soft Cs and hard Cs. Again, sunglasses included.
Hattie Winston, Now
Winston has sustained a long career in Hollywood since her days as Valerie the librarian. She's appeared in many of your favorite sitcoms: The Parent 'Hood, Smart Guy, Girlfriends and The Game. (Remember the "side-part-under" episode?) Her longest stint on television was on CBS' Becker, starring Ted Danson, as Becker's head nurse. If you were a fan of '90s Nickelodeon — or had kids who were — you may have heard her voice one of the few black cartoon characters on Rugrats, Suzie Carmichael's mother.
Rejane Magloire, Then
Magloire joined The Electric Company cast in 1975, as Samantha, a member of the Short Circus. She wore big glasses and her hair in cute ponytails in this sketch on punctuation.
Rejane Magloire, Now
After The Electric Company was canceled in 1977, Magloire sang lead vocals in Indeep, a new-wave band. Their most popular song was "Last Night a DJ Saved My Life." In 2005 she revisited her love for music and released her first album on EMI Records, Forbidden Opera, a mix of opera and contemporary R&B. In 2009 she posted this YouTube video about her passion for music.
Douglas Grant, Then
"You thought I was your puppy/Always at your door/I'm not hanging around no more." Grant played Zack, one of the original members of the Short Circus. In this video, Zack sings lead vocals on "Stop." His hair is giving us Erik Estrada circa Hawaii Five-O.
Douglas Grant, Now
After he left The Electric Company in 1973, Grant appeared in a couple episodes of Good Times and What's Happening!! After several years off the Hollywood scene, he appeared in the British television drama Footballers' Wives as a TV sports presenter in 2004.
Gregg Burge, Then
"It always starts out just the same/He has to get into the game/He's a hotshot." Burge played Dwayne, a member of the Short Circus from 1973 to 1975. In this clip, Dwayne's "getting into the game" with Walt Frazier and Dave DeBusschere.
Gregg Burge, Now
Burge was a dancer at heart. He choreographed Michael Jackson's "Bad" video and was the Scarecrow in the Broadway production of The Wiz for four years. Burge died in 1998 of complications from a brain tumor. He was 40.
Luis Avalos, Then
Avalos joined the cast of The Electric Company in its second season and stayed until the series' end. Remember him as Dr. Doolats? Or maybe as a circus acrobat in this scene with Skip Hinnant? Watch as they try to decipher a message with missing letters.
Luis Avalos, Now
Since The Electric Company, Avalos has appeared in several television sitcoms and dramas, including Hangin' With Mr. Cooper, Full House, Archie Bunker's Place and Hill Street Blues, to name a few. His most recent onscreen performance was in 2008's $5 a Day with Christopher Walken and Sharon Stone.
June Angela, Then
Angela played Julie, a young, long-haired girl in the Short Circus, for the duration of The Electric Company. In this video, she shows kids some words that can be spelled using "it."
June Angela, Now
In the past 10 years, Angela has made appearances on MADtv, The Wild Thornberrys, Hannah Montana, ER and Dexter. In 2006 PBS released The Best of The Electric Company on DVD. Angela said, "I really appreciate all the times I was on set with the actors and production crew, getting to do funny stuff with masters Bill Cosby, Rita Moreno and Morgan Freeman, too. It was a wonderful learning experience and lots of fun."