It's been two decades since young black girls of the '90s were introduced to Moesha Mitchell and her South Los Angeles crew: Kim, Niecy and Hakeem. Since the show's debut in January 1996, many of the actors have stayed out of the limelight. But several of them have given us a peek into their lives on reality television. Take a look at what the cast has been up to for the last 20 years.
Brandy Norwood, Then
"Mo to the, E to the." Moesha Mitchell was a smart, independent teenager, growing up with her friends in South Central Los Angeles in the '90s. She rolled with Kim, Niecy and Hakeem to Crenshaw High School until her father forced her to go to private school after a rendezvous with her then-boyfriend, Q. She was a nosy, stubborn know-it-all at times, but she was also unlike many young black girls at the time: ready to take on the world one moment at a time.
Brandy Norwood, Now
G/O Media may get a commission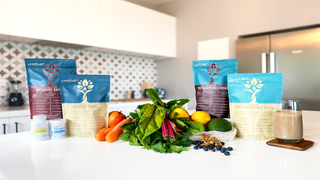 Brandy Norwood has been super busy in the last two decades. She launched the Slayana World Tour in 2016, traveling to Europe during June and July. She released the single "Beggin' and Pleadin'" early this year. Brandy released her last studio album in 2012, called Two Eleven (which is her birthday, Feb. 11). As for acting, she co-starred on The Game for three seasons, and she starred in Zoe Ever After on BET this year. Of course, she even had her turn on Broadway, as Roxie Hart in Chicago, in 2015.
Countess Vaughn, Now
Countess Vaughn released a music video for "Do You Love Him?" in August. She starred in TV One's Hollywood Divas in 2014. Although she recently took to Instagram to tell Brandy how proud she was of her success, Vaughn also said she'd never rekindle their relationship.
Shar Jackson, Then
Niecy Jackson was Moesha's other close friend and later became her roommate in college. The crew always made fun of Niecy because she had a big family and often had to take care of her siblings.
Shar Jackson, Now
In the last two decades, Shar Jackson has appeared in one-off episodes of several  TV shows, including Everybody Hates Chris and The Bernie Mac Show. But her most memorable roles in recent years were as herself, on VH1's Celebrity Fit Club and on TV One's Hollywood Divas.
Yvette Wilson
Andell Wilkerson was the owner of the Den, the crew's local hangout spot. She not only provided a home away from home but also gave the teens good advice. Yvette Wilson died in 2012 after complications from cervical cancer. She was 48.
Fredro Starr, Then
If that old saying is true—that good girls like bad guys — then Quinton "Q" Brooks was clearly the perfect match for Moesha. He hailed from New York, and his hard demeanor intrigued Mo to no end. That is, until Frank had the last word.
Fredro Starr, Now
Fredro Starr's most memorable role since Moesha is likely his role as Bird on HBO's The Wire. He is set to appear in a few movies this year—Here Comes the Sun and Equal Standard—according to IMDb. In 2015 his rap group, Onyx, released its latest album, Against All Authorities.
Ray J, Then
"Wait a minute, ain't that Brandy's brother?" That's what viewers might have asked themselves when the character Dorian Long first appeared on the show as Mo and Myles' "cousin." He was a bit mischievous and was a definite foil for Mo and Myles, who were generally really good kids. As was revealed later, "D-Money" was actually the Mitchell kids' half-brother.
Ray J, Now
So, after Moesha, Ray J recorded a few hit singles, starred in a sex tape, co-starred on a reality-television show and possibly dated Whitney Houston. Most recently he married Princess Love, who stars opposite him on VH1's Love & Hip Hop: Hollywood.
William Allen Young, Then
Frank Mitchell was Moesha's strict and overbearing dad. He was a car salesman by day and was all up in Moesha's business by night. He was reluctant to let her date—and definitely didn't want her dating someone rough around the edges like Quinton.
William Allen Young, Now
William Allen Young currently stars as Dr. Rollie Guthrie on the medical drama Code Black. He and Brandy recently worked together on The Game, with Young portraying Col. Westbrook, the star football player's father.
Sheryl Lee Ralph, Then
Dee Mitchell was Moesha's stepmother and the vice principal at Crenshaw High School. While she and Moesha butted heads during the first season of the show, they eventually mended their relationship and Moesha was able to confide in her, especially when Moesha's father was too overbearing.
Sheryl Lee Ralph, Now
Sheryl Lee Ralph has a recurring role on TV Land's Instant Mom as Maggie Turner, the lead character's mother. In 2013 she also had a recurring role on Showtime's Ray Donovan. She was also honored with the Muhammad Ali Humanitarian Award at this year's awards gala.
Marcus Paulk, Then
Myles Mitchell was Mo's little brother. She often picked on him for being short and having big ears, and he pestered her and her friends with relentless practical jokes. As Myles got older, though, he was exposed to drugs and was kidnapped just as the show was canceled.
Marcus Paulk, Now
Marcus Paulk has been in a bit of trouble with the law in recent years. In 2015 he pleaded guilty to a misdemeanor DUI after an altercation at a Super Bowl party. In 2013 he was charged with domestic violence against his girlfriend. Most recently he appeared on an episode of Black-ish. He is currently filming The Infamous, according to IMDb.
Lamont Bentley
Hakeem Campbell lived next door to the Mitchells and was always on time for breakfast every morning. Although Kim had a soft spot for him, Hakeem later dated Moesha while she was in college. After Moesha, Lamont Bentley appeared in a handful of episodes of The Parkers and last appeared on-screen in A Day in the Life in 2009. Bentley died in a car crash in 2005. He was 31.
Countess Vaughn, Then
Kim Parker, Moesha's best friend, was convinced that one day Hakeem was going to fall head over heels in love with her. She was quite a bit dim-witted, but she was always down for some shenanigans with the crew. That is, until Brandy Norwood and Countess Vaughn had a falling out in real life and she exited the show to star in The Parkers.