Let's say you're on the freeway driving to a job interview or driving away from the repo man and you spot a billboard that says, "Self worth is greater than net worth."
Now, you have two options: You can take a step back, ponder on that message for a minute then proceed to smile after realizing things aren't always bad as they seem. Or you can roll your eyes and speed towards the nearest fast food restaurant with a dollar menu as that's the only food you can afford to eat these days.
The mystery donor behind the billboard campaign hailed as "Recession 101" is hoping many of us think more along the lines of the former than the latter. The campaign, launched in June, aims to boost the optimism levels of Americans at a time where now more than ever have people embraced their inner cynic.
As of now there are over a 1,000 billboards across the country. Among the messages include lines such as:
"Interesting fact about recessions … they end."
"This will end long before those who caused it are paroled."
"Bill Gates started Microsoft in a recession."
On the billboards, Charlie Robb, founding director of the Florida-based Charchin Creative, told the Associated Press, "One of the lines is, 'Stop obsessing about economy, you're scaring the children.' That's the overriding concept of the thing."
What's scarier to a child: A grouchy laid off parent or a homeless family?
Robb admittedly says the campaign won't do a thing for those who have already lost their homes and jobs. The campaign is more so directed at those who are still getting by but find themselves too fearful and cautious in lieu of the times. The intent is to remind Americans of the country's resilience and optimism.
G/O Media may get a commission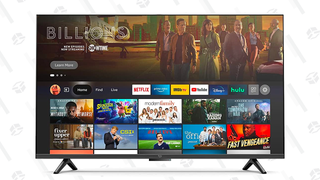 22% off
Amazon Fire TV - 50" Omni Series 4K - Early Access Deal
They say your attitude determines your altitude so I suppose it's all about perspective. The messages are encouraging and in some cases, provide a much needed laugh, but I'm curious to see what effects if any they'll have in changing the frame of mind of Americans.
What say you: Can a random positive sentiment via billboard change your perspective or will people be too busy driving to jobs they hate to even notice?
Email me at therecessiondiaries@gmail.com.
Michael Arceneaux hails from Houston, lives in Harlem and praises Beyoncé's name wherever he goes. Follow him on Twitter.