LeBron James may be best known for killing it on the court, but never forget that his fashion game is tight, too—which is why it shouldn't come as a surprise that he's partnered with lifetime endorser Nike to co-present the 11th Annual Harlem's Fashion Row gala on Tuesday, Sept. 4 in New York City.
The theme? "The Strongest." The dress code? "Black tie and Nikes."
This year, the awards gala and runway show acts as the unofficial start to New York Fashion Week 2018, which officially begins Sept. 6. Founded by influencer and fashion industry veteran Brandice Daniel, Harlem's Fashion Row (HFR) has become a beacon for designers and influencers of color, respected as the country's best-known celebration of multicultural fashion.
Honorees for 2018 include former fashion model, agent, documentarian and steadfast activist Bethann Hardison, legendary Harlem hip hop couturier-turned Gucci collaborator Dapper Dan and celebrity stylist Jason Rembert, who famously dressed 2018 CFDA Awards host Issa Rae in a sash that read "Every Nigga Is a Star." And then there's host and honoree King James himself, who is rumored to be revealing some exciting news about his affiliation with Harlem's Fashion Row at the gala.
G/O Media may get a commission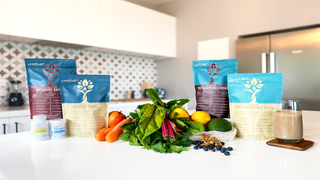 The gala, typically timed in conjunction with New York Spring-Summer Fashion Week, is also an all too rare showcase for up-and-coming talents of color, many of whom have trouble getting the access or capital they need to gain a platform. This year, the gala will remarkably feature a trio of black female designers—Undra Celeste, Kimberly Goldson and Fe Noel, all of whom will be presenting new collections from their eponymous labels on Tuesday night. The designers recently spoke with The Glow Up to discuss inspiration, inclusion and the opportunity to grow their businesses together under the guidance and mentorship of Brandice Daniel.
The three Brooklyn-based designers have become, in the words of Celeste, "connected at the hip" since working side-by-side in several Harlem's Fashion Row shows, mutually benefitting from Daniel's support and promotion. While each possesses her own unique aesthetic, the three are aligned in their hopes for a more inclusive industry, and are clear that the change begins with those who have already "arrived" giving opportunities to others, as Daniel has done.
"This is why I say this is such a heavy fight," said Noel, referencing a now-viral article polling 100 black fashion folk about the inequities and biases within the industry. "Not only do we have to deal with other races and people outside of our culture, but I feel like some of us who are in fashion and have made it to 'mainstream fashion,' I feel like they also put up barriers, and they also look down on what it is to be a black designer."
Celeste agrees, saying: "There is also a scarcity mindset. ... Even when we [get] our foot in the door: are you holding the door open, or are you closing it, because [you think] 'I have my seat now, and there's only a limited amount of seats'? The truth is, there might only be a limited amount of seats ... There's only a handful of fashion houses and magazines, but there still are other ways that you can support."

"I'm not saying you have to wake up and fight this fight, but if you're speaking about it and what's wrong with it, then I think a lot of us should look in the mirror," said Noel.
The trio points to the dearth of black stylists and celebrities who seek out black designers to wear for red carpet appearances and shoots—as HFR honoree Jason Rembert and Issa Rae memorably did by choosing to dress Rae in only black designers at this year's CFDA Awards—a strong nonverbal statement about the design talents who are often overlooked.
Dispelling the myth that there's "only room for one"—and that black women accordingly must adopt a "mean girls" mentality to get ahead in the fashion industry—Celeste, Noel and Goldson have found both empathy and a strong alliance in sharing the struggles and milestones of being talents on the rise; a bond they credit to sharing the journey through Harlem's Fashion Row.
"We are living exactly the change that we say want to see," says Goldson, a Project Runway alum (Season 9) and 2018 New York City Dept. of Education Fashion Ambassador. "We are three female black designers who have come together against what everything says, in terms of the way black women work together—that we're 'mean girls'—and we have already debunked that myth. Through this process, we have been so transparent and vulnerable with each other, sharing resources, and tools, and ideas, and information, lifting each other up—whether it be in business, or design, or our personal lives—we have already shown the industry how it can be done."
Similarly, by creating and growing Harlem's Fashion Row, Brandice Daniel is also showing the industry how it can be done—a very public and risky undertaking none of her protégées underestimate.
"The fact that this woman would take this on ... to go to war with the industry and just fight for multicultural designers; I admire her for that," said Noel, who found her first opportunity to stage a major presentation with Harlem's Fashion Row. "The fact that she [has] the courage to say 'this is what I stand for, this is what I'm going to fight for, and this is going to be my legacy'—I'm happy to be a part of that, [and] a product of that environment, and that dream and purpose."
Celeste worked for Calvin Klein and Marc Ecko, and even co-helmed an accessories business before launching a womenswear line. After meeting and following Daniel's trajectory for years, she made her HFR debut at the 10th anniversary show last fall.
"Try to imagine something that you've never seen before," she said. "I think Brandice has had that vision, and it's coming to pass."
So what can we expect from the premiere of the trio's latest collections at the HFR gala on Tuesday night?
Kimberly Goldson, who runs her label with her sister, Shelly Powell, creates "contemporary womenswear for those who dare to be bold, vivacious, fearless and distinctive." Her latest collection promises to be all of those things, as she brings a 20-piece all-suit collection to the HFR runway.
"We've decided that we're going to be [to suits] what DVF was to the wrap dress," she said, noting that showing with Harlem's Fashion Row has been "the best thing that [has] happened to our brand." (Note: All photos are from past collections.)
Celeste, who started designing in childhood, was inspired by recalling the transformative beauty of her mother and aunts during those years, whom she said would "turn into rockstars" after the workweek.

"My brand DNA is contemporary, modern and bold," she said. "This particular collection, the name of it is 'The Bright Side'—you'll see a lot of color, you'll see a lot of fun details, prints—and I'm just really excited about it. I think it'll be my best one yet, and I'm ready to see what the world thinks."

For Noel, it's about "mixing culture and glamour together" and providing what she calls "effortless luxury."
"My girl is very sensual and she's very cool and easygoing," she says. "My woman is someone who believes wholeheartedly that she can create the life that she wants to live. This collection is really going to speak to the queen inside of all of us: knowing who you are, knowing what you're worth, knowing how amazing just being a woman is and the power that you hold, and the strength of womanhood."
And what lives are the Celeste, Goldston and Noel hoping to create for themselves? Thriving businesses, greater customer engagement and more opportunities all come to mind—but perhaps Noel says it best:
"I'm hoping that after September 4th, all of our brands, people know about them, they're speaking about us, [and] they believe in us more. They see what we've seen, they see what Brandice has seen, and it opens new doors for us. I'm hoping that this opens up a really huge platform us to continue to build, to grow, and to succeed. ... I really hope that after this, we just get better and better and better."