How did a completely bankrupt satellite communications company—that now provides data and voice services to customers worldwide, including relief agencies in earthquake-torn Haiti—become a powerhouse with a market value of $560 million?
Syncom Venture Partners came to its rescue, and set a better course. The easy part occurred when the Maryland venture capital firm, which specializes in assisting media and communications companies and made initial investments in BET, XM Satellite and Radio One, paid Motorola, Inc. $25 million for Iridium Satellite, Inc. A few years earlier, Motorola's total investment in the satellite company was valued at about $6 billion.
Iridium was a steal, for a reason. From the mid-1980s until 1999, Motorola created Iridium's network of 66 orbiting satellites, satellite phones and a string of terrestrial stations to service business travelers. But technology keeps advancing, and by 1999 when Iridium's satellites were all launched, few wanted brick-sized phones that charged up to $10 a minute, as cheaper cell phones were available. By contrast, the 2010 Iridium 9555 satellite phone is about half the size, costs about $1,000, and charges around $1 a minute.
G/O Media may get a commission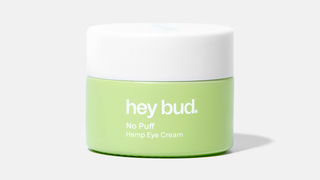 15% off
Hey Bud - No Puff Hemp Eye Cream
In 1978, Syncom founder and adviser, Herbert Wilkins Sr., above left, and founder and managing general partner, Terry Jones, above right, joined forces in a newly formed venture capital fund with a commitment to "making early to mid-stage investments in underserved segments of the media and communications industry."
That focus exemplifies the firm's approach. Before joining Syncom, Jones earned a bachelor's degree in electrical engineering, a master's degree in computer science and biomedical engineering, and an MBA, from respectively Trinity College, George Washington University and Harvard University. Wilkins, Syncom's first president and CEO, is no longer active with the firm but remains an adviser. He was a venture capitalist before co-founding Syncom, and earned an undergrad degree from Boston University and a Harvard MBA.
Since its founding, Syncom has invested in more than 150 companies with an aggregate market value of over $10 billion, some of which went public or were sold to major corporations. Along with its telecom portfolio, Syncom also invested in companies that brought cable television to black and Hispanic communities in Los Angeles, Chicago and the District of Columbia.
Jones says, "We look for the best deals, as opposed to operating based upon a social calling. We invest in companies that are minority-owned and operate in the minority or general market, and firms that are not minority-owned and do business in the ethnic marketplace. Sixty percent of our investments are with ethnically owned companies and 40 percent are not."
When Syncom decided to buy Iridium, some observers thought its partners went crazy. But Wilkins saw a way to build a telecom link between people in rural areas and the outside world. Critics also didn't have his vision of a global market for clients located on ships, planes, at the poles, mid-desert, or in businesses like FedEx that use Iridium to track vehicles.
But in 2000, impediments had to be hurdled before the Iridium purchase was made. The bursting of the dot-com bubble frightened most investors away from such a speculative tech buy, as well as the stigma of Iridium being the then-largest corporate bankruptcy in U.S. history. So Syncom put together a group that raised $25 million to buy the firm, and another $130 million in commitments to recapitalize the venture.
A more pressing threat also remained. When Iridium filed for Chapter 11 bankruptcy, one of Motorola's main concerns was its potential and continuing liability from damages if Iridium satellites fell to earth.
In response, Dan Colussy, one of Syncom's co-investors, and the ex-president of Pan American Airways, recalled that federal law allowed the U.S. Department of Defense (DoD) to indemnify a private company if it engaged in work in the national interest. Meetings were held with DoD officials; Motorola was indemnified against liability, and the sale occurred.
The final investor group included Syncom, Colussy, former FCC commissioner Tyrone Brown, a Saudi prince, a Brazilian telecom and an Australian entrepreneur. Subsequently, Jones and Wilkins joined Iridium's board, which Colussy chaired, and the company gained an anchor client when the DoD committed to pay $36 million annually for its own secure ground installation.
Generally VC firms like Syncom raise money from institutional investors, and high-net-worth individuals that is pooled in 10-year limited partnerships. Investments in privately held companies are made by these "funds." Profits from these investments are typically "harvested" between four to six years after an investment is made and come from the company's sale or its initial public offering. At payout, the general partners, who work for Syncom, receive 20 percent of the profit, while the limited partners, who invested in the fund, share 80 percent.
Syncom's strong 30-year track record makes it easier to raise capital for a new fund during the fourth through tenth year of the previous fund. Privately held Syncom does not have to reveal financial information. But its principals say its first fund, Syncom I, which ran from 1977 to 1999, generated about $140 million in profits from the $20 million invested in companies including Radio One, BET, and cellular, and cable firms in several cities. Syncom has two active funds presently, and is preparing to raise cash for Syncom VI.
A key Syncom goal is identifying niche companies that address the needs of a changing America. Syncom is the majority owner of V-me Media,Inc., (pronounced veh-meh, Spanish for "see me"), the nation's third-largest Spanish language TV network that Jones says "provides high-quality, intelligent programming for Spanish-speaking viewers." The other owners include The Baeza Group, led by V-me founding chairman, Mario L. Baeza, above, and the Educational Broadcasting Corporation, an affiliate of WNET.org, New York City's PBS-affiliated public media provider, and recently PRISA.
Last October, PRISA, a Spanish conglomerate, and Spain's largest publisher, bought the right to buy over time 51 percent of V-me. Carmen M. DiRienzo, above, V-me's president and CEO, praises Syncom, which invested $33 million in V-me. She says that Syncom is more than a checkbook. "It is the rare venture capital firm that gets satisfaction from providing something of value to communities as well as creating revenue," she says.
Last September, Iridium was sold in a deal worth more than $560 million to GHL Acquisition Corp. Jones will not disclose Syncom's profit. He says the firm received more than three times its invested capital back plus a continuing equity interest in the new Iridium.
This was an important deal for more than financial reasons. Jones says it salvaged one of the greatest technological achievements of our era. It provides the ability for anyone anywhere in the world to send voice and data information to transact business, save lives and enhance our national security. "We still get letters thanking us for Iridium phones," he says.
Frank McCoy is a regular contributor to The Root.