Raise your hand if you have ever sexted before. Raise it again if those sexts included a picture of you in some stage of nudity. Did you put your best picture out there, or was it a haphazardly thrown-together selfie that should be embarrassing for both parties involved? Don't worry, friends, I am here for you.

First of all, full disclosure: I was a repeat offender in the category of lazy nudes. In fact, a gentleman I was sending them to referred to them as "Here, nigga, damn!" nudes, and he was right. I was definitely in a "Damn, stop asking" mood when I snapped the flicks, and it reflected in my pose, my disposition and the picture quality.
Lazy nudes by definition reflect very little thought or effort. They are often dark or shadowy, don't show enough of the right attributes, and generally make the receivers wish both that they'd never gotten them and that they'd never bothered asking for them. It's insulting to both parties, really.

As an example, think of those pictures Rob Kardashian leaked of Blacc Chyna. You can tell she just wanted him out of her texts and off her last nerve. She pointed her phone's camera up her skirt, snapped the quickest photo possible and captured her labia doing what the lips on her face were probably doing when she took the picture. You know the look.
G/O Media may get a commission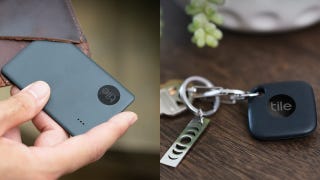 Up to 35% off
Tile Item Trackers
When the man I sent my lazy nudes to called me out for it, his saying something about it made me want to do better. Not necessarily for him, but for the other gentlemen I recycled the nudes for and sent them to.

Taking pleasing nudes is an art form. I admittedly did a Google and Tumblr search for "tasteful nudes" and studied from there. I also took notes from Twitter on what not to do when sending or sharing selfies and added that to my repertoire.

I took a few samples and sent platonic nudes to some of my non-love-interest guy friends for their opinions, and their approval let me know that I was on the right track.
My nudes game has only gotten better with time. Here are some tips:
First of all, clean your room. No one wants to look at pictures of you with your clothes all over the floor, junk piled up everywhere and a crying child in the background. It's too distracting. Go as minimal as possible so the focus of the picture can be you and not all the chaos happening around you.

If you are going to use a mirror, clean it first. This should go without saying, but we've all seen those bathroom-mirror selfies with the toothpaste splatters and whatever other drip marks running down the mirror. Stop doing that.

Get a selfie stick. I have mentioned before how hard it is to wrangle my boobs into one picture while taking a selfie. Using a selfie stick actually made this a lot easier, but that's not the only reason the selfie stick worked out for me. Selfie sticks let you capture more of your body and from different angles. I have been able to create some pretty artsy nudes with my selfie stick, and I like it. I think the men like it, too, because they keep requesting more. It's a blessing.

Ladies, comb your hair and put on some lipstick. As a natural, combing my hair mostly means fluffing out my 'fro, but it could also involve choosing one of my cute-ass straight-hair wigs (I'm building a collection. Maybe I should do a post for The Glow Up). There's something to be said for stretching that hair out across my pillow, gathering up my breasts and smiling big and bright with loud red lipstick—and capturing it all using my selfie stick. It's magic, really.

Gentlemen—LOTION UP. I cannot stress this enough. No one wants to look at an ashy phallus. It's actually quite the turnoff. All that D, and it looks like you were using it to make powder doughnuts. Boy, if you don't get …

Actually, ladies, you should lotion up, too. Your skin should be sparkling and glistening. It makes you look more delectable, and that is the entire point, isn't it?

Remember, lighting is everything. Natural light is better, but if you have to use unnatural lighting, make sure you are posed in such a way so as not to cast the shadow of your camera or camera phone in the shot. It takes away some of the magic. We all know you took the photo yourself, but it helps when we can pretend you didn't.

Finally, smile. And if you don't smile, don't scowl. Look like you are into it. Again, if you are taking the photo to send to someone else in the first place, shouldn't it look as if you actually wanted to do it?

Listen—we aren't all always in the mood to take selfies, most especially nude ones. Choose your moments. Put your best look forward. Keep in mind the background, the lighting and any props you may decide to use.
Your body is a masterpiece.
Don't just take nudes. Make art.