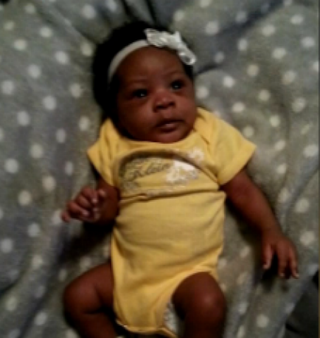 A Dallas teen has been charged with capital murder for allegedly drowning a 2-month-old baby, WFAA-TV reports.
The baby, Justice Hull, had been living with her mother's friend because her mother was put in jail shortly after giving birth. According to the report, when the friend left for work on Monday, the friend's 14-year-old daughter drowned the child.
"The facts of the case are that a 14-year-old intentionally drowned a 2-month-old girl," Dallas Police Maj. Robert Sherwin said, according to the news station.
The teen had called 911 to report the death. The motive for the alleged murder is still unknown.
Baby Justice's mother reportedly is currently dealing with the loss behind bars. "We talked to her," Sherwin said. "That is obviously not a pleasant conversation. Regardless of what she did, she didn't deserve to have her baby killed."
The mother was jailed because of problems with traffic tickets, WFAA-TV reports. Relatives are now trying to get her out so she can attend Justice's funeral, even as they try to figure out how to pay for the baby's burial.
As for the teenager, the court system will decide whether she will be tried as an adult. The death penalty is ruled out because of her age, WFAA-TV notes.
Read more at USA Today.