Hairstylist Camille Friend is no stranger to superheroes. In the past four years, the third-generation hairstylist has been making her mark on Marvel films, leading the hair departments of the last two Captain America films, Guardians of the Galaxy Vol. 2 and, now, Black Panther.
Of course, the Black Panther is a unique superhero, and Black Panther is already proving to be an exceptionally unique film, as Friend tells The Glow Up:
I think Black Panther is—I call it a stand-alone Marvel movie, even though Marvel still has a formula. But I feel like it's a stand-alone movie, especially for me, because I'm a black woman, and [to do] the first black superhero, that was really an honor, in the sense [that] we're presenting all of this to the world. We had an important job to do, and I looked at it in a whole different way, because it represents my people.

So I felt like, the weight of the world on me at some points, but in the greatest way—that I had the opportunity to present us in the best possible light and put something on camera that's never been [seen]. So it's a great responsibility and it's a great challenge, but it's my greatest joy in doing it, also.
Representing her people was paramount in Friend's mind as she approached the task of helping to bring Black Panther to life. To begin, she divided the film into three elements: traditional Africa, contemporary Africa and the futuristic Africa represented by the technologically advanced civilization that is Wakanda. In her research, she drew inspiration from everything from traditional African tribes like the Maasai and Zulu to the groundbreaking fashion statements we've seen at Afropunk celebrations around the globe.
G/O Media may get a commission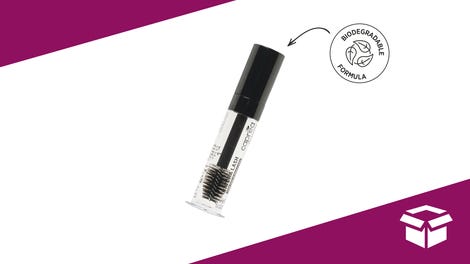 It's $8
20% Off Lash + Eyebrow Serum 2.0 - Caprea Beauty
"It's really taking and looking at traditional styles, traditional tribal looks, and seeing what we can make into a modern style," Friend says. "I like to take, like, a period hairstyle and put it in a modern movie and just put a twist on it. For me, it's still about classic hairdressing and beautiful lines and silhouettes. That's how I design hair."
Friend has certainly had her share of experience with period styles, having also headed the hair departments of Miles Ahead, The Help, Django Unchained, Rock of Ages and Dreamgirls. But whether it's long and flowing or elaborately braided and twisted, one thing you won't see in Black Panther is any straightened hair. For Friend, natural hair textures were a major part of her contribution to the visual narrative.
"We're in a beautiful time where people are wearing their natural hair," she says. "I mean, there [are] women everywhere who are like, 'Throw the pressing comb away, throw the relaxer away. I'm going to wear my natural hair.' So that whole movement of the empowerment of the hair is there," Friend explains.
Creating a diverse universe of naturally styled characters involved a team highly skilled in styling, caring for and mimicking natural hairstyles, as in the case of Angela Bassett's glorious custom-made wig of 24-inch silvery locs, inspired in equal parts by writer Toni Morrison and director Ryan Coogler's mother, Joselyn.
But while Friend isn't playing favorites on the styles she created, she's already seeing the influence this film is having on our beauty and fashion choices. She's received countless raves on the twisted crop Lupita Nyong'o rocks as Dora Milaje operative Nakia and graciously provided The Glow Up with the how-to (hint: The key is keeping it close to the scalp):
"It's the 'Wakanda knot'—because it is different than a Bantu knot," she tells us. "[Because] basically, the hair is rolled down, kind of like a cinnamon roll. And then, once the hair is dried, then, we lifted it from there."
Educating other hairstylists is a huge part of Friend's career, as her greatest hope is to see more hairstylists performing at the top of their game. That's why she created Hair Scholars, a consortium of award-winning artists led by Friend in educating and preparing aspiring stylists to be the best at their craft and ready to work in the industry.
Friend knows firsthand the value of having a talented team by her side. She credits her Black Panther team for being a large part of the inspiration and craftsmanship that we'll see on-screen next week.
"It just felt like our brains—the brainpower was just so high, and the energy was so high, just because we got to create," she says. "Or somebody's like, 'Well, let's try this.' I'm like, 'Let's try it!'
"So it was really great to have that think tank, where we could just be in there and be creating, and just really coming up with things on the fly ... just really having the momentum just to create original pieces that are going to stand the test of time on film," she continues.
And of course, we couldn't end our conversation without asking Friend how it felt to be on the purple carpet for Black Panther's epic premiere in Los Angeles last week.
"The premiere was like, you know, it was like 2018 Coming to America—like, it was for real. People took it all the way," she says. "But I think what it is too, is as black people, we have like—especially now—there's a sense of pride. People are wearing their hair natural. People are [saying] 'black excellence.' People are rising to the occasion, and I think this movie comes at the time where black people, we want to step forward; we want to be recognized.
"This movie hits all the right notes for having a black superhero," she explains. "I mean, at the end of the day, we all want to be superheroes, in whatever we do. If we're a mom, if we're a secretary, if we're a hairdresser—whatever we do, we all want to be a superhero."
The Glow Up tip: If you're an Los Angeles-based hair artist, you can join Camille Friend for a Hair Scholars master class at the "Hair and Makeup by ... " Symposium on March 11 from 8 a.m. to 5 p.m.