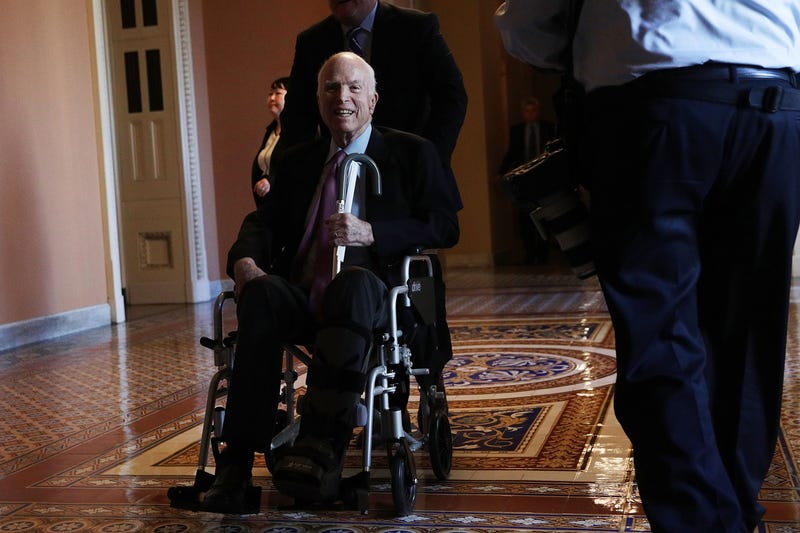 Sen. John McCain, the Arizona Republican who once voted against making Martin Luther King Jr.'s birthday a national holiday, is not long for this world. According to several reports, the 81-year-old, who has been battling an aggressive form of brain cancer for almost a year, has been getting his funeral guest list in…
Eleven-year-old AbbieGail Smith was killed in New Jersey last week in a tragedy that has shocked her entire family. Now the little girl's grieving father and older sister, both of whom reside in Jamaica, are pleading with President Donald Trump to allow them into the U.S. to attend the little girl's funeral this…
Dave Chappelle, Neal Brennan, D.L. Hughley, Donnell Rawlings, Cedric the Entertainer, Affion Crockett, Eddie Griffin and George Lopez came together Wednesday evening to pay their respects to Charlie Murphy at his funeral in New Jersey. Murphy passed away two weeks ago at the age of 57 after battling leukemia.
Malik Cooper, 20, was on his way home to Atlanta from Tuskegee University in Alabama, where he was a business student. Cooper was carrying sadness with him on the road because his trip home was being made so that he could be a pallbearer for his best friend, 15-year-old Marquez Montgomery, who was fatally shot last…
Don't romanticize the death of Fidel Castro, or the tales of his revolution, or the political asylum granted to Assata Shakur. Castro was a tyrannical dictator who kept the people of Cuba under his heel or at the end of his gun. From the time he took office in 1959 until his death Nov. 25, Castro's Cuba wasn't a…
Cynthia Ann Frierson, 36, is being accused of trying to remove a body from a casket after walking into a funeral Monday in Columbia, Tenn., CBS News reports. Frierson is also being charged with public intoxication, unlawful drug paraphernalia, and driving on a revoked and suspended license.
Philando Castile, a Minnesota man who was fatally shot by a St. Anthony, Minn., police officer during a traffic stop, will be laid to rest Thursday following public funeral services, KARE-TV reports.
The final funeral service for "the Greatest," Muhammad Ali, will be held Friday at 2 p.m. EDT, and former President Bill Clinton, comedian Billy Crystal and journalist Bryant Gumbel will present eulogies, PBS Newshour reports.