Ta-Nehisi Coates, the national correspondent for the Atlantic, is becoming the go-to guy on race relations for television bookers.
He has been getting near-unanimous praise for his new book "Between the World and Me," and Benjamin Wallace-Wells of New York magazine recalled on Sunday that he also won the endorsement that meant more than any other.
"Late this spring, the publisher Spiegel & Grau sent out advance copies of a new book by Ta-Nehisi Coates, a slim volume of 176 pages called Between the World and Me," Wallace-Wells wrote.
" 'Here is what I would like for you to know,' Coates writes in the book, addressed to his 14-year-old son. 'In America, it is traditional to destroy the black body — it is heritage.'
G/O Media may get a commission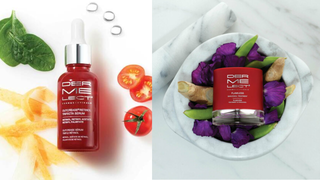 Save $19
Retinol Renewal Kit
"The only endorsement he had wanted was the novelist Toni Morrison's. Neither he nor his editor, Christopher Jackson, knew Morrison, but they managed to get the galleys into her hands. Weeks later, Morrison's assistant sent Jackson an email with her reaction: 'I've been wondering who might fill the intellectual void that plagued me after James Baldwin died,' Morrison had written. 'Clearly it is Ta-Nehisi Coates.' Baldwin died 28 years ago. Jackson forwarded the note to Coates, who sent back a one-word email: 'Man.' "
Wallace-Wells continued, "Morrison's words were an anointing. They were also a weight. On the subject of black America, Baldwin had once been a compass — 'Jimmy's spirit,' the poet Amiri Baraka had said, eulogizing him, 'is the only truth which keeps us sane.'
"On the last Friday in June, the day after Morrison's endorsement was made public and then washed over Twitter, Coates sat down with me at a Morningside Heights bar and after some consideration ordered an IPA [India pale ale]. At six-foot-four, he towers over nearly everyone he meets, and to close the physical distance he tends to turtle his neck down, making himself smaller: 'A public persona but not a public person,' explained his father, Paul Coates.
"Ta-Nehisi said he thought Morrison's praise was essentially literary, about the echo of Baldwin's direct and exhortative prose in his own. The week before, The New Yorker's David Remnick had called the forthcoming book 'extraordinary,' and A. O. Scott of the New York Times would soon go further, calling it 'essential, like water or air.' The figure of the lonely radical writer is a common one. A writer who radicalizes the Establishment is more rare. 'When people who are not black are interested in what I do, frankly, I'm always surprised,' Coates said. 'I don't know if it's my low expectations for white people or what.' . . ."
Wallace-Wells also describes an exchange at the White House between Coates and President Obama, and reports, "Coates is leaving the country. In a few weeks, he'll move to Paris with his wife and son for a year. Part of the attraction is simple pleasure.
"Part of it is the intellectual project of viewing state supremacy and race in another place, to discern whether America is truly exceptional or not. Part of it is the welcome exchange of one social mask for another: Because his French is not so smooth yet, he says, he is seen first as American in Paris rather than as black, and this is a relief. . . ."
CBS News: Ta-Nehisi Coates tells son on racism: Get used to it
Isaac Chotiner, Slate: A Conversation with Ta-Nehisi Coates
Ta-Nehisi Coates with Michele Norris, NPR "Code Switch": Ta-Nehisi Coates Looks At The Physical Toll Of Being Black In America
Ta-Nehisi Coates, the Atlantic: Ta-Nehisi Coates Reads From Between the World and Me (video)

Jack Hamilton, Slate: Between the World and Me

Michiko Kakutani, New York Times: Review: In 'Between the World and Me,' Ta-Nehisi Coates Delivers a Searing Dispatch to His Son

Jennifer Maloney, Wall Street Journal: Random House Moves Up Release of Ta-Nehisi Coates's Book on Race Relations (June 25)

Thomas Chatterton Williams, Washington Post: A black man's stark, visceral experience of racism
"Time's Been Up for All These Slurs"
Native Journalists Confident That the R-Word Will Fall
When Tristan Ahtone was working in Arizona for Fronteras: The Changing America Desk, a multimedia collaboration among public radio stations, he came across the name of the Washington NFL football team. It made him uncomfortable. Actually, more than uncomfortable.
"For me, it makes me feel a little violated," he told the Native American Journalists Association conference on Saturday. "I don't want to work with newspapers that use that word."
Ahtone, a freelance reporter and treasurer of the association, complained to an editor that the news organization should not be using the R-word. The editors agreed, and Fronteras changed its policy, Ahtone said. He told the group, "When you get more Native people working in your newsroom, it's a lot harder to call them a racial slur."
Employing enough Native people to affect newsroom policy might be easier said than done. In newspapers and online newsrooms, the American Society of News Editors reported last year, only four-tenths of 1 percent of journalists are Native American. In the United States as a whole, just 1.7 percent identified as American Indian and Alaska Native in 2010, either alone or in combination with one or more other races, the Census Bureau reported [PDF].
Clearly, they will need allies. U.S. District Judge Gerald Bruce Lee is one. His ruling on Wednesday that the name of the Washington NFL team was not worthy of trademark protection helped to make for an unusually upbeat National Native Media Conference, which concluded Sunday in Arlington, Va. The air was filled with a feeling that this time, history was on their side.
"It's just a matter of time. Five-10-20 years down the road, what happened the other day will be seen as a steppingstone," said Christine Brennan, USA Today sports columnist. She joined Ahtone in the discussion of "Race, Journalism and Sports: The Dilemma of the Washington NFL Team Name."
Brennan is another ally. She does not use the word in her column and said that unlike "Blackhawks" or "Indians," the R-word is a slur. Brennan doubted that if a team name similarly included the N-word, newspapers would plead that they felt obligated to use whatever name the team chose.
"Time's been up for all these slurs," added Suzan Shown Harjo, longtime Native activist on mascot and other issues, and a former NAJA board member.
The ascendancy of millennials, with their more inclusive outlook; the accelerated moves to retire the Confederate battle flag; and the Supreme Court's ruling upholding same-sex marriage have contributed to a climate that, for "Change the Mascot" advocates, means vindication is at hand.
Amanda Blackhorse, a plaintiff in the trademark case, was a keynote speaker; Julian Castro, secretary of the Department of Housing and Urban Development and a late addition to the program, added his support; and the awards ceremony heard from Jackson Haines and Tara Huber, the student managing editor and adviser, respectively, at the Playwickian of Neshaminy High School in Langhorne, Pa.
They won a prolonged battle with administrators — and also NAJA's Elias Boudinot Free Press Award — for their efforts to ban the name of their school mascot, the R-word, from the pages of their newspaper.
Yet the tide isn't turning without challenges, even such small ones as whether dropping the word means stories without it won't win attention from search engines. That's one reason that Vincent Schilling, a writer for the Indian Country Today Media Network, said from the audience that he still uses the word, even though he is "extremely offended" by it. "I use it so it's on Google," Schilling said of his stories. Moreover, he added, its deployment means that those searching for the term will find something negative about it.
Trademark lawyer Stephen R. Baird, another panelist, agreed that SEO (search engine optimization) is an important concern. When reporters wrote about a major development about use of the term, the story failed to trend on social media "because they were all using different names." Columnist Leonard Pitts Jr., for example, refers to "the Washington Slurs." Another columnist cites "the RG3s," after star quarterback Robert Griffin III.
(Perhaps there is a way to work the offensive term into the URL, suggested panelist Mark Memmott, NPR's supervising senior editor, standards and practices. That would register the story with the search engines without using the word in the text or headline.)
Last fall, Memmott issued an advisory to NPR staffers that use of the name of the NFL team will be "strictly limited to situations where it is absolutely integral to the meaning and spirit of the story being told.' . . . "
A turn in the discussion had Memmott exclaiming, "Somebody do that story!"
It was about delivering the final blow, despite team owner Dan Snyder's declaration that he will "never" change the name.
Mark Trahant, a past NAJA president and current board chairman of the Maynard Institute for Journalism Education, noted from the audience that corporate pressure helped to change South Carolina's stance toward display of the Confederate battle flag on the state Capitol grounds. Trahant asked why there hadn't been more pressure on the Washington team's corporate sponsors, such as Federal Express and Nike.
"It's a good business story and a good consumer story," Memmott said.
Harjo suggested that reporters investigate how many rules of the Securities and Exchange Commission were violated by the team's creation of an Original Americans Foundation to give financial and other support to Native American organizations. Harjo called it "bribery." Blackhorse said, "They are using our oppression against us."
On June 25, the Central Council Tlingit Haida Indian Tribes of Alaska said it was boycotting FedEx.
"The Juneau-based tribal organization announced Thursday that it has sent notice to all employees to stop using FedEx services, citing the national delivery company's sponsorship of the Washington Redskins football team," Leila Kheiry of KRBD-FM in Ketchikan, Alaska, reported then.
Kheiry added, "According to the Central Council, other tribes and tribal groups also are boycotting FedEx, including the Native American Rights Fund and National Congress of American Indians. . . ."
For obvious reasons, this is not a topic that FedEx is eager to discuss. "A message sent to FedEx public relations resulted in a written email statement," Kheiry wrote. "It says 'FedEx has closely followed the dialogue and difference of opinion regarding the Washington Redskins team name, but we continue to direct questions about the name to the franchise owner.' "
Still, in September, "Investors presented a shareholder floor proposal at FedEx Corporation's . . . annual meeting asking the company to 'take the steps necessary to drop or distance ties to the team, logos and/or stadium sponsorship until the Washington D.C. Football Team franchise abandons its degrading name,' " Trillium Asset Management reported at the time. "FedEx possesses the naming rights to the team's stadium, [FedEx Field], in Landover, MD through 2026.
"Speaking directly to senior leadership and the board, Susan White, Trust Director of the Oneida Tribe of Indians of Wisconsin explained 'The Washington D.C. franchise's name, "Redskins," is a dehumanizing word with hateful connotations for Native American peoples and others concerned about human rights.
" 'We consider the Washington team name a racial slur, tracing back to colonial times when bounties were paid on a sliding scale for the skins of Native men, women and children, and traded like animal hides. The term did not describe actions that honored Indian peoples then and it still represents racism and genocide today for Native peoples.' . . ."
As he wrapped up the session on Saturday, Keith Woods, NPR's vice president for diversity in news and operations, made an observation that could almost be applied to this column. "We've been here for 90 minutes and have used the R-word only twice," Woods said. "But everybody knew what we were talking about."
Associated Press: Lancaster does away with Redskins mascot amid rivals' boycott (March 16)

Anne Constable, Santa Fe New Mexican: Activists in long fight against 'Redskins' name welcome recent ruling

Donn Esmonde, Buffalo News: As Confederate flags fall, 'Redskins' defenders buck tide of progress

Mike Florio, NBC Sports: HUD secretary sees opportunity to change Washington name

Mike Florio, NBC Sports: Theismann compares name-change debate to Caitlyn Jenner

Doug Harlow, Morning Sentinel, Waterville, Maine: Debate over 'Indians' mascot persists despite school board vote to keep it (June 29)

Peter King, Sports Illustrated: A note from me about the use of the nickname "Redskins." (Sept. 6, 2013)

Simon Moya-Smith with Jeremy Hobson, "Here and Now," NPR: Redskins Or The R-Word? (June 20)

Allison Pohle, Boston.com: It's 2015. Why do 40 Mass. high schools still have Native American mascots? (May 20)

Unity Journalists: Washington's Football Team Name (Oct. 25, 2012)

Phil Watson, fansided.com: Use of 'Redskins' name down 27 percent on NFL broadcasts (Jan. 5)
Jason Begay Elected to Lead Native Journalists Association
Jason Begay, an assistant professor at the University of Montana School of Journalism in Missoula and director of Native American Journalism Projects there, was elected president of the Native American Journalists Association on Sunday.
Begay, Navajo, who was NAJA's treasurer, was elected without opposition by the NAJA board to succeed Mary Hudetz, editor of Native Peoples magazine.
"Mary has done such a good job," Begay, 39, told Journal-isms as the association concluded its annual convention in Arlington, Va., outside Washington. "Finances are a huge issue. Now we're on solid ground. We've got good momentum right now. Membership is higher than it has been in 10 years. I want to keep that going."
In a briefing at the Sunday morning membership meeting, Rebecca Landsberry, interim executive director, said membership had grown steadily from 232 in 2012 to 484 in 2015. Intel was the conference's major sponsor; attendance reached a record 372 attendees, including recruiters and speakers; the awards contest drew more than 530 entries, up from 275 in 2013; and the 10 student winners of Native American Journalism Fellowships produced Native Voice, the convention newspaper and online news source.
Native Voice will continue throughout the year, providing students with the opportunity for clips and focusing on "how Native Americans fit into the national discussion" during the 2016 presidential year, Begay said.
Native Americans remain at the bottom of many social indicators and have a keen interest in federal policies because they are heavily dependent on federal programs, he added.
At the association's awards banquet, Suzette Brewer of the Indian Country Today Media Network, who has written extensively on the Indian Child Welfare Act, became emotional as she accepted the NAJA Richard LaCourse/Gannett Foundation Al Neuharth Investigative Journalism Award.
The Indian Child Welfare Act, designed to end decades of unnecessary removals of Indian children from their homes and communities, is under assault.
Brewer's thank yous included "people who have lost their child. That is the hardest thing as a reporter, to maintain your objectivity with someone who has lost their child or grandchild who may never see them again." Brewer also thanked the "hundreds of adult adoptees" who cooperated for her stories.
Half of Indian Country is under 18, the reporter noted, one reason why it's important to preserve tribal sovereignty. Brewer wrote only last week of efforts by the adoption industry to overturn the Indian Child Welfare Act.
"Every one is a target for Social Services. This really has to do with where we are going to be [as a people] in 10 years," Brewer said.
Elected to the board were Bryan Pollard, 46, Cherokee; Darren Brown, 49, Cochiti Pueblo and Choctaw; and Rob Capriccioso, 35, Sault Ste. Marie Tribe of Chippewa Indians. Board members selected Pollard as board vice president; Shannon Shaw-Duty, Osage, for another term as secretary; and Tristan Ahtone, Kiowa, who was vice president, as treasurer.
Pollard, who returns to the board, is executive editor of the Cherokee Phoenix in Tahlequah, Okla. Brown is a producer for Cheyenne and Arapaho Television (CATV 47) in Concho, Okla. Capriccioso is Washington bureau chief for Indian Country Today Media Network.
Patricia Guadalupe, NBC News Latino: Little Coverage, Attention to U.S. Indigenous Latinos
Brazil Paper's Use of Lynching Photo Stirs Debate
"The recent lynching of a 29-year-old black man by residents of São Luís on the northern coast of Brazil and the killing's treatment in the country's news outlets has ignited a debate on how media cover and sensationalize extreme violence," Teresa Mioli reported Friday for the Knight Center for Journalism at the University of Texas at Austin.
"More broadly it launched a debate about race, crime, extrajudicial killings and impunity in the South American country.
"On July 6, residents of São Luis, the capital city of the state of Maranhão, tore off Cleidenilson Pereira da Silva's clothes, tied him to a post and beat him to death while also throwing stones and bottles, according to news reports. He and a teenager had been accused of attempting to rob a bar. The teenager was also beaten.
"Accompanying some news reports on the killing are close-up photos of Pereira da Silva still tied to the pole with spatterings of blood surrounding him. The image has been blurred over the area of his naked body. Close by, the handcuffed teenager is laying face-down, fully clothed.
"Much of the conversation has centered around the July 8 cover of the Rio de Janeiro newspaper Extra, which is part of Globo Group, Brazil's largest media conglomerate.
"The cover features two images stacked on top of each other.
"The first is an image of the painting 'L'exécution de la Punition du Fouet' ('Execution of the Punishment of the Whip'), by Jean-Baptiste Debret, which shows a slave tied to a trunk being flogged while other men look on in a town square in the 1800s. It is one of many paintings Debret made during his visit to Brazil.
"The second image is a photo of Cleidenilsen Pereira da Silva, broken down and tied to a pole by rope. The photo is taken from behind the pole, so Cleindenilson's face and body are mostly obscured.
"In both images, crowds stare at the men. . . ."
Former Memphis Anchor Still Outspoken as Council Chair
"Amid a growing national outcry against what many see as public symbols of white supremacy, the state of Tennessee on Monday honored one of its most controversial and infamous native sons: Nathan Bedford Forrest," Jessica Glenza reported for Britain's Guardian.
"As per a 1971 state law, Tennessee's Republican governor proclaimed 13 July Nathan Bedford Forrest Day. But a debate over how or whether to honor Forrest, a civil war cavalry general and slave trader and key figure in the founding of the Ku Klux Klan, has grown increasingly heated following the apparently racially motivated massacre of nine black Americans at Emanuel AME church in Charleston, South Carolina, last month.
" 'Today means nothing to me, it means nothing to the people in this city,' said Myron Lowery, city council chairman in Memphis, where 63% of the city's 653,000 residents are black. . . ."
Lowery, a councilman since 1991, might be familiar to those who know the history of black journalists.
In a 2009 profile of Lowery for the Commercial Appeal in Memphis, Marc Perrusquia wrote, "Lowery was prepared for a long career in education when a twist of fate brought him back to Memphis.
"In 1971, Dr. Hollis Price, the former president at LeMoyne who was working as urban affairs director for WMC-TV Channel 5, called Lowery and asked if he'd like to change careers. Lowery studied broadcasting that summer through a diversity program at Columbia University [a forerunner of the Maynard Institute for Journalism Education] and that fall returned to Memphis as WMC's first full-time African-American reporter.
"Two years later he became weekend anchor and in 1976 began producing 'Minority Report,' an urban issues program on which he interviewed celebrities such as author Alex Haley, entertainers Eartha Kitt, Prince, Rick James and the Jackson 5, as well as numbers of local newsmakers.
"Despite his success, Lowery sued the station in 1981 alleging he was paid less than white employees and that he was bypassed for promotions.
"In 1987, U.S. District Judge Odell Horton called WMC's actions 'reprehensible,' and awarded Lowery $274,120. WMC planned to appeal but then settled to terms that included improved affirmative action programs at Channel 5 and 13 other radio and TV stations owned by then-parent company Scripps Howard Broadcasting.
"The six-year case included a public trial in which colleagues testified that Lowery didn't measure up and tended to stray from news department rules. Still, Lowery has no regrets.
" 'That settlement was beneficial to this entire community,' Lowery said, holding a law book that cites the case as a legal precedent. 'They're reading about me in law schools all over the country. It's a classic case about how not to discriminate in broadcast journalism.' . . .''
The now-City Council chair served briefly as interim mayor. While he has mellowed some over the years, he told Perrusquia in 2009, "I am intense. I fight for that which I believe in. Yes, I am mild-mannered and meek. But if you hit me on the wrong button, I will react the way I see best fits the situation.''
Glenza continued her report Monday for the Guardian, "The council voted unanimously to begin a legal process to exhume Forrest's remains from a city park, which until two years ago was named after the general. The city is also attempting to remove a statue of Forrest.
" 'It is a symbol of racism, of bigotry, and hatred — there's no need to honor a man that massacred people at Fort Pillow, there's no need to honor a man who received his millions of dollars and fame from being a slave-trader,' said Lowery, speaking passionately about the need to move the general's remains to Elmwood cemetery, where he was originally buried. . . ."
Mary Ann Barton, Kingstowne-Rose Hill Patch (Fairfax County, Va.): Petition Started to Change Name of Robert E. Lee High School

Wayne Bennett, the Field Negro: The confederacy fights back.

Charles M. Blow, New York Times: A Bias More Than Skin Deep

Richard Cohen, Washington Post: By removing the Confderate battle flag, we hide the ugly truth

Jonathan Horn, Daily Beast: Even Robert E. Lee Wanted the Confederate Flag Gone (Jan. 15)
Kevin Levin, Civil War Memory: Shouting 'Heritage, Not Hate' in the Streets of Prague
Phillip Martin, WGBH-FM, Boston: Defining Domestic Terrorism Part One: Hate Groups Move Online and On Campus

David Matthews, Fusion: This 1970s high school history book taught the most insane things about slavery

Memphis Downtowner: Myron Lowery, Memphis City Council Chairman (Undated)

David Olusoga, the Guardian, Britain: The history of British slave ownership has been buried: now its scale can be revealed

Rochelle Riley, Detroit Free Press: Removal of slavery symbol is where the work begins

Patricia Sullivan, Washington Post: A road named for Confederate leader comes under fire 150 years after war

Eryn Taylor and Shay Arthur, WREG-TV, Memphis: Council begins process of removing Nathan Bedford Forrest's remains (July 7)

Smiley, on "Face the Nation," Blasts Trump Coverage
Was Donald Trump's June 16 comment that Mexican immigrants are "bringing drugs. They're bringing crime. They're rapists" accorded more respect from the news media than a comparable comment from a black presidential candidate would be?
Activist and broadcast figure Tavis Smiley, host of the "Tavis Smiley Show" on PBS, said "yes" Sunday on CBS' "Face the Nation."
"It's not just about pushing Trump back because he's wrong on the issue, again this is about moral conviction," Smiley said.
"Here is a question I want to just put out here, if a black presidential candidate had used the unrepentant Dylann Roof in Charleston, South Carolina, to bash every white male in the country the way this rich white elitist Donald Trump has used a murder in San Francisco to bash the entire undocumented worker community, would the media have [covered the] story the way they did?
"Would it have the legs that it's had? I'm telling you that it's the worst day I think — it's bad example, rather, of our profession in the way we've covered this Donald Trump story this week.
"This would not have happened if anybody else had been bashing an entire community the way that Donald Trump has. The media wouldn't have jumped on the story that way, they would have killed it."
Smiley went on to tell Jeffrey Goldberg, national correspondent for the Atlantic, "What we're talking about now, Jeffrey, though, is the politics of the way that Donald has done what he's done this week.
"What I'm talking about is the lack of moral consciousness on the part of those who cover this story for letting someone get away with pushing — hold on — pushing a narrative where the facts are incontrovertible. There is no link between undocumented workers and a spike in crime.
"And the fact that we've [covered] this story like it's a real issue is asinine. . . ."
Editorial, Daily News, New York: Donald Trump's slander of Mexican Americans shows utter ignorance of New York City's recent history

Mark Joyella, TVNewser: Univision Hires Bush Lawyer to Defend Trump Lawsuit

Ruben Navarrette Jr., Washington Post Writers Group: On immigration, politicians seek sanctuary from responsibility

Lis Power, Media Matters for America: Rupert Murdoch Breaks From Fox News, Denounces Trump's Racist Comments About Mexican Immigrants

Frank Sotomayor, Arizona Daily Star: Dear Donald Trump: You insulted Mexican immigrants
Local Papers Heralded Internment Camps as Job Providers
"The way media portrays a story can often be a story in itself, especially with the way recent racial controversies have been covered, like police shootings of [African] Americans or the treatment of Muslims after September 11," Drexel University said in an announcement July 6.
"But how did media cover the incarceration of about 120,000 people of Japanese descent, two-thirds of them American citizens, who were forced to live in internment camps during World War Two — specifically, local community newspapers?
"It's a question Ron Bishop, PhD, a professor and head of the Department of Communication at Drexel, answers in his new book, 'Community Newspapers and the Japanese-American Incarceration Camps: Community, Not Controversy,' published June 15.
"With coauthors and recent Drexel graduates Morgan Dudkewitz, Renee Daggett and Alissa Falcone, Bishop found that the rhetoric and journalistic approach of these local papers heralded the incarceration camps as part of the war effort and a potential economic boon, mainly because of the job opportunities to construct the camp and the work output of the evacuees.
" 'The equivalent today would be officials in a city or town talking about how great it would be for a major manufacturer or big box store to set up shop there,' Bishop said. 'It's a completely different narrative than we saw in coverage of the camps by the big West Coast dailies. They briefly — very briefly — gave Japanese-Americans the chance in articles to discuss their patriotism, but then, when the government fabricated news of spying, coverage turned ugly. . . ."
A new survey of more than 90 "born on the web" local news sites shows that "Two-thirds (66 percent) make $100,000 a year or less in annual revenue and more than half (53 percent) make $50,000 or less. About a quarter (24 percent) make between $100,000 and $500,000. Nine percent make more than $500,000," Michele McLellan reported Monday for the Tow-Knight Center for Entrepreneurial Journalism of the CUNY Graduate School of Journalism.
Bill Hutchinson has left the Daily News in New York after 17 years on the tabloid's dwindling rewrite desk, Mark Mooney reported Friday for CNNMoney.com. ". . . Hutchinson, 53, is joining the staff of the San Francisco Chronicle." Among other distinctions, Hutchinson is the author of "Sushi and Black-eyed Peas." The title "is a playful reference to his mixed heritage,"Laura Booth wrote for the News in 2012. "Hutchinson's father, William Sr., the cattle-truck-driving son of two Holy Rollers, 'insists he is nearly full-blooded Cherokee, [says] there was an Irishman in the woodpile and sometimes masquerades as Mexican.' His Japanese mother,Sumiko Kinjo, meanwhile, struggles to assimilate into American culture in any way. . . ."
"Bringing communities into the news process is a powerful way to spread journalistic values, train residents on reporting processes and foster user generated content that is more useful for newsrooms," Josh Stearns wrote Friday for medium.com. "Newsrooms are well positioned to become participatory journalism laboratories, helping more people navigate, verify and create powerful stories online and via social media. . . ."

Elaborating on the changes at NPR that will bring Michel Martin as host of weekend "All Things Considered," and the promotion of African Americans Carline Watson and Kenya Young, Michael Oreskes, NPR's senior vice president of news and editorial director, told Elizabeth Jensen, NPR's ombudsman, by email, "This is only the beginning of the sorts of changes we are looking to bring to NPR to better serve all of our present and potential audiences."

In Philadelphia, "beloved broadcaster Ukee Washington is finally stepping into the spotlight that seems to been prepared for him since he arrived at CBS 3 as a sports anchor 29 years ago," Kimberly C. Roberts wrote Friday for the Philadelphia Tribune. "On Monday, July 13 at 5 p.m. he will sit down at the anchor desk with Jessica Dean for his first broadcast as the evening anchor of CBS 3's 'Eyewitness News.' . . ."
"Fox Sports has suspended TV commentator Donovan McNabb indefinitely due to DUI charges pending against him after a June arrest," Jeremy Woo reported Sunday for Sports Illustrated.

Norman Parish, who took a buyout from the Chicago Sun-Times in March after nearly eight years as a reporter, night editor and deputy metro editor, has been hired as a reporter for the Chicago Citizen newspapers, members of the black press. Managing editor Larissa M. Tyler said by email Monday that Parish "will cover community based issues primarily in Chicago's African American community, writing for all five Chicago Citizen Newspaper editions (Chatham, South End, South Suburban, Hyde Park, Week End). Norm will also field statewide and national stories as assigned."

The Corporation for Public Broadcasting "gave its Edward R. Murrow Award to NPR journalists Ofeibea Quist-Arcton and David Gilkey Thursday at the Public Media Development and Marketing Conference," Tyler Falk reported Friday for Current.org. "Gilkey is a photographer and video editor, and Ofeibea Quist-Arcton covers Africa for NPR from Dakar, Senegal. CPB bestows the Murrow Award to people in public radio who make outstanding contributions to the platform and 'whose work has fostered the growth, quality and positive image of public radio,' according to CPB. . . ."

In Nigeria, "ThisDay Newspapers has committed to paying three months' salary arrears of its staff who were owed for eight months, following the protest by the Lagos Council of Nigeria Union of Journalists," Adebayo Hassan reported Friday for Nigeria's Premium Times. "The media outfit, whose premises were picketed by protesting journalists, is expected to pay the remaining five months' arrears in August. . . ."