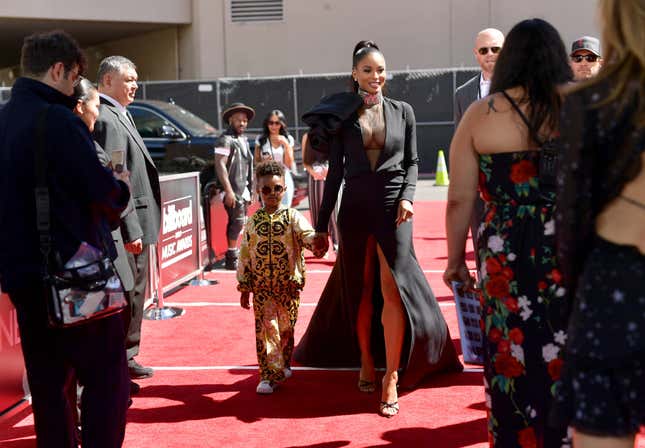 If there's any industry that loves celebrating itself, it's the entertainment industry—with plenty of demand from us fans, of course. And taking yet another opportunity to flex, many of music's most of-the-moment artists converged on Las Vegas, Nevada, on Wednesday night to attend (and win) the 2019 Billboard Music Awards (BBMAs).
My Hip-Hop Story: Cedric The Entertainer On Jay-Z and His Indisputable Role In Shaping The Genre's Culture
By now you've heard about the music—including Taylor Swift's latest attempt to prove her relevance primarily relies on trolling Beyoncé. But at The Glow Up, we're here for the fashion, so let's get into it—starting with the most controversial figure of the night (because we're not giving Taylor that honor).
Much has been made of six-time 2019 BBMA winner Cardi B's supposed overexposure on the evening's red carpet. But if Cardi was guilty of giving onlookers an eyeful of undercarriage, she was at risk of doing so all night long. Each of her three gowns for the evening—two vibrant, bellydance-inspired dresses by Moschino (both worn with Giuseppe Zanotti strappy heels), followed by a shimmering silver, strong-shouldered gown by Julien MacDonald (worn with equally glittering Louboutins)—featured crotch-defying slits.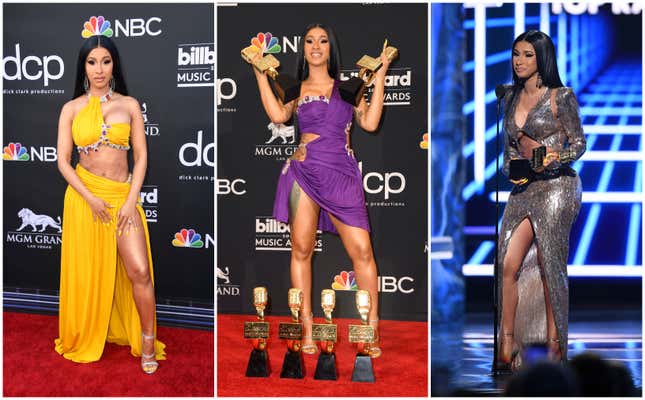 Was the theme deliberate? Well, we're talking about it, aren't we?
What other themes did we see on the BBMA's red carpet? Believe it or not, it was surprisingly sedate—at least for musicians in Vegas. For instance, after pleasantly scandalizing us all alongside Cardi in City Girls' "Twerk" video, Yung Miami showed us that she is as capable of elegance as ratchetness in a custom-made, day-glo green, asymmetrical layered tulle gown by black-owned brand Oyemwen. For a woman who has rocked wigs of the same neon hue, the rising star wisely let the dress take center stage, keeping it surprisingly sleek and stunning with a center-parted low bun, and accenting with Louboutins in a similar shade. (Shoutout to her stylist, iCON Billingsley.)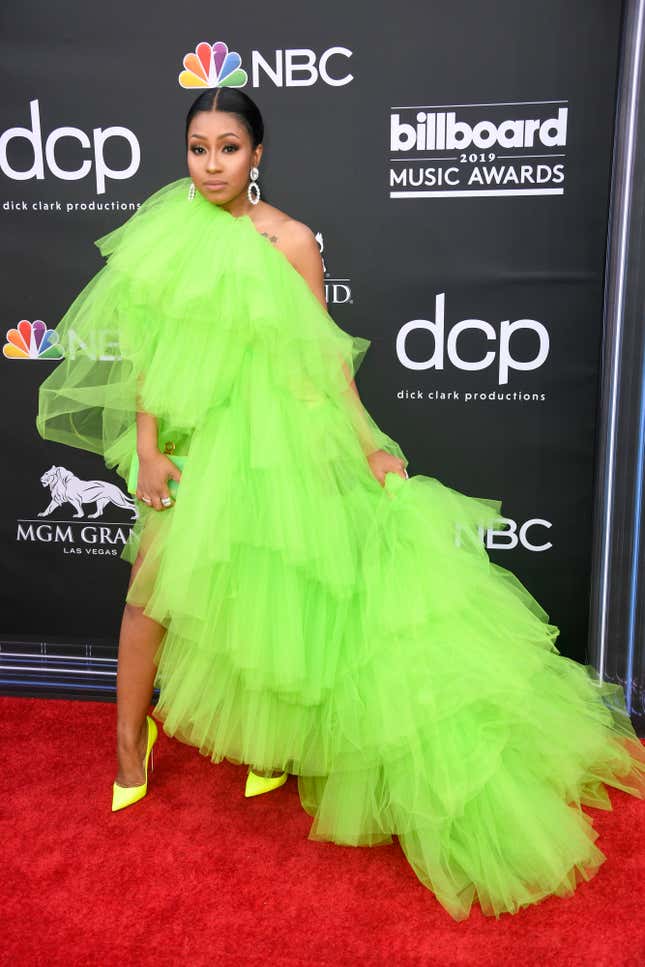 Not everyone was as judicious. While others certainly brought their own versions of flash, not everything was a hit. But from powder pink suits to a near "Who Wore It Best?" moment between Draya Michele and Queen Naija, there was certainly as much to look at as listen to at the 2019 Billboard Awards—and as usual, we've got it all here for you!