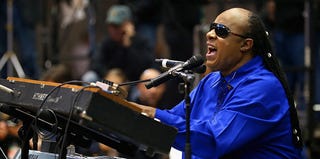 As conflict between Israel and Palestine continues, one musician has bowed out of the volley, Stevie Wonder. On Dec. 6, the "Signed, Sealed, Delivered" singer was scheduled to perform a concert for the Friends of the Israel Defense Forces, an organization that raises funds for Israeli soldiers and their families, reports CBS News, but he canceled the appearance.
Wonder said the United Nations recommended canceling his performance because he is an official "Messenger of Peace" for the organization. The United Nations overwhelmingly voted to recognize a Palestinian state on Thursday over vehement U.S. and Israeli objections as hopes for Mideast peace talks stalled.

Wonder said in a statement he was canceling with a heavy heart but that "I am and have always been against war, any war, anywhere."
Read more at CBS News.