This is how police brutality affects families.
Cameron Sterling, the eldest son of Alton Sterling, who was shot and killed by police officers in Baton Rouge, La., on Tuesday, broke down in tears during a news conference at which his mother, Quinyetta McMillon, demanded justice for his dad, according to ABC News.
"As a mother, I am forced to raise a son who is going to remember what happened to his father. That I can't take away from him," McMillon said, her own voice breaking as she spoke of the father of her child. "He is at an age of understanding. I hurt for him and his loss, as a parent. One of the greatest fears is to see your child hurt and know there's nothing you can do. "
During her speech, Cameron, 15, could be seen crying uncontrollably, saying, "I want my daddy."
McMillon called for "adequate punishment" for the officers responsible for Sterling's death.
The 37-year-old father was shot multiple times in the chest and back early Tuesday morning following a confrontation with two officers. Officers responded to an anonymous caller who reportedly said that a man selling CDs outside a convenience store had threatened him with a gun. When officers arrived, an altercation ensued before Sterling was shot and killed.
G/O Media may get a commission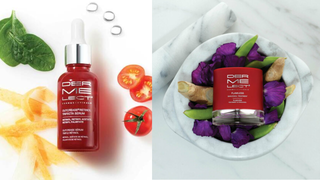 Save $19
Retinol Renewal Kit
McMillon said that although Sterling had a criminal record, which is already being discussed throughout media, he should not be judged by his past.
"I for one will not rest … until the adequate punishment is served to all parties involved," she said.
Meanwhile, according to CBS News, Louisiana Gov. John Bel Edwards announced that the U.S. Department of Justice will be leading the investigation into Sterling's death.
Edwards called the video of the shooting "disturbing, to say the least."
"I have full confidence that this matter will be investigated thoroughly, impartially and professionally," Edwards said.
The DOJ released its own statement that the FBI's New Orleans Division, the Civil Rights Division and the U.S. Attorney's Office for the Middle District of Louisiana have opened a civil rights investigation into the shooting death.
"It should not take national attention for us to get answers about a man being murdered by police officers and then a gun being pulled out of his pocket," Gary Chambers, a Baton Rouge activist and publisher, said Wednesday, according to CBS News.
The NAACP in Baton Rouge is also getting involved, with its president, Michael McClanahan, calling for Baton Rouge Police Chief Carl Dabadie Jr. to be fired: "What I'm calling for today is that the [mayor] fire the police chief. He must step down. We cannot have anybody who allows this type of action to take place."