What the heck are gigantic billboards of Oracle Corporation co-president Charles Phillips, and his "girlfriend," YaVaughnie Wilkins, doing at 3rd Avenue and on Times Square in New York?
The pro-athlete-outside-the-arena size posters have a link on them to the couple's Web site. The site contains photo albums from 2001 through 2009, the couple singing Karaoke really badly, videos, Yavaughnie's journal, and other stuff that corporate execs don't often share casually.
Oracle Corporation is the world's largest enterprise software and services company, with annual revenues of about $23 billion.
Phillips is a graduate of the U.S. Air Force Academy with a degree in computer science, has an MBA from Hampton University and a juris doctorate from New York Law School. Considering Oracle's continued growth since Phillips joined, some industry figures consider him as a possible successor to Ellison as CEO.
The former U.S. Marine Corps captain's strengths are a thorough knowledge of the software industry, and the extensive contacts and relationships he built with its CEOs, chief financial officers and other executives during his years as an analyst evaluating the firms and their financials. In 2007, Information Week magazine hailed Phillips as Oracle's secret weapon and said he was a "software analyst who has transformed, remarkably, into a powerful executive with a golden customer touch."
No one has identified who put up the posters. Did Phillips just decide to go public with his relationship? Did a rival in the software sector, with access to Phillips' personal information, decide to take him down a peg?
G/O Media may get a commission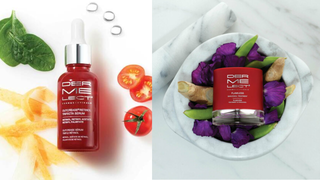 Save $19
Retinol Renewal Kit
Larry Ellison, Oracle chairman and CEO may have first noticed Phillips in 1994, when he worked for Morgan Stanley and was recognized by Institutional Investor magazine as the leading enterprise software industry analyst. He had been analyzing companies in that sector since 1986. Oracle hired Phillips as president in 2003.
Interestingly, Ellison appointed Safra Catz as co-president of Oracle in 2004. Right. The company has two presidents. In a September 2009 article, Fortune magazine described Catz as "the antithesis of a publicity hound."
Of course, Ellison, is the antithesis of a shrinking violet. He is worth about $27 billion, has been married four times, co-owns a 452-foot yacht, has a Japanese-style estate on 23 acres, a lavish lifestyle and once co-financed an ocean-racing team that wanted to challenge for America's Cup.
Last September, Oracle purchased Sun Microsystems, Inc. for $7.4 billion. Between 2005 and 2007, Oracle bought 31 companies including HR software specialist PeopleSoft, as well as Hyperion and Siebel.
Oracle's revenues grew 4 percent, to $5.9 billion, in its second quarter 2010 which ended on Dec. 31. Not bad in tough economic times, but for years the company had had double-digit returns every quarter.
How is this billboard-palooza going to turn out for Chuck Phillips? Inquiring minds are already wondering what's next?
Frank McCoy is a journalist living in Maryland.