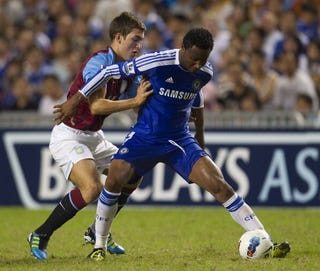 Fox Sports is reporting that the father of Chelsea midfielder John Obi Mikel has been abducted by unknown men in Nigeria's restive central region, police said Monday.
Plateau state police Commissioner Dipo Ayeni told the Associated Press that Michael Obi disappeared from his home sometime Friday. Ayeni said he had no other details about the kidnapping.
''We are still searching to find his location," Ayeni said. A spokesman for Nigeria's federal police command in Abuja, the country's capital, declined to comment.
London-based Sport Entertainment & Media Group, John Obi Mikel's management company, said no ransom demand had been made. It said Chelsea was looking at ''security issues" after the abduction.
''Mikel was informed by his manager prior to the Stoke v Chelsea match & decided to play so as not to let down his team & family," the media group said on Twitter. Mikel's family, from the Igbo tribe, are a minority in the area.
This is an awful situation. Unfortunately, terrorists understand that sports bring people and nations together, which is why they sometimes attack sports figures, to pull nations and people apart. Kudos to Mikel for following through with his match despite his father's abduction and not letting the kidnappers win that battle. We hope that Mikel's father is returned to him unharmed, because no one deserves to be kidnapped under any circumstances.
Read more at Fox Sports.
In other news: Sharpton's TV Gig Does Not Bring Diversity.