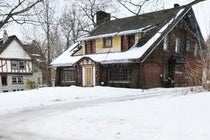 The Associated Press is reporting that two men involved in a dispute at an Omega Psi Phi Fraternity house in Youngstown, Ohio, have been arrested. Apparently the two men were angry over a dispute at the fraternity house, left and returned early Sunday, "spraying" bullets into the crowd. Jamail E. Johnson, 25, was killed while trying to separate two groups. Eleven others were injured, including a 17-year-old who suffered a critical wound to the head. The men were arrested and charged later on Sunday with aggravated murder, shooting into a house and 11 counts of felonious assault, Youngstown police Chief Jimmy Hughes said.
The suspects are in their early 20s and from the Youngstown area, but Hughes withheld their names pending further investigation. The AP reports that the two-story house is located in a neighborhood of "once elegant" homes, and neighbors said that it was normally quiet. A senseless and tragic event.
Read more at Yahoo News.
In other news: Pepsi's Super Bowl Ad: She Kicks, She Scowls, She's Peddling Pepsi.