Fun fact: There is currently an exhibit called Why They Wore It: The Politics and Pop Culture of First Ladies' Fashion on display at the Richard Nixon Presidential Library and Museum in Yorba Linda, Calif. It's the first exhibit to display a garment from the current first lady, Melania Trump.

Beyoncé's Feminist Anthem "Run the World (Girls)" A Decade Later
But at least one person claims to know the reasoning behind Melania Trump's sartorial choices. In her new bombshell and accusation-laden book Unhinged: An Insider's Account of the Trump White House, former White House aide to the president (and erstwhile reality TV villain) Omarosa Manigault-Newman contends that Mrs. Trump is simply involved in an epic trolling of her husband.
"Taken as a whole, all of her style rebellions have served the same purpose, and not only misdirection and distraction—strategies her husband knows all too well," Manigault Newman wrote, pointing back to 2016 when the first lady wore a pink Gucci "pussy bow" blouse to one of the presidential debates after recordings surfaced of her husband bragging about "grabbing women by the pussy" to Access Hollywood.
"I believe Melania uses style to punish her husband," she writes.
G/O Media may get a commission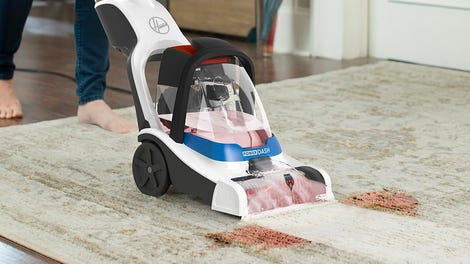 26% Off
Hoover PowerDash Pet Compact Carpet Cleaner
Similarly, Manigault Newman believes the infamous "I Really Don't Really Care. Do U?" jacket the first lady wore on a June trip to visit children being held in a Texas border facility was another deliberate attempt to sabotage her husband, who was already facing outrage over his immigration policies. Manigault-Newman wrote:
"She wore that jacket to hurt Trump, setting off a controversy that he would have to fix, prolonging the conversation about the administration's insensitivity, ruining the trip itself, and trying to make sure that no one asked her to do something like that again."
If these undoubtedly strategic fashion statements (what first lady's wardrobe choices aren't?) were directed at her husband, they were also a calculated risk, since Mrs. Trump has borne significant public blowback herself. But Manigault-Newman doubts that the first lady cares, writing that, in her opinion, "Melania is counting every minute until he is out of office and she can divorce him."
Of course, this is all coming from the mouth of the famously manipulative Omarosa—and is, by her own admission, conjecture. But Manigault-Newman is far from the first to posit this suspicion about the first lady's fashion choices. Who knows? perhaps Mrs. Trump views her well-watched sartorial style as her main source of power in the White House.
But in attempt to set the record straight, Mrs. Trump's spokesperson Stephanie Grisham has responded to the claims, telling Newsweek:
"Mrs. Trump rarely, if ever, interacted with Omarosa. It's disappointing to her that she is lashing out and retaliating in such a self-serving way, especially after all the opportunities given to her by the president."